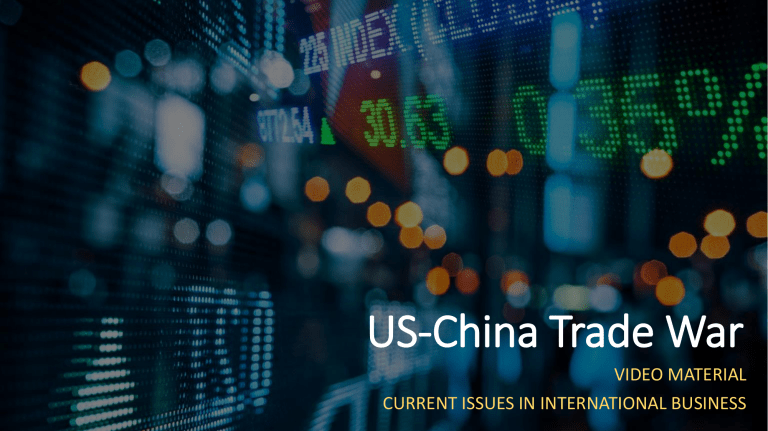 US-China Trade War
VIDEO MATERIAL
CURRENT ISSUES IN INTERNATIONAL BUSINESS
WHAT IS A TRADE WAR BETWEEN THESE
TWO COUNTRIES?
• The world's two largest economies
have been locked in a bitter trade
battle.
• The dispute has seen the US and
China impose tariffs on hundreds of
billions of dollars worth of one
another's goods.
• US President Donald Trump has long
accused China of unfair trading
practices and intellectual property
theft.
WHAT TARIFFS HAVE BEEN
IMPOSED?
• Mr Trump's tariffs policy aims to
encourage consumers to buy American
products by making imported goods
more expensive.
• The US has imposed tariffs on more than
$360bn (£268bn) of Chinese goods, and
China has retaliated with tariffs on more
than $110bn of US products.
WHAT PRODUCTS COULD BE
AFFECTED FROM THIS WAR?
• The Chinese products hit by US
tariffs since the beginning of the
trade war have been wide-ranging,
from machinery to motorcycles.
• In the latest round, the US imposed
10% duties on $200bn worth of
Chinese products including fish,
handbags, clothing and footwear.
• Those products will be the ones
targeted with a tariff hike from 10%
to 25%, if it goes ahead this week.
HAS THE TRADE WAR HIT THE
MARKETS?
• The US-China trade war has been a
great source of uncertainty for
financial markets over the past year.
That uncertainty has weighed on
investor confidence around the world,
and has contributed to losses.
• In 2018, Hong Kong's Hang Seng index
fell more than 13% and the Shanghai
Composite slumped nearly 25%.
• Both indices have recovered some
ground this year and are up 12% and
16% respectively so far in 2019.