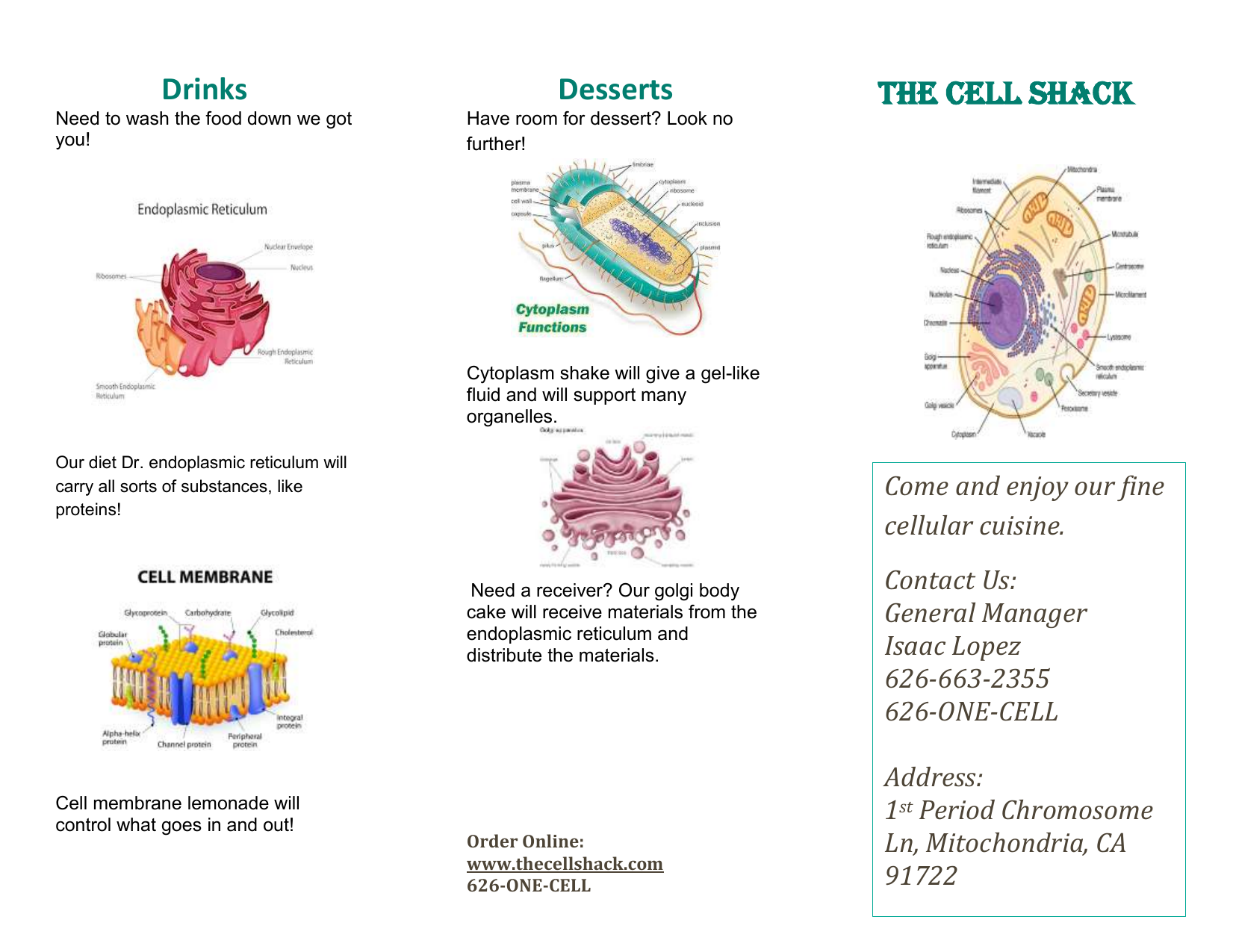 Drinks
Need to wash the food down we got
you!
Desserts
The CELL SHACK
Have room for dessert? Look no
further!
Cytoplasm shake will give a gel-like
fluid and will support many
organelles.
Our diet Dr. endoplasmic reticulum will
carry all sorts of substances, like
proteins!
Come and enjoy our fine
cellular cuisine.
Need a receiver? Our golgi body
cake will receive materials from the
endoplasmic reticulum and
distribute the materials.
Cell membrane lemonade will
control what goes in and out!
Order Online:
www.thecellshack.com
626-ONE-CELL
Contact Us:
General Manager
Isaac Lopez
626-663-2355
626-ONE-CELL
Address:
1st Period Chromosome
Ln, Mitochondria, CA
91722
Appetizer
WAIT THERE'S MORE!
Entrees
Down to the main course
Something to start with this meal.
The nucleolus steak will fill you up with
those lost ribosomes, served with
potatoes!
Need a boost of energy? Well come
on down and eat our buffalo style
mitochondria to produce some ATP
for you!
Lost some control huh, well our
nucleus soup will take over and control
things for you
Need help breaking down chemicals
well fear not our spaghetti and
lysosomes will break down chemicals
in no time!
!
Grow some hair on your chest with
our fried ribosomes with hot sauce
to make some proteins for you!
So, you need a bodyguard? Well, eat
this nuclear envelope salad with your
choice of dressing and it'll guard your
nucleus
Need some storage for all that junk
well our Vacuole chicken will hold all
that waste and will also transport
materials!