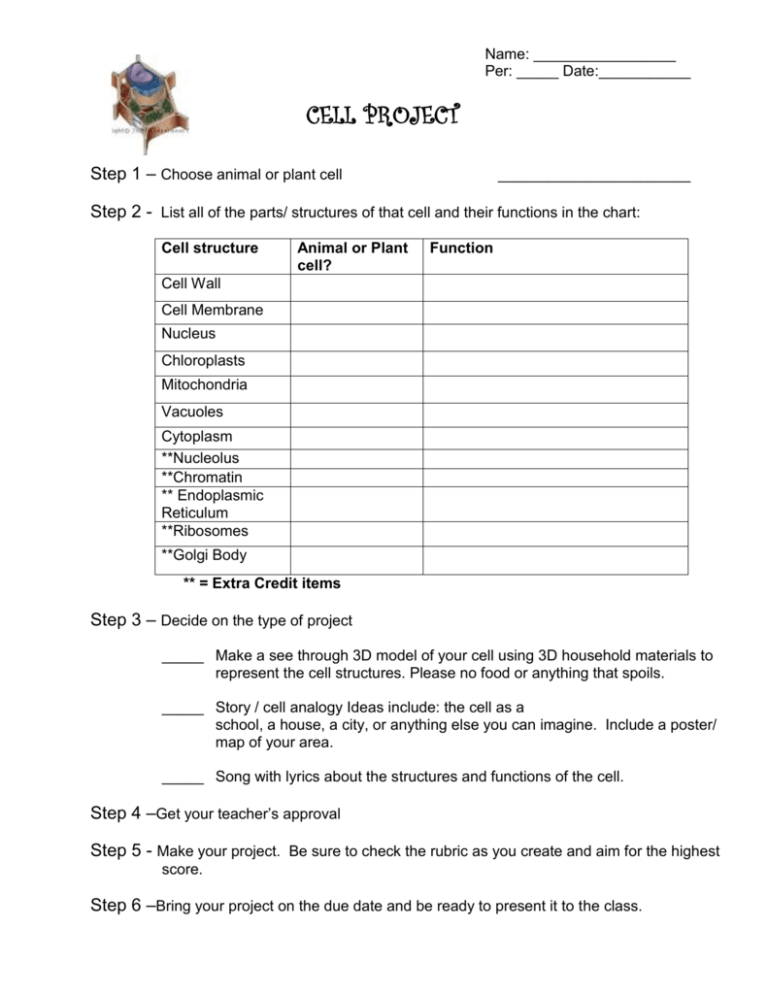 Name: _________________
Per: _____ Date:___________
CELL PROJECT
Step 1 – Choose animal or plant cell
_______________________
Step 2 - List all of the parts/ structures of that cell and their functions in the chart:
Cell structure
Animal or Plant
cell?
Function
Cell Wall
Cell Membrane
Nucleus
Chloroplasts
Mitochondria
Vacuoles
Cytoplasm
**Nucleolus
**Chromatin
** Endoplasmic
Reticulum
**Ribosomes
**Golgi Body
** = Extra Credit items
Step 3 – Decide on the type of project
_____ Make a see through 3D model of your cell using 3D household materials to
represent the cell structures. Please no food or anything that spoils.
_____ Story / cell analogy Ideas include: the cell as a
school, a house, a city, or anything else you can imagine. Include a poster/
map of your area.
_____ Song with lyrics about the structures and functions of the cell.
Step 4 –Get your teacher's approval
Step 5 - Make your project. Be sure to check the rubric as you create and aim for the highest
score.
Step 6 –Bring your project on the due date and be ready to present it to the class.