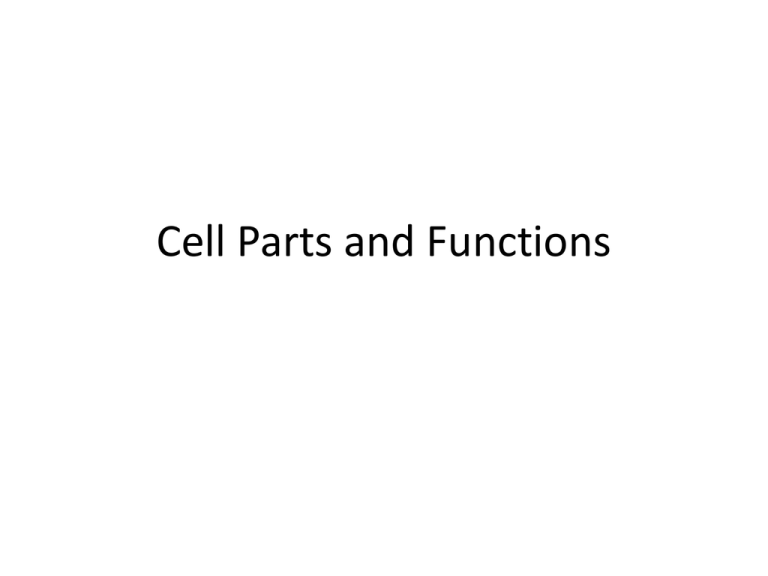 Cell Parts and Functions
Identify by Picture
Cell Membrane
• Regulates what enters and leaves the cell.
Nucleolus
• Structure in the nucleus which makes
ribosomes for protein synthesis
Nucleus
• Controls activities of the cell and contains
genetic material
Mitochondria
• Provides cell with energy by using sugar
(glucose) as a fuel source.
Rough Endoplasmic Reticulum
• A system of channels that transport proteins
through the cell
Smooth Endoplasmic Reticulum
• A system of channels that manufacture
carbohydrates and lipids and transports them
through the cell
Golgi Body (Apparatus)
• Collects, modifies, and packages chemicals
made at one location in a cell and secretes
finished products to be used at another
location in the cell
• Dots?
Ribosomes
• Manufacture proteins in the cell
• Yellow area?
Cytoplasm
• Gel-like fluid inside the cell that all organelles
are suspended in
# 5?
# 6?
Vacuoles
• Store materials such as water, salts,
carbohydrates, and waste materials. They may
occupy a large space within plant cells.
Green area?
Cell Wall
• Supports, strengthens, and protects the cell.
Not found in animal cells.
Chloroplasts
• Photosynthetic organelles found in plant cells
Lysosome
• Contains chemicals and enzymes needed for
digesting certain materials in the cell.