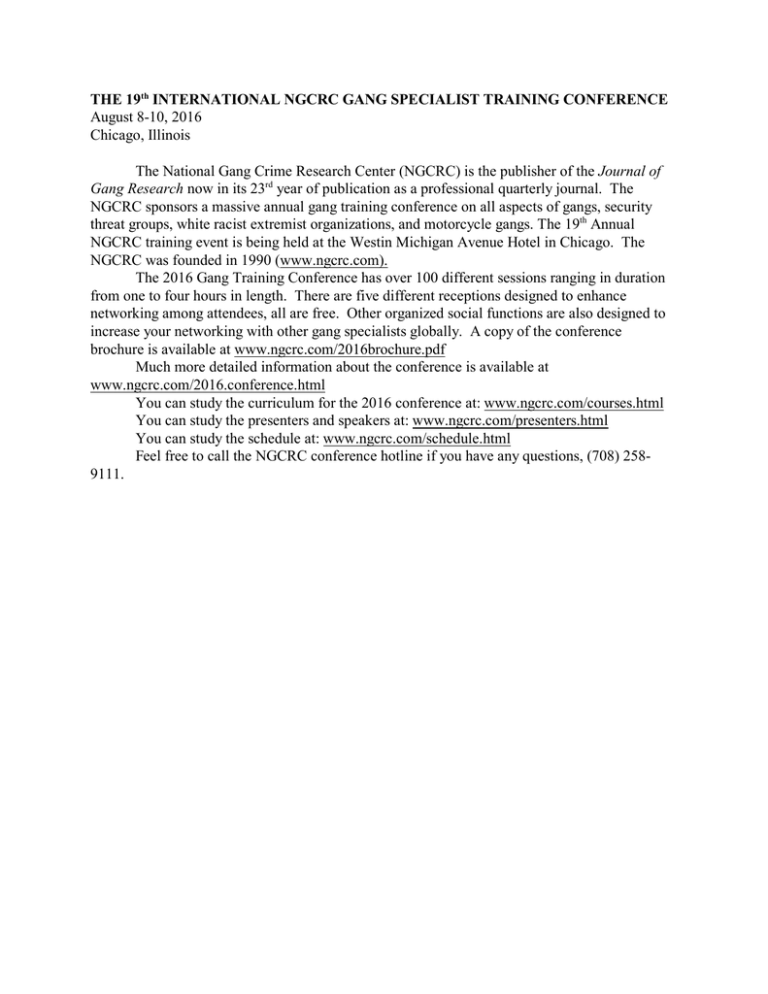 THE 19th INTERNATIONAL NGCRC GANG SPECIALIST TRAINING CONFERENCE
August 8-10, 2016
Chicago, Illinois
The National Gang Crime Research Center (NGCRC) is the publisher of the Journal of
Gang Research now in its 23rd year of publication as a professional quarterly journal. The
NGCRC sponsors a massive annual gang training conference on all aspects of gangs, security
threat groups, white racist extremist organizations, and motorcycle gangs. The 19th Annual
NGCRC training event is being held at the Westin Michigan Avenue Hotel in Chicago. The
NGCRC was founded in 1990 (www.ngcrc.com).
The 2016 Gang Training Conference has over 100 different sessions ranging in duration
from one to four hours in length. There are five different receptions designed to enhance
networking among attendees, all are free. Other organized social functions are also designed to
increase your networking with other gang specialists globally. A copy of the conference
brochure is available at www.ngcrc.com/2016brochure.pdf
Much more detailed information about the conference is available at
www.ngcrc.com/2016.conference.html
You can study the curriculum for the 2016 conference at: www.ngcrc.com/courses.html
You can study the presenters and speakers at: www.ngcrc.com/presenters.html
You can study the schedule at: www.ngcrc.com/schedule.html
Feel free to call the NGCRC conference hotline if you have any questions, (708) 2589111.