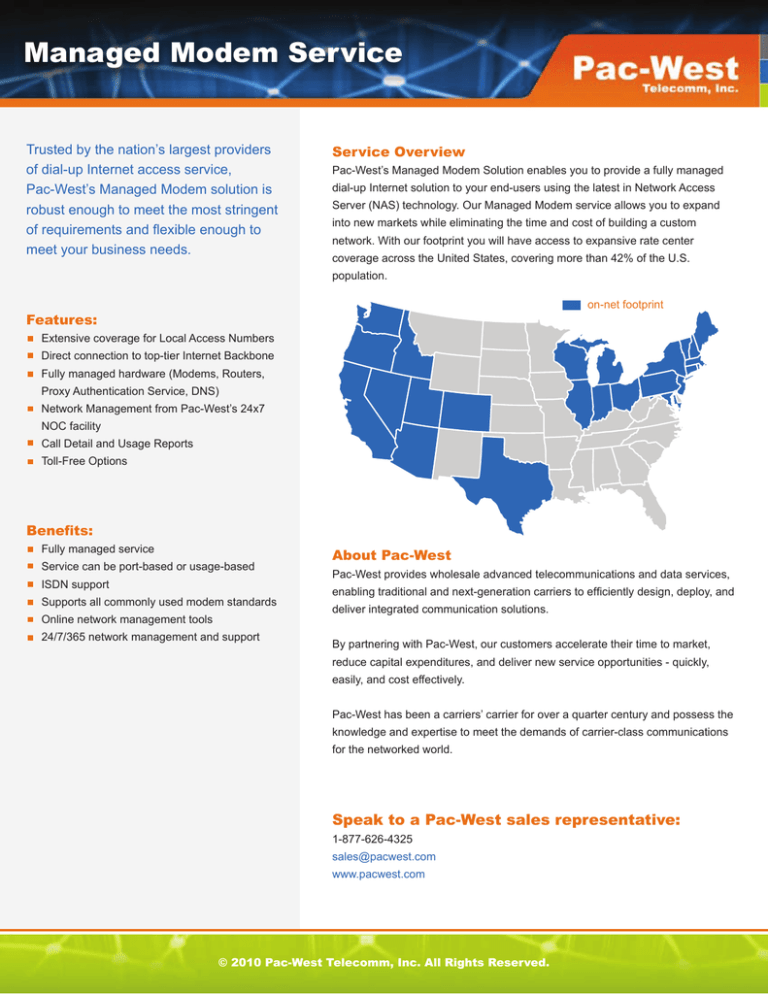 Managed Modem Service
Trusted by the nation's largest providers
of dial-up Internet access service,
Pac-West's Managed Modem solution is
robust enough to meet the most stringent
of requirements and flexible enough to
meet your business needs.
Service Overview
Pac-West's Managed Modem Solution enables you to provide a fully managed
dial-up Internet solution to your end-users using the latest in Network Access
Server (NAS) technology. Our Managed Modem service allows you to expand
into new markets while eliminating the time and cost of building a custom
network. With our footprint you will have access to expansive rate center
coverage across the United States, covering more than 42% of the U.S.
population.
on-net footprint
Features:
Extensive coverage for Local Access Numbers
Direct connection to top-tier Internet Backbone
Fully managed hardware (Modems, Routers,
Proxy Authentication Service, DNS)
Network Management from Pac-West's 24x7
NOC facility
Call Detail and Usage Reports
Toll-Free Options
Benefits:
Fully managed service
Service can be port-based or usage-based
ISDN support
Supports all commonly used modem standards
Online network management tools
24/7/365 network management and support
About Pac-West
Pac-West provides wholesale advanced telecommunications and data services,
enabling traditional and next-generation carriers to efficiently design, deploy, and
deliver integrated communication solutions.
By partnering with Pac-West, our customers accelerate their time to market,
reduce capital expenditures, and deliver new service opportunities - quickly,
easily, and cost effectively.
Pac-West has been a carriers' carrier for over a quarter century and possess the
knowledge and expertise to meet the demands of carrier-class communications
for the networked world.
Speak to a Pac-West sales representative:
1-877-626-4325
sales@pacwest.com
www.pacwest.com
© 2010 Pac-West Telecomm, Inc. All Rights Reserved.