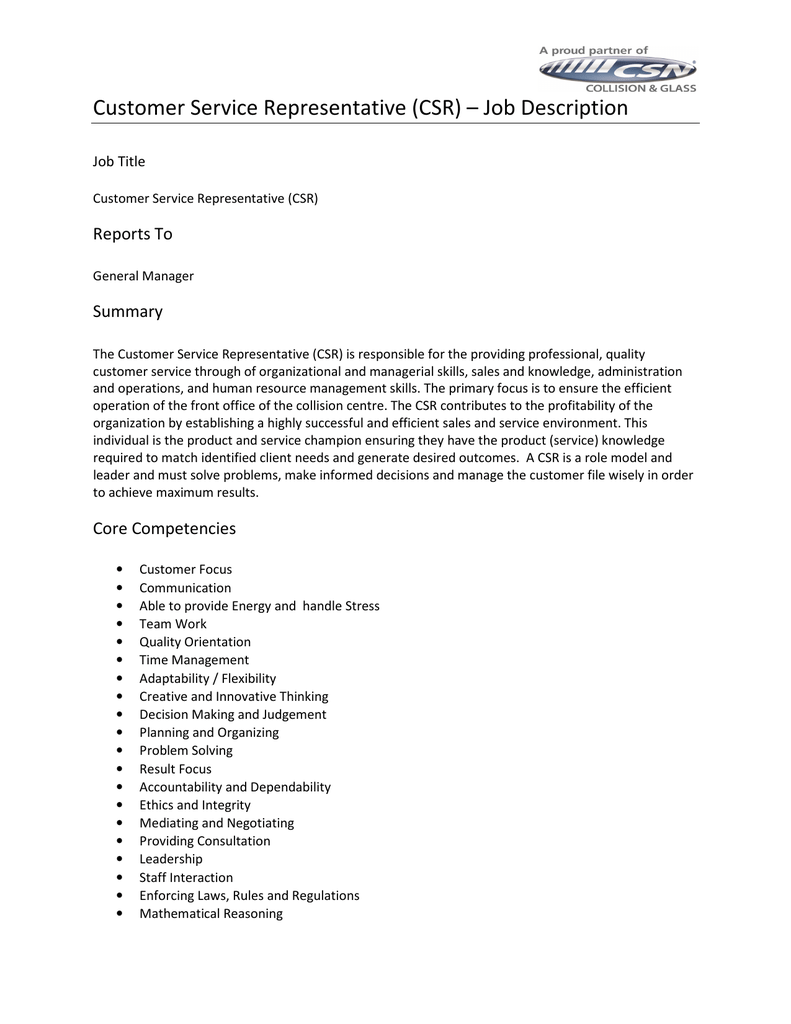 Customer Service Representative (CSR) – Job Description
Job Title
Customer Service Representative (CSR)
Reports To
General Manager
Summary
The Customer Service Representative (CSR) is responsible for the providing professional, quality
customer service through of organizational and managerial skills, sales and knowledge, administration
and operations, and human resource management skills. The primary focus is to ensure the efficient
operation of the front office of the collision centre. The CSR contributes to the profitability of the
organization by establishing a highly successful and efficient sales and service environment. This
individual is the product and service champion ensuring they have the product (service) knowledge
required to match identified client needs and generate desired outcomes. A CSR is a role model and
leader and must solve problems, make informed decisions and manage the customer file wisely in order
to achieve maximum results.
Core Competencies
•
•
•
•
•
•
•
•
•
•
•
•
•
•
•
•
•
•
•
•
Customer Focus
Communication
Able to provide Energy and handle Stress
Team Work
Quality Orientation
Time Management
Adaptability / Flexibility
Creative and Innovative Thinking
Decision Making and Judgement
Planning and Organizing
Problem Solving
Result Focus
Accountability and Dependability
Ethics and Integrity
Mediating and Negotiating
Providing Consultation
Leadership
Staff Interaction
Enforcing Laws, Rules and Regulations
Mathematical Reasoning
•
Development and Continual Learning
Job Duties
•
•
•
•
•
•
•
•
•
•
•
•
Ensure that all transactions that affect customer satisfaction are processed accurately.
Ensure customer is informed of repair process and update regularly or when changes occur.
Gather and ensure accuracy of customer information.
Help solve problems that affect the service, efficiency, and productivity.
Ensure maintain appropriate interpersonal skills and extensive product knowledge of the full
range of products and services.
Contribute to growth and profitability effectively with the other staff.
Contribute to the implementation of tactical sales routines, best practices processes and
procedures for all administrative and some operational activities within the branch.
Ensure effective customer service is maintained by scheduling resources in an appropriate
manner to respond to customer traffic volumes.
Ensure prompt and accurate processing of transactions.
Responsible for administrative and operational responsibilities, and ensures that required audits
and verifications are carried out according to policy.
Assist with the creation of business plan and budget. Review and ensure appropriate efforts are
made to maintain operating expenditures within budget.
Any other tasks as assigned from time to time.
Requirements
•
•
•
•
•
•
•
•
•
•
University degree in […].
[…] years of direct work experience in a Customer Service capacity.
Strong knowledge of collision, service, and/or retail sales principles, methods, practices, and
techniques.
Demonstrated ability to communicate.
Solid negotiation, conflict resolution, and people management skills.
Excellent teamwork and team building skills.
Able to build and maintain lasting relationships with corporate departments, key business
partners, and customers.
Knowledge of cost analysis, fiscal management, and budgeting techniques.
Strong problem identification and problem resolution skills.
High level of proficiency with […] software packages.
Working Conditions
•
•
•
Manual dexterity required to use desktop computer and peripherals.
Able to conduct presentations, and meetings.
Overtime as required.