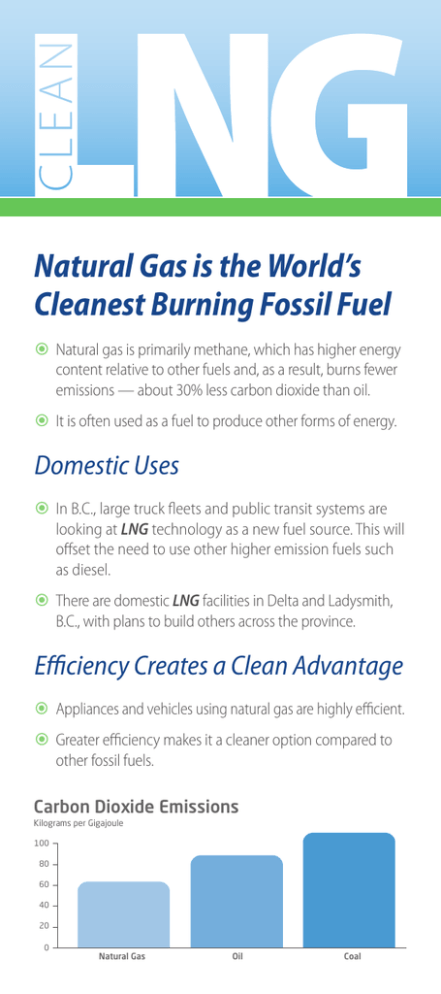 Natural Gas is the World's
Cleanest Burning Fossil Fuel
žž Natural gas is primarily methane, which has higher energy
content relative to other fuels and, as a result, burns fewer
emissions — about 30% less carbon dioxide than oil.
žž It is often used as a fuel to produce other forms of energy.
Domestic Uses
žž In B.C., large truck fleets and public transit systems are
looking at LNG technology as a new fuel source. This will
offset the need to use other higher emission fuels such
as diesel.
žž There are domestic LNG facilities in Delta and Ladysmith,
B.C., with plans to build others across the province.
Efficiency Creates a Clean Advantage
žž Appliances and vehicles using natural gas are highly efficient.
žž Greater efficiency makes it a cleaner option compared to
other fossil fuels.
Carbon Dioxide Emissions
Kilograms per Gigajoule
100
80
60
40
20
0
Natural Gas
Oil
Coal
C JOBS PLAN
Air is Monitored
žž Industry works with the federal, provincial and local
governments to monitor air quality in British Columbia.
žž There are approximately 150 air monitoring stations
throughout the province.
žž Data is used to ensure air quality across B.C. is safe.
žž B.C.'s climate-action legislation includes greenhouse gas
reduction targets which protects air quality.
žž An independent science-based study has shown Kitimat's
airshed can safely accommodate new industrial growth.
New air quality station at Tomslake, B.C.