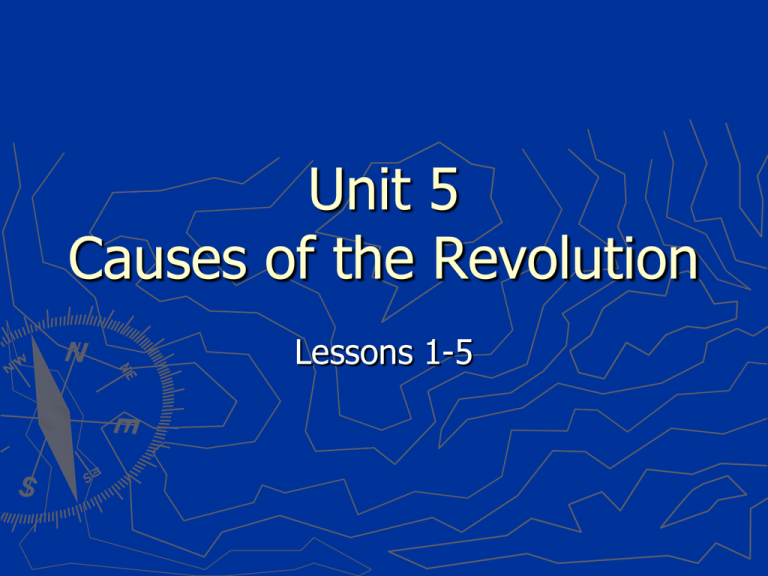 Unit 5
Causes of the Revolution
Lessons 1-5
Vocabulary
1. a document that people sign that formally
asks leaders to do or change something
A. loyalist
B. propaganda
2. someone who felt the colonies should remain
loyal to Britain
C. correspond
3. to communicate by writing letters
D. petition
4. information written to persuade others to
change their way of thinking
E. repeal
5. to do away with
6. an organized group that meets to make
decisions
7. someone who felt the colonies should
separate from Britain
F. Patriot
G. committee
8.
to speak out against something
A. Parliament
9.
an organized refusal to buy goods or services
B. protest
10. a person chosen to represent others
C. boycott
11. to come together
D. unify
12. Great Britain's lawmaking assembly
E. militia
13. a tax on imported goods
F. delegate
14. someone who gives speeches
G. tariff
15. civilian army that is only used in emergencies
H. orator
All of these are reasons the colonists showed
their opposition to British taxes and tariffs
except for __________.
A.
B.
C.
D.
the colonists protested
paid the taxes
fought the British
sent petitions to Parliament
What happened as a result of the
Stamp Act Congress?
Colonists could boycott goods
B. Colonists could buy stamps
C. Parliament repealed the Stamp Act
D. Parliament passed the Stamp Act
A.
Glass, paint, and tea
were all taxed as part
of the
_____________
Townshend Act.
What was another name for the
Coercive Acts?
Townshend Acts
B. Stamp Acts
C. Intolerable Acts
D. Circus Acts
A.
"I'll show the British government that we
don't need them! I'm going to ________
boycott !"
"I'll just weave
cloth
our own ______!"
The Committee of
Correspondence was formed
to ______________
news
communicate
throughout the __________.
colonies
The Second Continental Congress formed the
Continental Army and sent the __________ to
the king.
A.
B.
C.
D.
Olive Branch Petition
Declaration of Independence
Mrs. Field's chocolate chip cookie
recipe
Stamp Act
We must stop trading
with Britain until the
Coercive Acts have
been repealed!
We must train the
militia!
Welcome to the
First Continental
Congress!
We should meet
again in a year if
relations with Britain
are not better!
The First Continental Congress
met in ____________in
1774
Philidelphia
because of its _______
central location.
The Declaration of Independence
explained why the colonists
wanted ___________
freedom
and gave
them a reason to fight for
_____________.
independence
Which of these was NOT a key idea
of the Declaration of Independence?

Government exists to protect the
rights of the people.


Government gets its power
from the people.
People can get rid of a government that does
not protect their rights.

Governments should be led by
kings.
Who was the main writer of the
Declaration of Independence?
Thomas Jefferson
What was the main idea of the booklet
Common Sense?
A. argued that people should have
the right to govern themselves
rather than be ruled by a king
B. that the colonists should pay
taxes and be protected by British
soldiers
C. argued that people should not
have the right to govern
themselves and should be ruled
by a king
D. colonists should get mad and
throw tea into Boston Harbor
Which of these men fought on the side
of the British Army during the French
and Indian War?
A.
B.
C.
D.
Patrick Henry
James Otis
George Washington
Thomas Jefferson
Who said, "Give me liberty or
give me death"?
A.
B.
C.
D.
James Otis
Patrick Henry
John Adams
Johnny Appleseed
Who said, "Taxation without
representation is tyranny"?
A.
B.
C.
D.
James Otis
George III
George Washington
Robin Hood
Why did Britain need to tax and impose
tariffs on the American colonies?
Britain had to pay a huge ______
debt from
the French and Indian War in which they
protected the ________
__________
western settlers.
What did the Sons of Liberty do?
The Sons of Liberty protested the ________
Stamp
Act
stamps and
________
by burning _________
tax collectors.
threatening _____
Why did Parliament pass the
Coercive Acts?
Parliament punished the colonists for the
Boston ____
Tea _______
Party by closing the
________
port of Boston, forcing colonists to house
British _________,
soldiers and
and feed _________
putting a British ________
general in charge.
What were the colonists risking
by signing the Declaration of
Independence?
The colonists were risking ________
death
because they were committing
________.
treason
Why do you think John Adams
defended the British soldiers
involved in the Boston Massacre?
John Adams wanted to make sure the
trial
fair ______.
soldiers got a ______
THE BIG ESSAY!