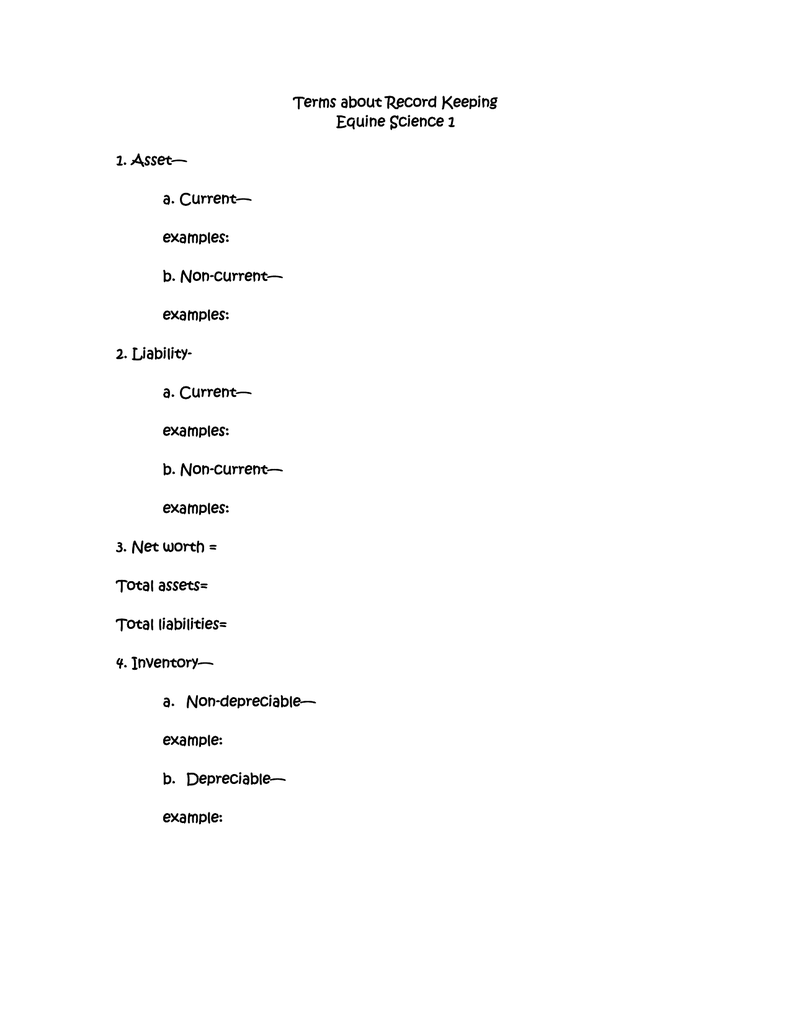 Terms about Record Keeping
Equine Science 1
1. Asset—
a. Current—
examples:
b. Non-current—
examples:
2. Liabilitya. Current—
examples:
b. Non-current—
examples:
3. Net worth =
Total assets=
Total liabilities=
4. Inventory—
a. Non-depreciable—
example:
b. Depreciable—
example:
Work these examples of record keeping using the information you just learned.
1. If Tiffany's business, Lakeside Veterinary Clinic, is preparing for taxes,
she owns land valued at $150,000, has $45,000 in a checking account, and
$2,000 cash on hand, what are her total assets?
2. Lake Norman Show Supply has $250,000 total assets and $67,000 total
liabilities. What amount should be entered on the net worth line of their
statement?
3. Pampered Pet's has $300,000 in total assets and $100,000 in total
liabilities. What line of the financial statement should have $200,000
entered?
4. Mr. Olsen owes $13,000 on his F-350 truck, $2,750 on his horse trailer, and
$3,100 on his skid steer. What are his total liabilities?
5. Clayton is figuring the value of his machinery this year based on its wear
and tear. What is this loss in value called?
6. Ms. Sue is making a list of all of the things her tack store has in stock.
What is this list called?
7. Write the formula for finding net worth.
8. If you own a boarding stable with $12,000 cash on hand and $30,000 in a
checking account, on which line of the financial statement would you
enter $42,000.
9. Something that you own which has value is your ______________________.
10.Something that you owe is your debt or ____________________________.