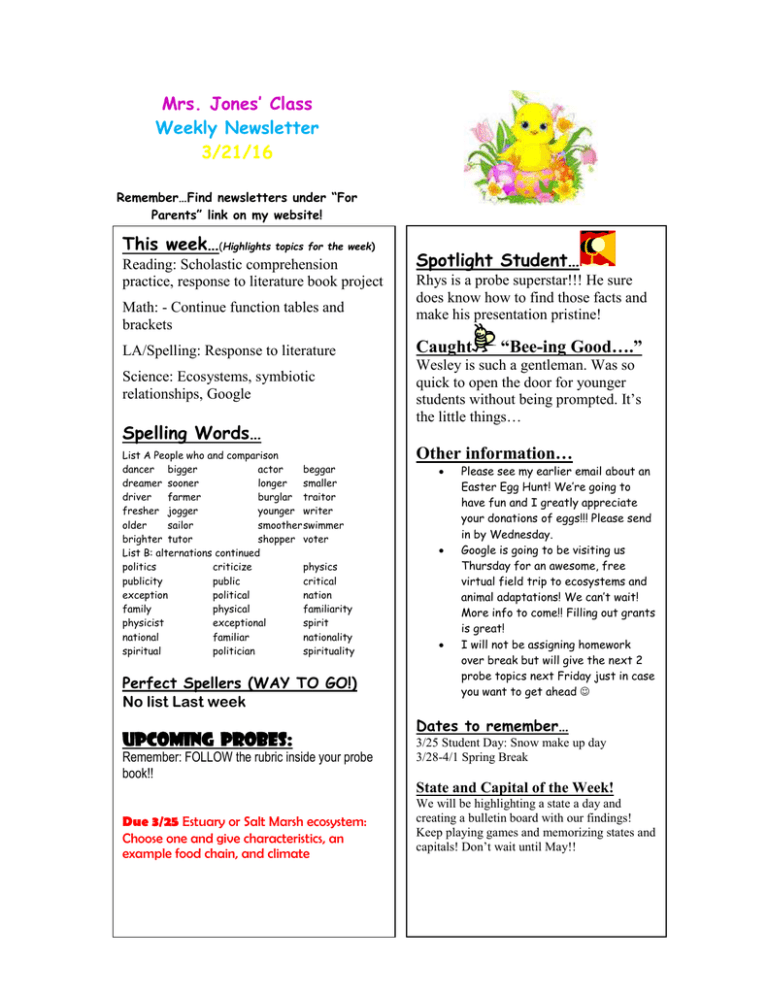 Mrs. Jones' Class
Weekly Newsletter
3/21/16
Remember…Find newsletters under "For
Parents" link on my website!
This week…(Highlights topics for the week)
Reading: Scholastic comprehension
practice, response to literature book project
Math: - Continue function tables and
brackets
Spotlight Student…
Rhys is a probe superstar!!! He sure
does know how to find those facts and
make his presentation pristine!
"Bee-ing Good…."
LA/Spelling: Response to literature
Caught
Science: Ecosystems, symbiotic
relationships, Google
Wesley is such a gentleman. Was so
quick to open the door for younger
students without being prompted. It's
the little things…
Spelling Words…
List A People who and comparison
dancer bigger
actor
beggar
dreamer sooner
longer
smaller
driver
farmer
burglar traitor
fresher jogger
younger writer
older
sailor
smoother swimmer
brighter tutor
shopper voter
List B: alternations continued
politics
criticize
physics
publicity
public
critical
exception
political
nation
family
physical
familiarity
physicist
exceptional
spirit
national
familiar
nationality
spiritual
politician
spirituality
Perfect Spellers (WAY TO GO!)
No list Last week
UPCOMING PROBEs:
Remember: FOLLOW the rubric inside your probe
book!!
Other information…



Please see my earlier email about an
Easter Egg Hunt! We're going to
have fun and I greatly appreciate
your donations of eggs!!! Please send
in by Wednesday.
Google is going to be visiting us
Thursday for an awesome, free
virtual field trip to ecosystems and
animal adaptations! We can't wait!
More info to come!! Filling out grants
is great!
I will not be assigning homework
over break but will give the next 2
probe topics next Friday just in case
you want to get ahead 
Dates to remember…
3/25 Student Day: Snow make up day
3/28-4/1 Spring Break
State and Capital of the Week!
Due 3/25 Estuary or Salt Marsh ecosystem:
Choose one and give characteristics, an
example food chain, and climate
We will be highlighting a state a day and
creating a bulletin board with our findings!
Keep playing games and memorizing states and
capitals! Don't wait until May!!