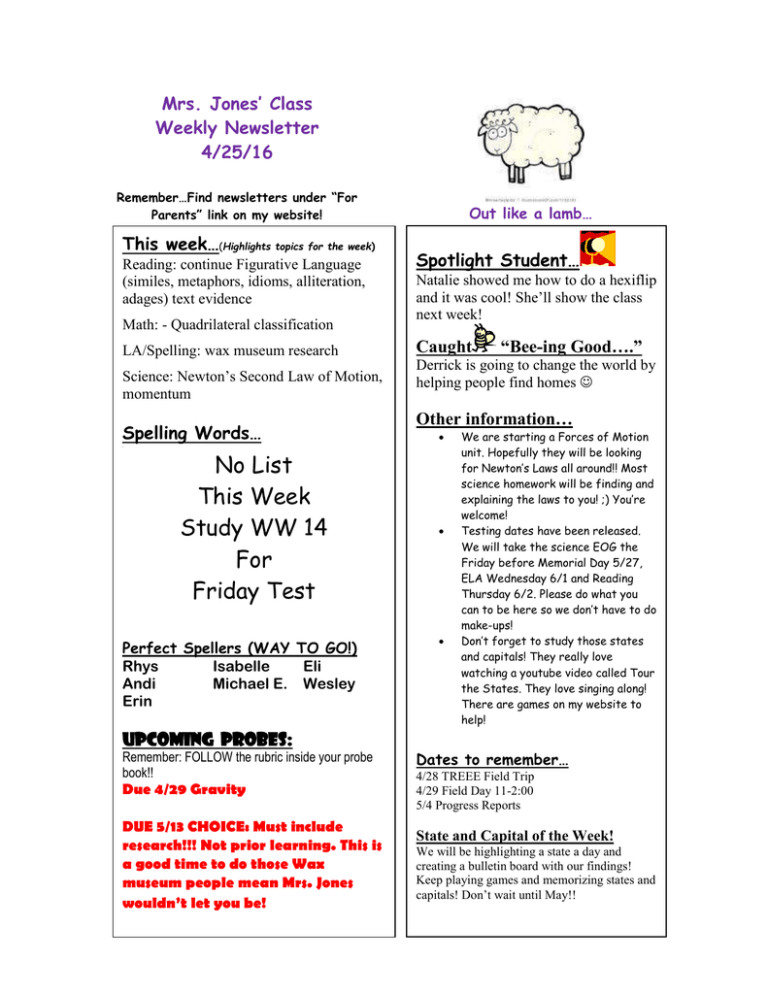 Mrs. Jones' Class
Weekly Newsletter
4/25/16
Remember…Find newsletters under "For
Parents" link on my website!
This week…(Highlights topics for the week)
Reading: continue Figurative Language
(similes, metaphors, idioms, alliteration,
adages) text evidence
Math: - Quadrilateral classification
LA/Spelling: wax museum research
Science: Newton's Second Law of Motion,
momentum
Spelling Words…
Out like a lamb…
Spotlight Student…
Natalie showed me how to do a hexiflip
and it was cool! She'll show the class
next week!
Caught
Other information…

Li
No List
This Week
Study WW 14
For
Friday Test
Perfect Spellers (WAY TO GO!)
Rhys
Isabelle
Eli
Andi
Michael E. Wesley
Erin
UPCOMING PROBEs:
Remember: FOLLOW the rubric inside your probe
book!!
Due 4/29 Gravity
DUE 5/13 CHOICE: Must include
research!!! Not prior learning. This is
a good time to do those Wax
museum people mean Mrs. Jones
wouldn't let you be!
"Bee-ing Good…."
Derrick is going to change the world by
helping people find homes 


We are starting a Forces of Motion
unit. Hopefully they will be looking
for Newton's Laws all around!! Most
science homework will be finding and
explaining the laws to you! ;) You're
welcome!
Testing dates have been released.
We will take the science EOG the
Friday before Memorial Day 5/27,
ELA Wednesday 6/1 and Reading
Thursday 6/2. Please do what you
can to be here so we don't have to do
make-ups!
Don't forget to study those states
and capitals! They really love
watching a youtube video called Tour
the States. They love singing along!
There are games on my website to
help!
Dates to remember…
4/28 TREEE Field Trip
4/29 Field Day 11-2:00
5/4 Progress Reports
State and Capital of the Week!
We will be highlighting a state a day and
creating a bulletin board with our findings!
Keep playing games and memorizing states and
capitals! Don't wait until May!!