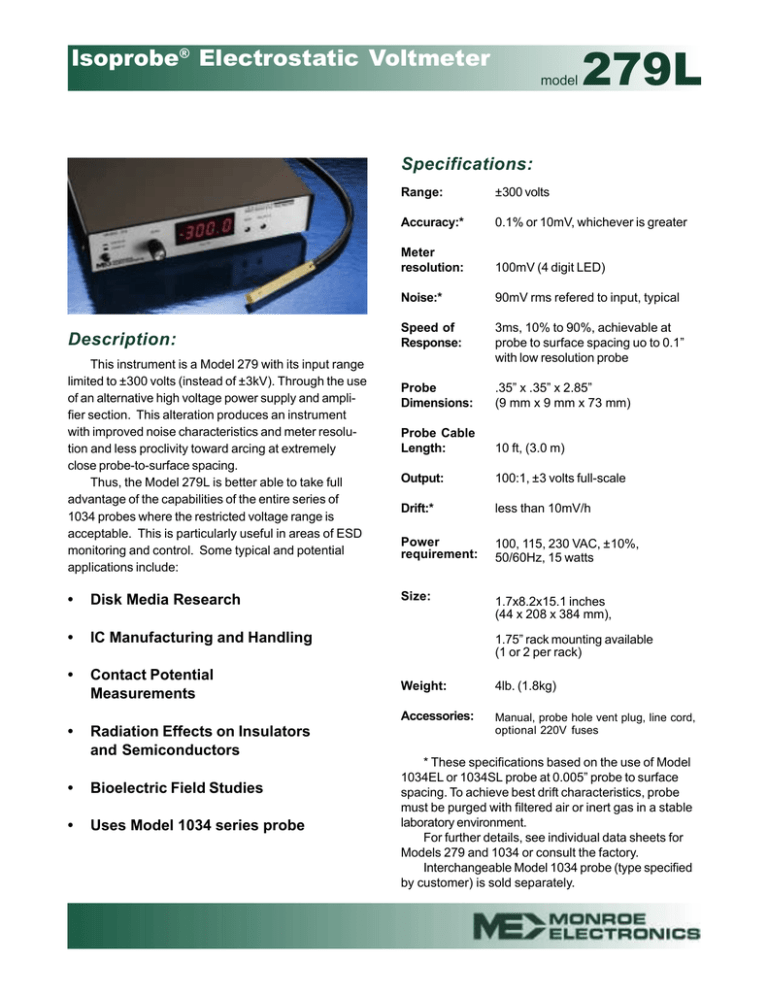 Isoprobe® Electrostatic Voltmeter
model
279L
Specifications:
Description:
This instrument is a Model 279 with its input range
limited to ±300 volts (instead of ±3kV). Through the use
of an alternative high voltage power supply and amplifier section. This alteration produces an instrument
with improved noise characteristics and meter resolution and less proclivity toward arcing at extremely
close probe-to-surface spacing.
Thus, the Model 279L is better able to take full
advantage of the capabilities of the entire series of
1034 probes where the restricted voltage range is
acceptable. This is particularly useful in areas of ESD
monitoring and control. Some typical and potential
applications include:
•
Disk Media Research
•
IC Manufacturing and Handling
•
Contact Potential
Measurements
•
Radiation Effects on Insulators
and Semiconductors
•
Bioelectric Field Studies
•
Uses Model 1034 series probe
Range:
±300 volts
Accuracy:*
0.1% or 10mV, whichever is greater
Meter
resolution:
100mV (4 digit LED)
Noise:*
90mV rms refered to input, typical
Speed of
Response:
3ms, 10% to 90%, achievable at
probe to surface spacing uo to 0.1"
with low resolution probe
Probe
Dimensions:
.35" x .35" x 2.85"
(9 mm x 9 mm x 73 mm)
Probe Cable
Length:
10 ft, (3.0 m)
Output:
100:1, ±3 volts full-scale
Drift:*
less than 10mV/h
Power
requirement:
100, 115, 230 VAC, ±10%,
50/60Hz, 15 watts
Size:
1.7x8.2x15.1 inches
(44 x 208 x 384 mm),
1.75" rack mounting available
(1 or 2 per rack)
Weight:
4lb. (1.8kg)
Accessories:
Manual, probe hole vent plug, line cord,
optional 220V fuses
* These specifications based on the use of Model
1034EL or 1034SL probe at 0.005" probe to surface
spacing. To achieve best drift characteristics, probe
must be purged with filtered air or inert gas in a stable
laboratory environment.
For further details, see individual data sheets for
Models 279 and 1034 or consult the factory.
Interchangeable Model 1034 probe (type specified
by customer) is sold separately.