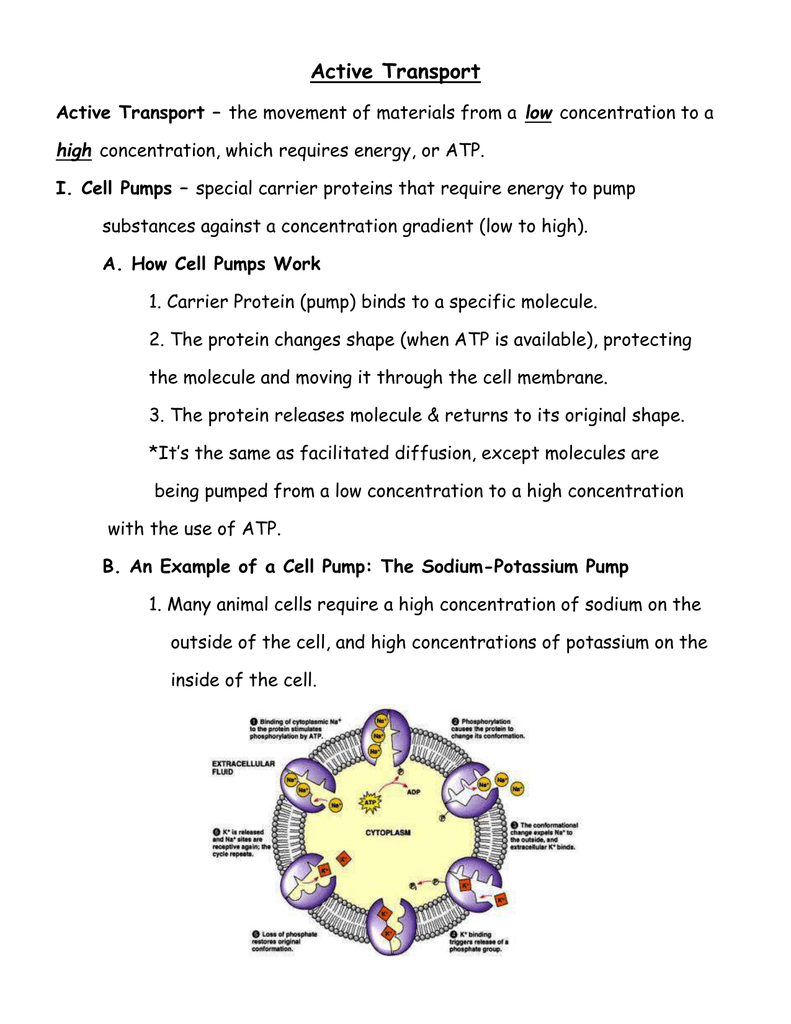 Active Transport
Active Transport – the movement of materials from a low concentration to a
high concentration, which requires energy, or ATP.
I. Cell Pumps – special carrier proteins that require energy to pump
substances against a concentration gradient (low to high).
A. How Cell Pumps Work
1. Carrier Protein (pump) binds to a specific molecule.
2. The protein changes shape (when ATP is available), protecting
the molecule and moving it through the cell membrane.
3. The protein releases molecule & returns to its original shape.
*It's the same as facilitated diffusion, except molecules are
being pumped from a low concentration to a high concentration
with the use of ATP.
B. An Example of a Cell Pump: The Sodium-Potassium Pump
1. Many animal cells require a high concentration of sodium on the
outside of the cell, and high concentrations of potassium on the
inside of the cell.
II. Endocytosis vs. Exocytosis
 The transporting of macromolecules, large food particles, and other large
substances that cannot use carrier proteins.
 Also can be used to move large quantities of smaller molecules.
 Requires energy, or the use of ATP.
A. Endocytosis – moving substances into the cell, even other smaller cells.
1. How it Works
 A portion of the cell membrane moves inward, forming a pouch.
 Molecules enter this pouch & the membrane continues pinching
inward, eventually completely surrounding the molecules.
 The pouch pinches off completely from the cell membrane and
becomes a vesicle.
2. Pinocytosis – the endocytosis of liquids
3. Phagocytosis - the endocytosis of solids or whole cells
B. Exocytosis - releasing substances to the outside of the cell
1. How it Works
 A Vesicle from inside the cell starts to merge or fuse with the
cell membrane.
 Once completely fused, the contents of the vesicle are
released to the outside.
 Membrane of the vesicle is now a part of the cell membrane.
2. Some vesicles are made by the Golgi Apparatus and contain
proteins that need to leave the cell.