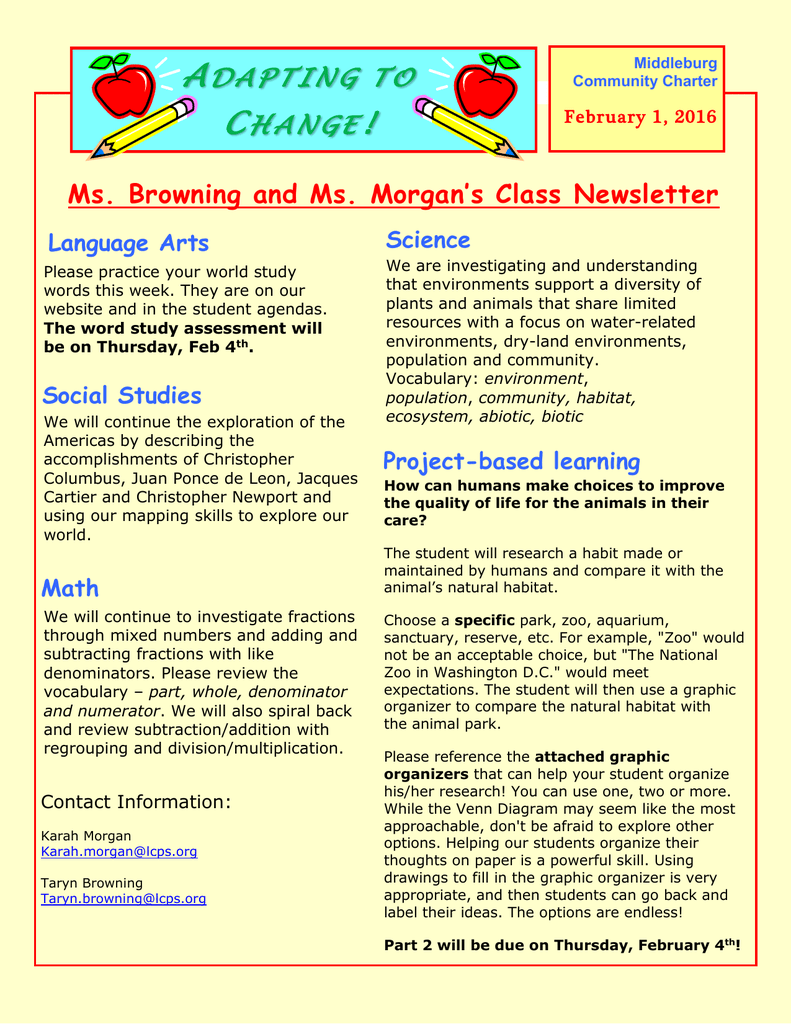 ADAPTING TO
CHANGE!
Middleburg
Community Charter
February 1, 2016
Ms. Browning and Ms. Morgan's Class Newsletter
Language Arts
Please practice your world study
words this week. They are on our
website and in the student agendas.
The word study assessment will
be on Thursday, Feb 4th.
Social Studies
We will continue the exploration of the
Americas by describing the
accomplishments of Christopher
Columbus, Juan Ponce de Leon, Jacques
Cartier and Christopher Newport and
using our mapping skills to explore our
world.
Math
We will continue to investigate fractions
through mixed numbers and adding and
subtracting fractions with like
denominators. Please review the
vocabulary – part, whole, denominator
and numerator. We will also spiral back
and review subtraction/addition with
regrouping and division/multiplication.
Contact Information:
Karah Morgan
[email protected]
Taryn Browning
[email protected]
Science
We are investigating and understanding
that environments support a diversity of
plants and animals that share limited
resources with a focus on water-related
environments, dry-land environments,
population and community.
Vocabulary: environment,
population, community, habitat,
ecosystem, abiotic, biotic
Project-based learning
How can humans make choices to improve
the quality of life for the animals in their
care?
The student will research a habit made or
maintained by humans and compare it with the
animal's natural habitat.
Choose a specific park, zoo, aquarium,
sanctuary, reserve, etc. For example, "Zoo" would
not be an acceptable choice, but "The National
Zoo in Washington D.C." would meet
expectations. The student will then use a graphic
organizer to compare the natural habitat with
the animal park.
Please reference the attached graphic
organizers that can help your student organize
his/her research! You can use one, two or more.
While the Venn Diagram may seem like the most
approachable, don't be afraid to explore other
options. Helping our students organize their
thoughts on paper is a powerful skill. Using
drawings to fill in the graphic organizer is very
appropriate, and then students can go back and
label their ideas. The options are endless!
Part 2 will be due on Thursday, February 4th!
Grasshopper and Frog Newsletter --Page 2
The Arts
Mrs. Hill would like you to remember
to wear your sneakers to school. You
can change into your boots, etc.
when you return to the classroom.
Thank you!
Reminders to Students
 Don't forget your take-home folder
and agenda!
 Please remember to take your
jackets and water bottles home.
 PLEASE pack enough snack
each day so that you do not eat
your lunch during snack time.
We want to make sure you are
getting enough to eat during
lunch time.
This Week's Highlights
Monday
Tuesday
Wednesday
Thursday
Under the Sea Planetarium Assembly 9am
(students only)
Word Study Assessment
PBL Part 2 due
Friday
No School for Students!
Upcoming Events
Under the Sea Planetarium Assembly
9am (students only) – February 4th
PBL At-home Assignment: Part 2 – due
Thursday, February 4th
No School – Teacher Workday
February 5th
Please check the LCPS MCCS
website (2/3 classes) for
additional information and
reminders – this includes a list
of this week's word study
words!!!