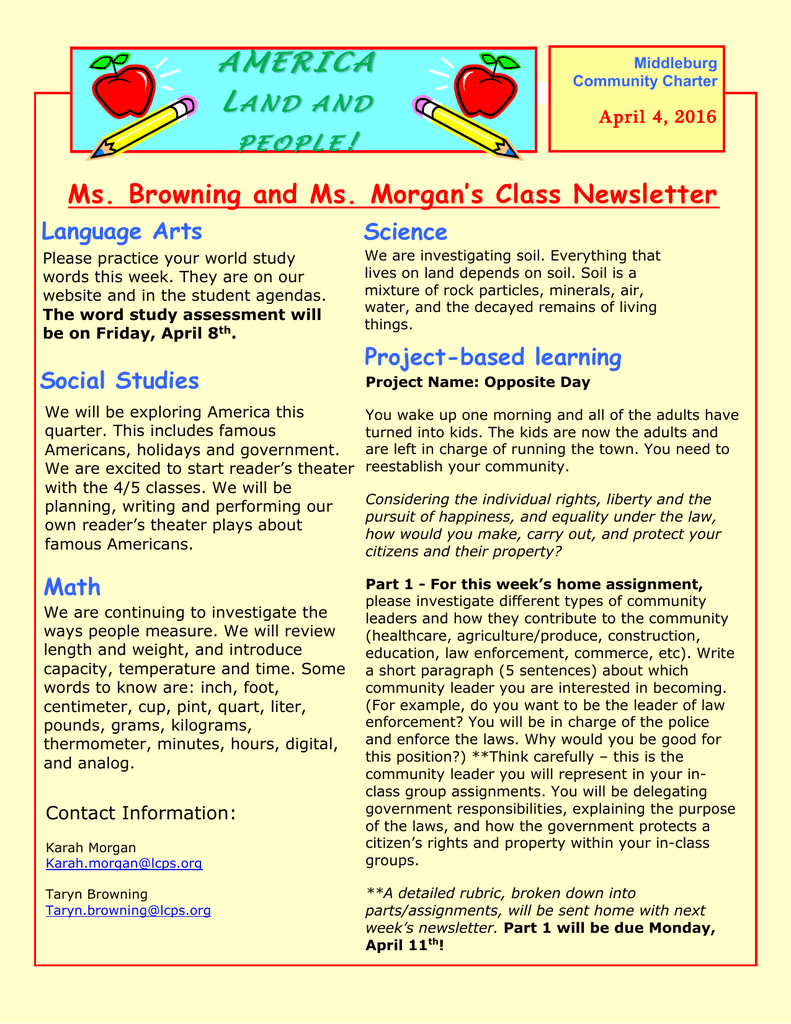 AMERICA
LAND AND
PEOPLE!
Middleburg
Community Charter
April 4, 2016
Ms. Browning and Ms. Morgan's Class Newsletter
Language Arts
Science
Please practice your world study
words this week. They are on our
website and in the student agendas.
The word study assessment will
be on Friday, April 8th.
We are investigating soil. Everything that
lives on land depends on soil. Soil is a
mixture of rock particles, minerals, air,
water, and the decayed remains of living
things.
Social Studies
Project Name: Opposite Day
Project-based learning
We will be exploring America this
quarter. This includes famous
Americans, holidays and government.
We are excited to start reader's theater
with the 4/5 classes. We will be
planning, writing and performing our
own reader's theater plays about
famous Americans.
You wake up one morning and all of the adults have
turned into kids. The kids are now the adults and
are left in charge of running the town. You need to
reestablish your community.
Math
Part 1 - For this week's home assignment,
please investigate different types of community
leaders and how they contribute to the community
(healthcare, agriculture/produce, construction,
education, law enforcement, commerce, etc). Write
a short paragraph (5 sentences) about which
community leader you are interested in becoming.
(For example, do you want to be the leader of law
enforcement? You will be in charge of the police
and enforce the laws. Why would you be good for
this position?) **Think carefully – this is the
community leader you will represent in your inclass group assignments. You will be delegating
government responsibilities, explaining the purpose
of the laws, and how the government protects a
citizen's rights and property within your in-class
groups.
We are continuing to investigate the
ways people measure. We will review
length and weight, and introduce
capacity, temperature and time. Some
words to know are: inch, foot,
centimeter, cup, pint, quart, liter,
pounds, grams, kilograms,
thermometer, minutes, hours, digital,
and analog.
Contact Information:
Karah Morgan
[email protected]
Taryn Browning
[email protected]
Considering the individual rights, liberty and the
pursuit of happiness, and equality under the law,
how would you make, carry out, and protect your
citizens and their property?
**A detailed rubric, broken down into
parts/assignments, will be sent home with next
week's newsletter. Part 1 will be due Monday,
April 11th!
Grasshopper and Frog Newsletter --Page 2
The Arts
In Music last quarter we read, Over in
the Meadow, by Ezra Jack Keats. This
quarter we will be reading, singing
and performing our favorite parts
from different books with the words,
"Over in the …" for various habitats.
This Week's Highlights
Monday
Picture Day! Say Cheese!
Tuesday
Wednesday
Reminders to Students
 Don't forget your take-home folder and
agenda!
Thursday
 Please remember to take your jackets and
water bottles home.
Friday
Word Study Assessment
Under the Sea Assembly 8am-9am
 PLEASE pack enough snack each day so
that you do not eat your lunch during
snack time. We want to make sure you are
getting enough to eat during lunch time.
 Mrs. Browning's class will be
practicing mindfulness in the morning
during morning meeting. Please bring
in a small stuffed animal to use during
this exercise. Mindfulness is shown to
strengthen the prefrontal cortex of the
brain. This helps us with focus,
readying us to be our best learners.
Upcoming Events
Congrats to Mrs. Browning's class for
winning the Lego challenge!! The pizza
party will be held at 1:30 on Wednesday
afternoon (April 6th), followed by extra
outdoor recess.
Please check the LCPS MCCS
website (2/3 classes) for
additional information and
reminders – this includes a list
of this week's word study
words!!!