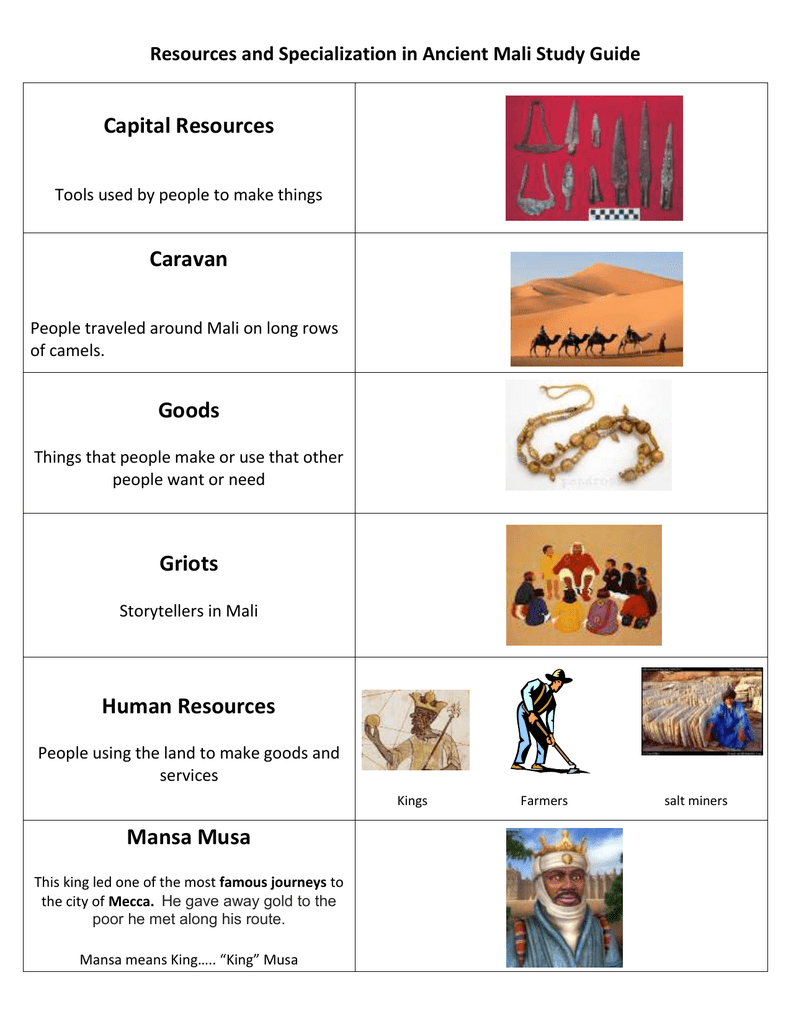 Resources and Specialization in Ancient Mali Study Guide
Capital Resources
Tools used by people to make things
Caravan
People traveled around Mali on long rows
of camels.
Goods
Things that people make or use that other
people want or need
Griots
Storytellers in Mali
Human Resources
People using the land to make goods and
services
Kings
Mansa Musa
This king led one of the most famous journeys to
the city of Mecca. He gave away gold to the
poor he met along his route.
Mansa means King….. "King" Musa
Farmers
salt miners
Sundiata
An important king in Mali, also known as
the Lion King
Niger River
A Natural Resource that was an important
source of water and transportation in Mali.
Natural Resources
Materials that come from nature. In Mali,
natural resources were gold, salt, and
water sources/rivers.
Gold
Salt
Producers
People who use resources to make goods
and/or provide services.
Services
Weavers
builders
In Mali, they traded to get what they
wanted.
Activities (jobs) that help people get what
they want or need.
Specialization
When a person spends all their time
producing one type of good or service.
These men specialized in boat
making.
More Information about Ancient Mali
 On trade routes across Mali, people traded gold from the west for salt from the areas
near the Sahara Desert. Bartering is another word for trading.
 Storytellers (griots) passed on traditions and information from generation to
generation.
 People in Mali farmed, mined, and traded to make a living.
 Kings (mansas) created a rich and powerful empire that controlled trade in west Africa.
 Timbuktu was a large important city in Mali—with a large university (a capital resource)
containing many Greek and Roman books.
 Benefits (good things) of Specialization in Ancient Mali:
o People could get really good at one thing.
o People could trade their specialty (good or service) for other goods or services
they needed or wanted.
o More work could be done in a day because everyone focused on their specialty.
o People learned to use the resources around them to meet their needs, and to
satisfy wants.