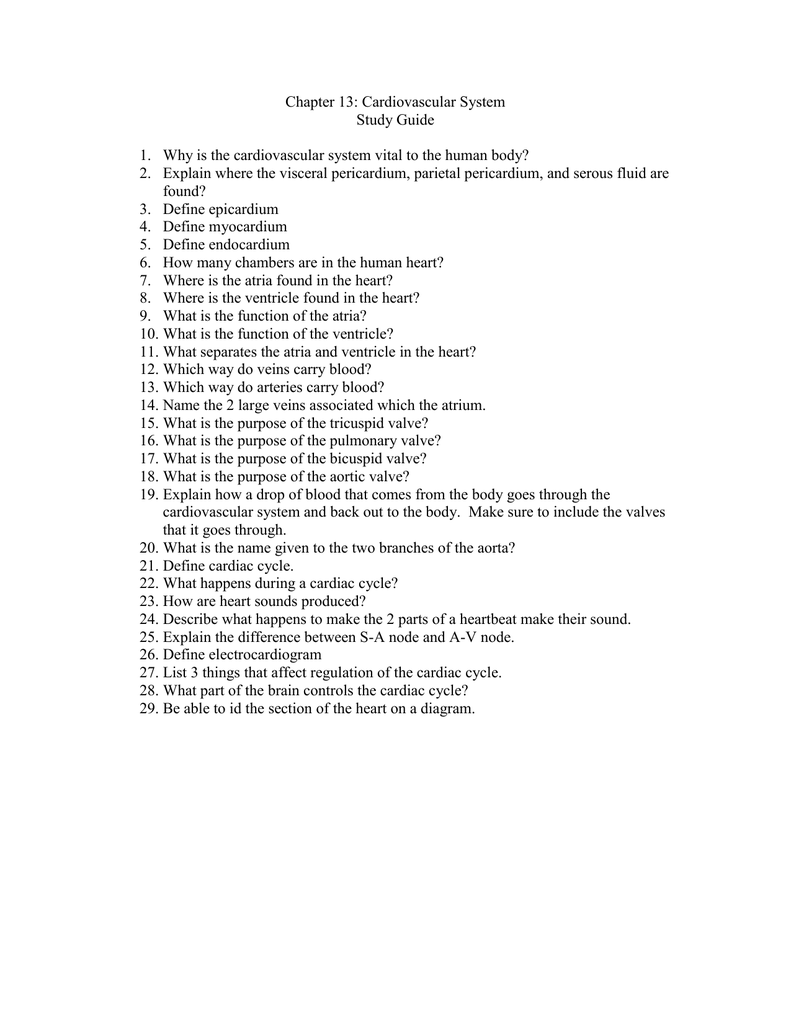 Chapter 13: Cardiovascular System
Study Guide
1. Why is the cardiovascular system vital to the human body?
2. Explain where the visceral pericardium, parietal pericardium, and serous fluid are
found?
3. Define epicardium
4. Define myocardium
5. Define endocardium
6. How many chambers are in the human heart?
7. Where is the atria found in the heart?
8. Where is the ventricle found in the heart?
9. What is the function of the atria?
10. What is the function of the ventricle?
11. What separates the atria and ventricle in the heart?
12. Which way do veins carry blood?
13. Which way do arteries carry blood?
14. Name the 2 large veins associated which the atrium.
15. What is the purpose of the tricuspid valve?
16. What is the purpose of the pulmonary valve?
17. What is the purpose of the bicuspid valve?
18. What is the purpose of the aortic valve?
19. Explain how a drop of blood that comes from the body goes through the
cardiovascular system and back out to the body. Make sure to include the valves
that it goes through.
20. What is the name given to the two branches of the aorta?
21. Define cardiac cycle.
22. What happens during a cardiac cycle?
23. How are heart sounds produced?
24. Describe what happens to make the 2 parts of a heartbeat make their sound.
25. Explain the difference between S-A node and A-V node.
26. Define electrocardiogram
27. List 3 things that affect regulation of the cardiac cycle.
28. What part of the brain controls the cardiac cycle?
29. Be able to id the section of the heart on a diagram.