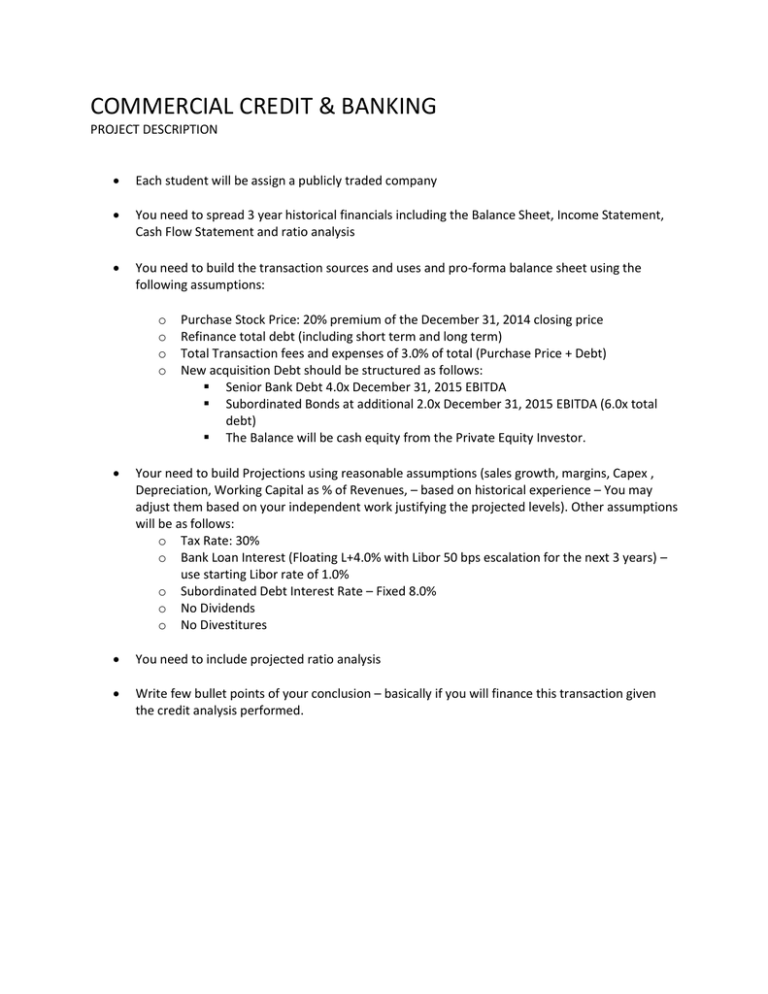 COMMERCIAL CREDIT & BANKING
PROJECT DESCRIPTION

Each student will be assign a publicly traded company

You need to spread 3 year historical financials including the Balance Sheet, Income Statement,
Cash Flow Statement and ratio analysis

You need to build the transaction sources and uses and pro-forma balance sheet using the
following assumptions:
o
o
o
o
Purchase Stock Price: 20% premium of the December 31, 2014 closing price
Refinance total debt (including short term and long term)
Total Transaction fees and expenses of 3.0% of total (Purchase Price + Debt)
New acquisition Debt should be structured as follows:
 Senior Bank Debt 4.0x December 31, 2015 EBITDA
 Subordinated Bonds at additional 2.0x December 31, 2015 EBITDA (6.0x total
debt)
 The Balance will be cash equity from the Private Equity Investor.

Your need to build Projections using reasonable assumptions (sales growth, margins, Capex ,
Depreciation, Working Capital as % of Revenues, – based on historical experience – You may
adjust them based on your independent work justifying the projected levels). Other assumptions
will be as follows:
o Tax Rate: 30%
o Bank Loan Interest (Floating L+4.0% with Libor 50 bps escalation for the next 3 years) –
use starting Libor rate of 1.0%
o Subordinated Debt Interest Rate – Fixed 8.0%
o No Dividends
o No Divestitures

You need to include projected ratio analysis

Write few bullet points of your conclusion – basically if you will finance this transaction given
the credit analysis performed.