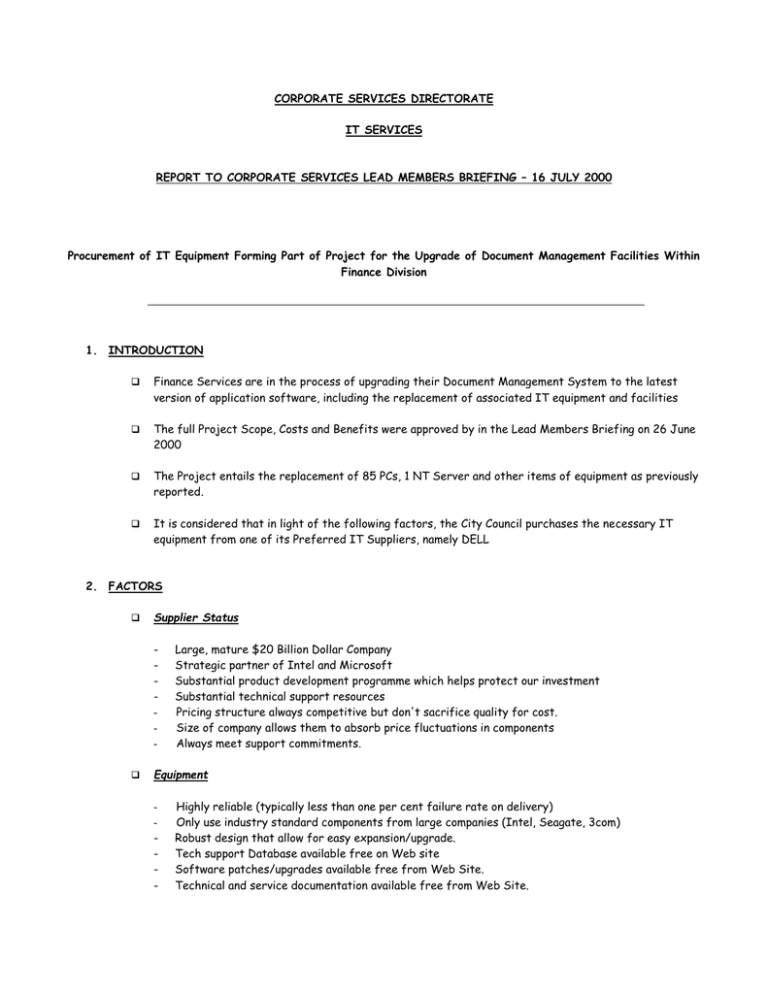 CORPORATE SERVICES DIRECTORATE
IT SERVICES
REPORT TO CORPORATE SERVICES LEAD MEMBERS BRIEFING – 16 JULY 2000
Procurement of IT Equipment Forming Part of Project for the Upgrade of Document Management Facilities Within
Finance Division
1. INTRODUCTION

Finance Services are in the process of upgrading their Document Management System to the latest
version of application software, including the replacement of associated IT equipment and facilities

The full Project Scope, Costs and Benefits were approved by in the Lead Members Briefing on 26 June
2000

The Project entails the replacement of 85 PCs, 1 NT Server and other items of equipment as previously
reported.

It is considered that in light of the following factors, the City Council purchases the necessary IT
equipment from one of its Preferred IT Suppliers, namely DELL
2. FACTORS

Supplier Status
-

Large, mature $20 Billion Dollar Company
Strategic partner of Intel and Microsoft
Substantial product development programme which helps protect our investment
Substantial technical support resources
Pricing structure always competitive but don't sacrifice quality for cost.
Size of company allows them to absorb price fluctuations in components
Always meet support commitments.
Equipment
-
Highly reliable (typically less than one per cent failure rate on delivery)
Only use industry standard components from large companies (Intel, Seagate, 3com)
Robust design that allow for easy expansion/upgrade.
Tech support Database available free on Web site
Software patches/upgrades available free from Web Site.
Technical and service documentation available free from Web Site.
 IT and Support Strategies
-
-
Dell Optiplex is City Council's standard Desktop Computer
Dell Poweredge is City Council's standard Server
Knowledge of the equipment resulting in shorter installation times, and more in-house solutions to
technical issues
Thoroughly tested with our Office Software and Data Communication products therefore no need
for lengthy evaluation of equipment
Excellent relationship with Dell Technical Support, which has developed to such an extent that in
emergencies they will ship parts by courier for us to fit (e.g. Hard Disk for Server arrived 75
minutes after fault logged with Dell)
We are informed of new products and company strategy before public launch to allow us
to make business decisions based on full knowledge of present and future product range and
company strategy
 Project Issues
-
The time-scale for procurement and subsequent installation will be much quicker, thereby achieving
the target business benefits arising from the project that much sooner
3. RECOMMENDATION
That on this occasion and due to the above factors, standing orders be waived in respect of the necessity for
seeking tenders and that the purchase of the necessary PCs and Server as part of the Document Management
System upgrade be made with DELL.