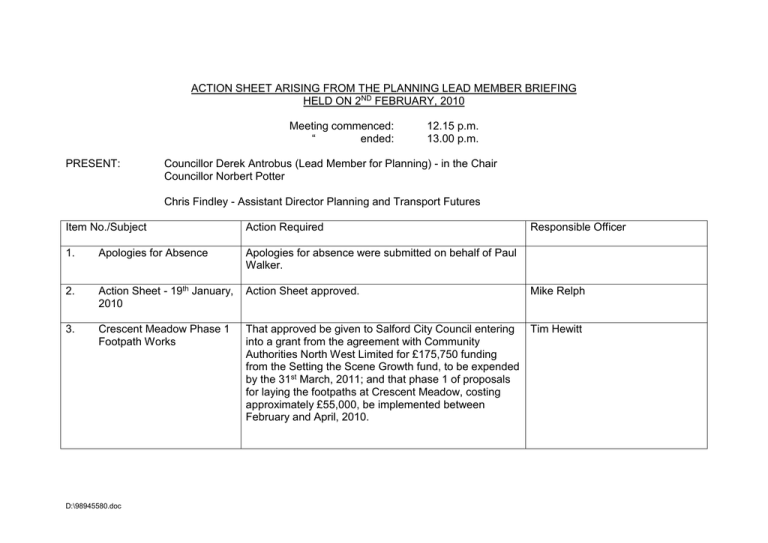 ACTION SHEET ARISING FROM THE PLANNING LEAD MEMBER BRIEFING
HELD ON 2ND FEBRUARY, 2010
Meeting commenced:
"
ended:
PRESENT:
12.15 p.m.
13.00 p.m.
Councillor Derek Antrobus (Lead Member for Planning) - in the Chair
Councillor Norbert Potter
Chris Findley - Assistant Director Planning and Transport Futures
Item No./Subject
Action Required
1.
Apologies for Absence
Apologies for absence were submitted on behalf of Paul
Walker.
2.
Action Sheet - 19th January,
2010
Action Sheet approved.
3.
Crescent Meadow Phase 1
Footpath Works
That approved be given to Salford City Council entering Tim Hewitt
into a grant from the agreement with Community
Authorities North West Limited for £175,750 funding
from the Setting the Scene Growth fund, to be expended
by the 31st March, 2011; and that phase 1 of proposals
for laying the footpaths at Crescent Meadow, costing
approximately £55,000, be implemented between
February and April, 2010.
D:\98945580.doc
Responsible Officer
Mike Relph
That a further report be submitted in spring 2010 for the
phase 2 proposals at the Crescent Meadow, which
would consist of fencing at the Meadow Road entrance,
meadow and woodland planting, wetland creation and a
footpath link to Peel Park.
4.
Greengate Public Realm
Project Phase 1A and 1B NWRDA Funding
Agreement
D:\98945580.doc
That Urban Vision enter into negotiations with Salford
City Council's appropriate partner contractor, to obtain a
target cost for constructing the works on site.
That approval be given for the Head of Legal Services to Nik Puttnam
enter into a grant from the agreement with the North
West Regional Development Agency in respect of a
grant award of £4,799,000, towards the cost of
delivering phases 1A and 1B of the Greengate Public
Realm Scheme.