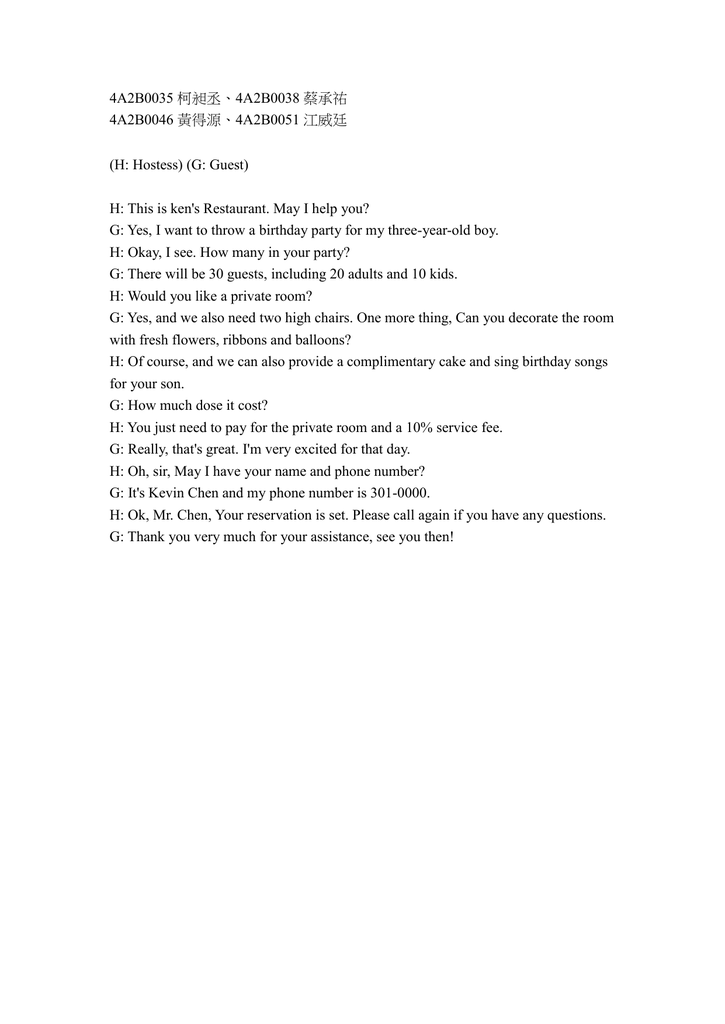 4A2B0035 柯昶丞、4A2B0038 蔡承祐
4A2B0046 黃得源、4A2B0051 江威廷
(H: Hostess) (G: Guest)
H: This is ken's Restaurant. May I help you?
G: Yes, I want to throw a birthday party for my three-year-old boy.
H: Okay, I see. How many in your party?
G: There will be 30 guests, including 20 adults and 10 kids.
H: Would you like a private room?
G: Yes, and we also need two high chairs. One more thing, Can you decorate the room
with fresh flowers, ribbons and balloons?
H: Of course, and we can also provide a complimentary cake and sing birthday songs
for your son.
G: How much dose it cost?
H: You just need to pay for the private room and a 10% service fee.
G: Really, that's great. I'm very excited for that day.
H: Oh, sir, May I have your name and phone number?
G: It's Kevin Chen and my phone number is 301-0000.
H: Ok, Mr. Chen, Your reservation is set. Please call again if you have any questions.
G: Thank you very much for your assistance, see you then!