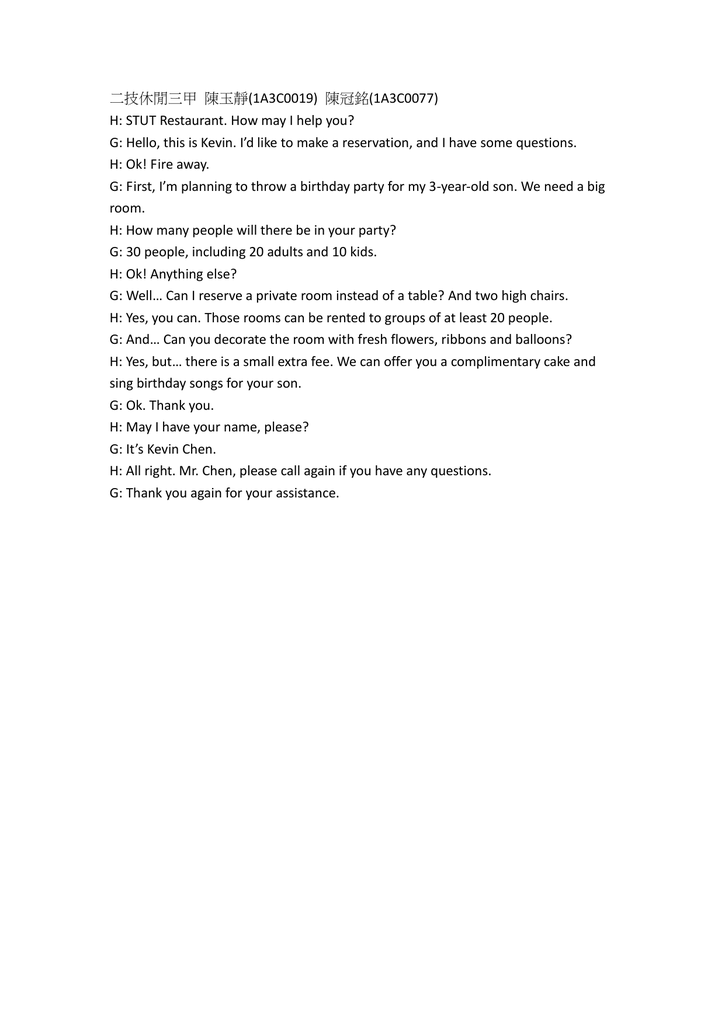 二技休閒三甲 陳玉靜(1A3C0019) 陳冠銘(1A3C0077)
H: STUT Restaurant. How may I help you?
G: Hello, this is Kevin. I'd like to make a reservation, and I have some questions.
H: Ok! Fire away.
G: First, I'm planning to throw a birthday party for my 3-year-old son. We need a big
room.
H: How many people will there be in your party?
G: 30 people, including 20 adults and 10 kids.
H: Ok! Anything else?
G: Well… Can I reserve a private room instead of a table? And two high chairs.
H: Yes, you can. Those rooms can be rented to groups of at least 20 people.
G: And… Can you decorate the room with fresh flowers, ribbons and balloons?
H: Yes, but… there is a small extra fee. We can offer you a complimentary cake and
sing birthday songs for your son.
G: Ok. Thank you.
H: May I have your name, please?
G: It's Kevin Chen.
H: All right. Mr. Chen, please call again if you have any questions.
G: Thank you again for your assistance.