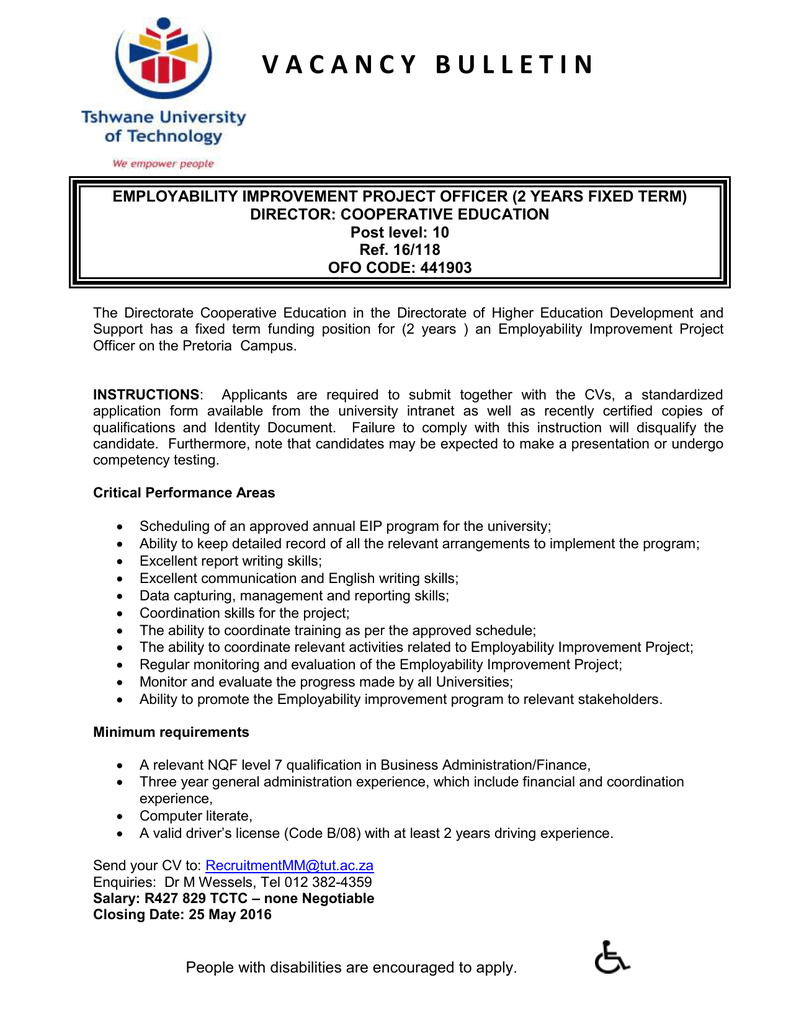 VACANCY BULLETIN
EMPLOYABILITY IMPROVEMENT PROJECT OFFICER (2 YEARS FIXED TERM)
DIRECTOR: COOPERATIVE EDUCATION
Post level: 10
Ref. 16/118
OFO CODE: 441903
The Directorate Cooperative Education in the Directorate of Higher Education Development and
Support has a fixed term funding position for (2 years ) an Employability Improvement Project
Officer on the Pretoria Campus.
INSTRUCTIONS: Applicants are required to submit together with the CVs, a standardized
application form available from the university intranet as well as recently certified copies of
qualifications and Identity Document. Failure to comply with this instruction will disqualify the
candidate. Furthermore, note that candidates may be expected to make a presentation or undergo
competency testing.
Critical Performance Areas











Scheduling of an approved annual EIP program for the university;
Ability to keep detailed record of all the relevant arrangements to implement the program;
Excellent report writing skills;
Excellent communication and English writing skills;
Data capturing, management and reporting skills;
Coordination skills for the project;
The ability to coordinate training as per the approved schedule;
The ability to coordinate relevant activities related to Employability Improvement Project;
Regular monitoring and evaluation of the Employability Improvement Project;
Monitor and evaluate the progress made by all Universities;
Ability to promote the Employability improvement program to relevant stakeholders.
Minimum requirements




A relevant NQF level 7 qualification in Business Administration/Finance,
Three year general administration experience, which include financial and coordination
experience,
Computer literate,
A valid driver's license (Code B/08) with at least 2 years driving experience.
Send your CV to: [email protected]
Enquiries: Dr M Wessels, Tel 012 382-4359
Salary: R427 829 TCTC – none Negotiable
Closing Date: 25 May 2016
People with disabilities are encouraged to apply.
VACANCY BULLETIN
If we have not responded within a month from the closing date, you should regard your
application as unsuccessful. Correspondence will only be entered into with short-listed
candidates. The University reserves the right not to make an appointment. It is the intention
of the University to promote representativity in respect of race, gender and disability through
the filling these posts. Preference will be given to candidate from the designated groups.
People with disabilities are encouraged to apply.