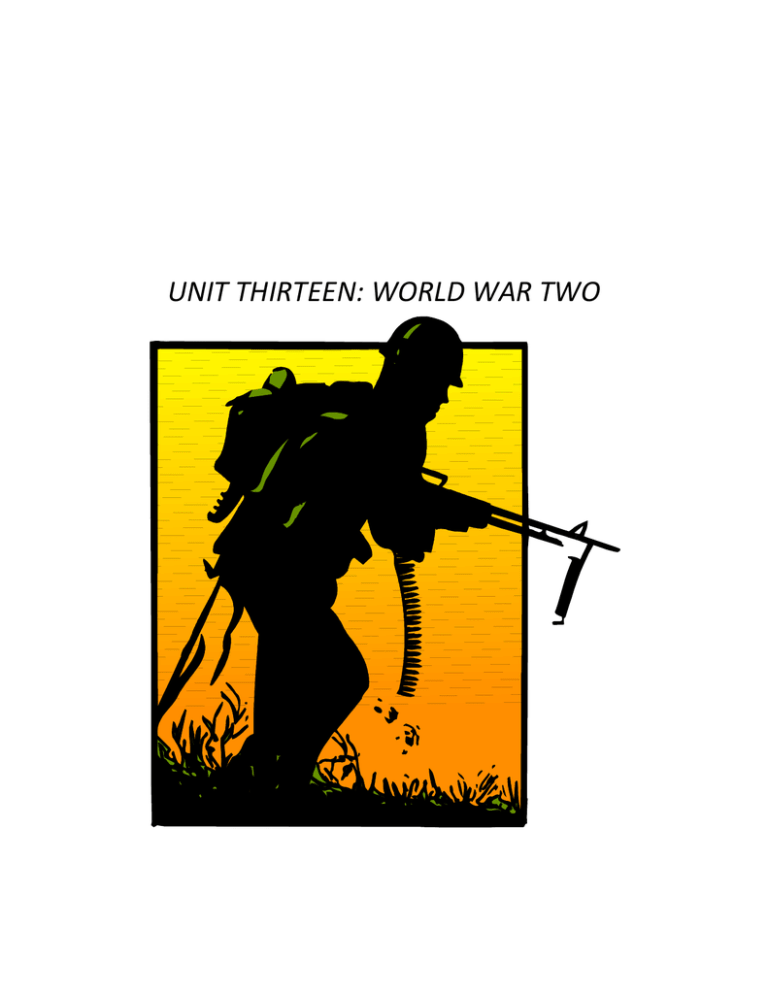 UNIT THIRTEEN: WORLD WAR TWO
Unit 13: World War Two (Chapter 31)
Terms: Define the following as they pertain to the historical topic at hand.
Term
Appeasement
Spanish Civil War
Nazi-Soviet Pact
Blitzkrieg
Operation Sea Lion
Operation Barbarossa
Pearl Harbor
Genocide
Total War
Battle of El Alamein
Battle of Stalingrad
Island Hopping
Kamikaze
Define
Importance (why is this
significant?)
Holocaust
People: Identify the following individuals
Individual(s)
Generalissimo Francisco
Franco
Prime Minister Neville
Chamberlain
Prime Minister Winston
Churchill
General Erwin Rommel
President Franklin D.
Roosevelt
General Tojo Hideki
President Harry Truman
Location
Significance/ importance to history
Map Activity: Place the countries/places listed below on the map. Create a color key to demonstrate
the coordination.
A) Alliances of WWII
B)
B) Map of Select Battles of WWII
C) The Pacific Theater
Charts: Complete the chart using information from class as well as your textbook.
Aggression of major powers pre-World War Two
Japan
Italy
Germany
Primary Sources: Use the documents to
answer the following questions. Use
complete sentences.
1) What does Dr. Seuss imply about
America's feelings toward problems in
Europe?
2) What causes this opinion to change?
Summary Questions: Answer the following questions in 3+ full sentences
1)
What are the various factors that allowed Hitler to be successful in expanding his German
empire?
2) What is the one event that was the major turning point in World War Two? There are multiple
options, you can choose what event to answer with, but you must explain WHY and use facts to
back it up. DO NOT USE "I", "MY", ETC IN YOUR ANSWER.
3) Who are left as major powers after World War Two? How do the winners try to prevent war
from happening again? What is different about this from World War One?