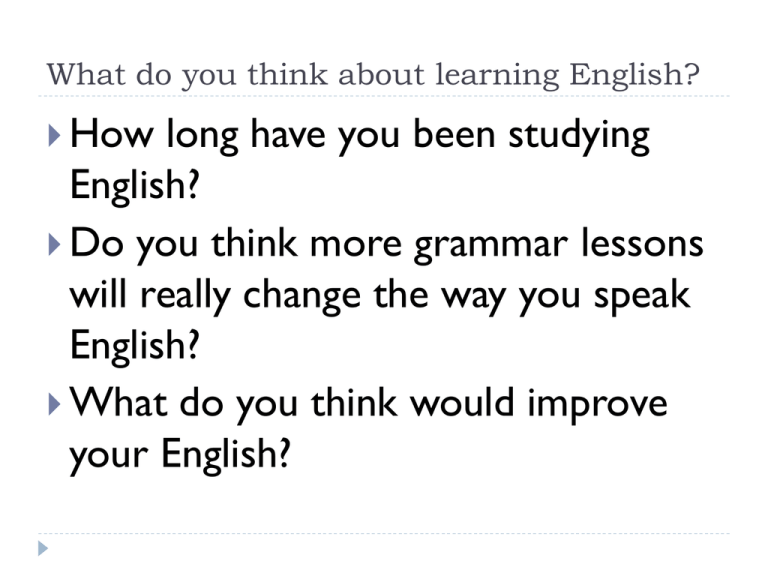 What do you think about learning English?
 How
long have you been studying
English?
 Do you think more grammar lessons
will really change the way you speak
English?
 What do you think would improve
your English?
English "Urban Myths"




True or False: "When I do speaking practice, I
would like my teacher to correct every mistake I
make".
True or False: "If I use correct grammar/word
choice, accent/pronunciation is not that
important."
True or False: "As far as pronunciation goes,
sounds like "th" are much more important than
the rhythms and tones of language.
True or False: "The best way to improve my
English is to listen and repeat what I hear, just like
a child does."
Communication isn't just words or grammar
rules
Many factors work together!
Parts of language






Segmentals (sounds)
Suprasegmentals (stress,
rhythm, intonation/tone)
Syntax (grammar)
Vocabulary (which words)
Nonverbal
Communication
Pragmatics ("It's not just
what you say, but it's how
you say it.")
"The straw that broke that camel's back"
What causes this?
"Huh?"
"Could you
please repeat
that?"
"What?"
Most often, pronunciation
and pragmatics…
The "Ballerina Fallacy"
Common sense tells us we
learn to do a physical pursuit
by actually practicing the
physical pursuit.
Why do we treat speaking a
foreign language as an
exception?
Should we?