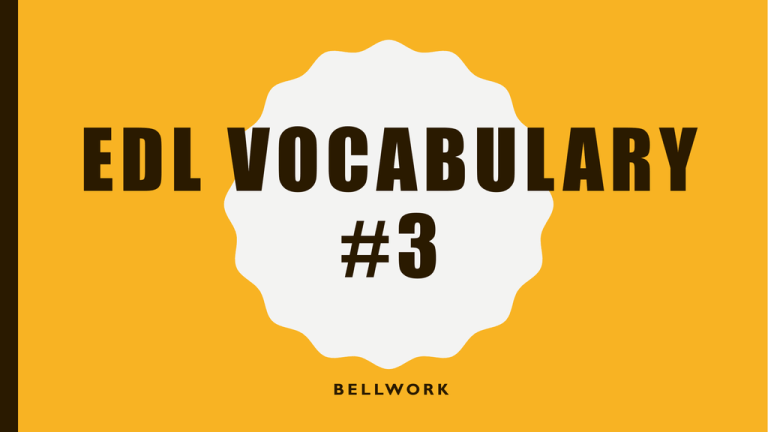 EDL VOCABUL ARY
#3
B E L LW O R K
MONDAY, FEBRUARY 8
Write out the definitions to the vocabulary words for the week.
• 1. universal – adj.- including everyone
• 2. veto – verb- to deny something
• 3. trend –noun- a fad
• 4. stanza – noun- a division of a poem
• 5. sophomore – noun- to be in the 2nd year of a 4 year
program
• 6. ruthless – adj.- cruel
TUESDAY, FEBRUARY
TH
9
Add to your definition list for the week.
• 7. revise –verb- to change in order to correct or improve
• 8. reprieve –noun- a break or temporary relief from
punishment or other task
• 9. repel – verb- to fight against; resist
• 10. recruit –noun- a new member
• 11. Antecedent- a word to which a pronoun refers or that
a pronoun replaces. It must agree with the pronoun.
Example: Marco's sister spent her vacation in San Diego.
WEDNESDAY, FEBRUARY
TH
10
Write out the sentence, circling the vocabulary word and drawing arrows between the pronoun
and its antecedent.
• 1. Universal health care is offered in the United States, but it is a
divisive issue among many groups.
• 2. Everyone wanted to eat Subway for lunch, however my mom
vetoed their idea.
• 3. Wearing tall socks is a trend Mrs. Rapp doesn't understand
because she is out of touch with what is stylish.
THURSDAY, FEBRUARY
TH
11
Write out the sentence and insert the correct vocabulary word.
• 1. The government sought to __________ the rebels during their
invasion.
• 2. I broke my poem into four different __________, but they all
had the same rhyme scheme.
• 3. National Honor Society will welcome new ____________(s)
into membership this spring.
FRIDAY, FEBRUARY
TH
12
Write out the sentence, inserting the correct vocabulary word
and drawing arrows between the pronoun and its antecedent.
• 1. Sometimes Mrs. Rapp needs a ____________ from grading,
but it piles up anyway!
• 2. The politician is known for his ________ behavior, for he
will do anything to get ahead.
• 3. My brother is a ___________ in high school, so he thinks
he is really cool.