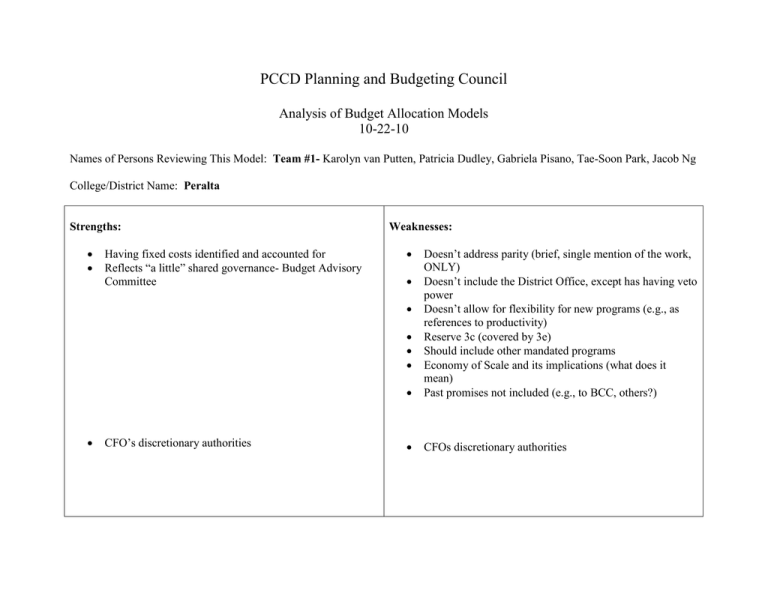 PCCD Planning and Budgeting Council
Analysis of Budget Allocation Models
10-22-10
Names of Persons Reviewing This Model: Team #1- Karolyn van Putten, Patricia Dudley, Gabriela Pisano, Tae-Soon Park, Jacob Ng
College/District Name: Peralta
Strengths:


Having fixed costs identified and accounted for
Reflects "a little" shared governance- Budget Advisory
Committee
Weaknesses:


Doesn't address parity (brief, single mention of the work,
ONLY)
Doesn't include the District Office, except has having veto
power
Doesn't allow for flexibility for new programs (e.g., as
references to productivity)
Reserve 3c (covered by 3e)
Should include other mandated programs
Economy of Scale and its implications (what does it
mean)
Past promises not included (e.g., to BCC, others?)

CFOs discretionary authorities






CFO's discretionary authorities
Is anything missing in this college's budget allocation model?


District Office service areas have not yet been required to
do program review or unit planning
Budget development/allocation timeline was not included
previously.
Recommendations/Suggestions:
How does this model compare to the PCCD budget allocation
model?