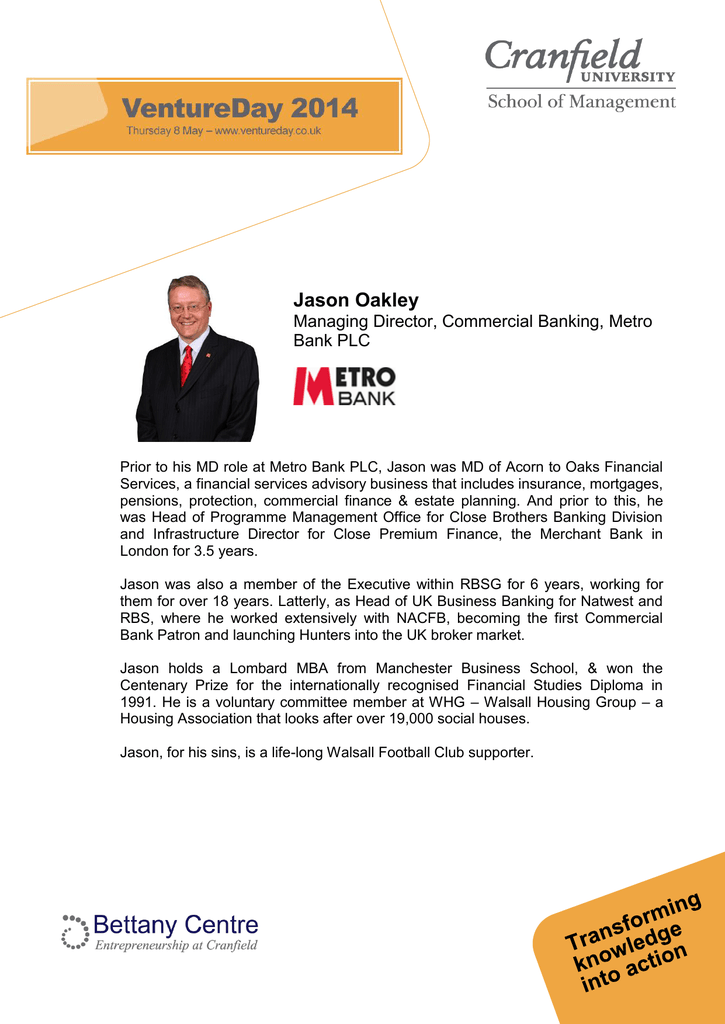 Jason Oakley
Managing Director, Commercial Banking, Metro
Bank PLC
Prior to his MD role at Metro Bank PLC, Jason was MD of Acorn to Oaks Financial
Services, a financial services advisory business that includes insurance, mortgages,
pensions, protection, commercial finance & estate planning. And prior to this, he
was Head of Programme Management Office for Close Brothers Banking Division
and Infrastructure Director for Close Premium Finance, the Merchant Bank in
London for 3.5 years.
Jason was also a member of the Executive within RBSG for 6 years, working for
them for over 18 years. Latterly, as Head of UK Business Banking for Natwest and
RBS, where he worked extensively with NACFB, becoming the first Commercial
Bank Patron and launching Hunters into the UK broker market.
Jason holds a Lombard MBA from Manchester Business School, & won the
Centenary Prize for the internationally recognised Financial Studies Diploma in
1991. He is a voluntary committee member at WHG – Walsall Housing Group – a
Housing Association that looks after over 19,000 social houses.
Jason, for his sins, is a life-long Walsall Football Club supporter.