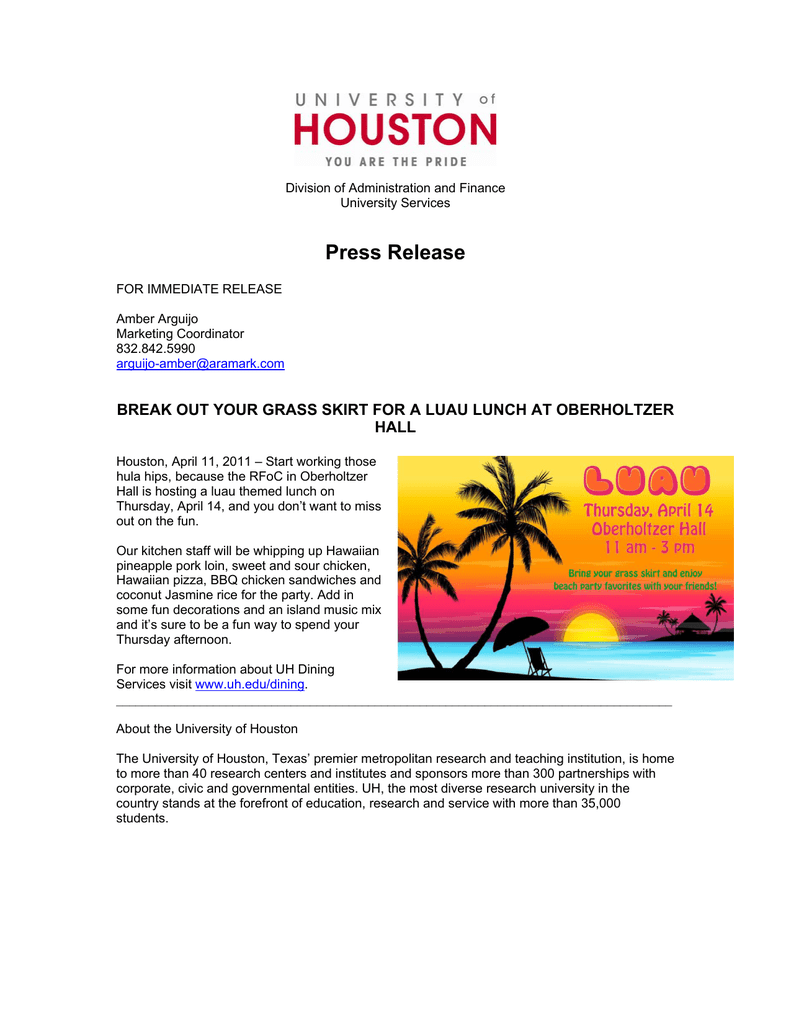 Division of Administration and Finance
University Services
Press Release
FOR IMMEDIATE RELEASE
Amber Arguijo
Marketing Coordinator
832.842.5990
[email protected]
BREAK OUT YOUR GRASS SKIRT FOR A LUAU LUNCH AT OBERHOLTZER
HALL
Houston, April 11, 2011 – Start working those
hula hips, because the RFoC in Oberholtzer
Hall is hosting a luau themed lunch on
Thursday, April 14, and you don't want to miss
out on the fun.
Our kitchen staff will be whipping up Hawaiian
pineapple pork loin, sweet and sour chicken,
Hawaiian pizza, BBQ chicken sandwiches and
coconut Jasmine rice for the party. Add in
some fun decorations and an island music mix
and it's sure to be a fun way to spend your
Thursday afternoon.
For more information about UH Dining
Services visit www.uh.edu/dining.
______________________________________________________________________________________
About the University of Houston
The University of Houston, Texas' premier metropolitan research and teaching institution, is home
to more than 40 research centers and institutes and sponsors more than 300 partnerships with
corporate, civic and governmental entities. UH, the most diverse research university in the
country stands at the forefront of education, research and service with more than 35,000
students.