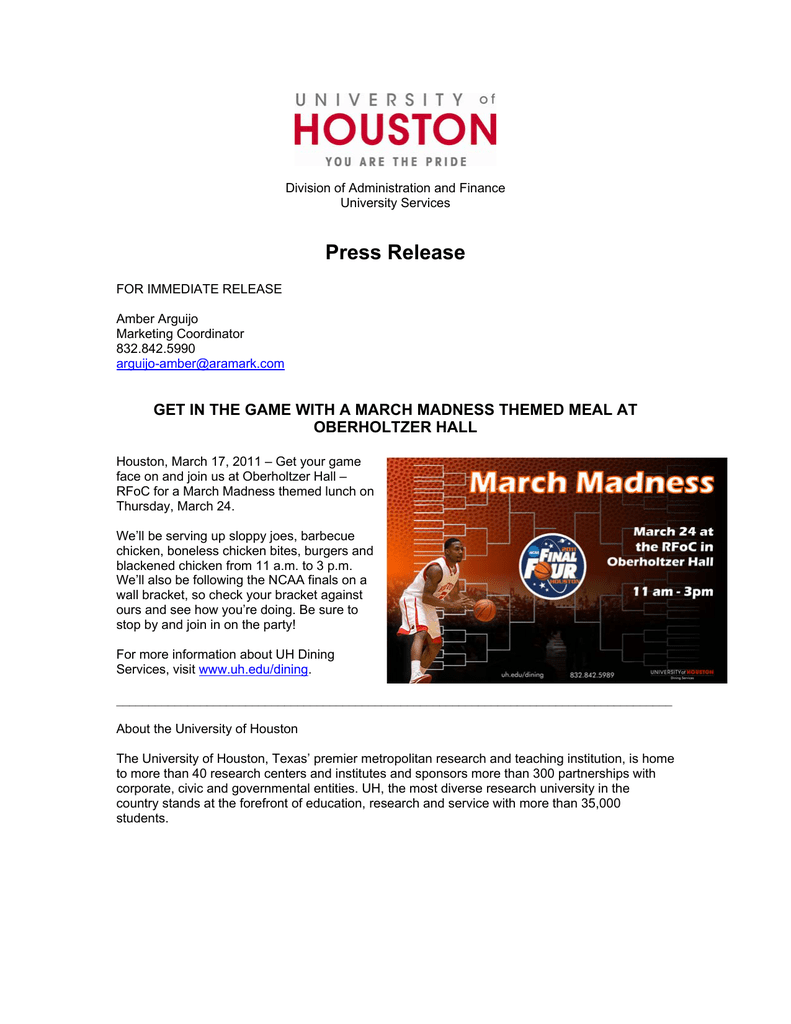 Division of Administration and Finance
University Services
Press Release
FOR IMMEDIATE RELEASE
Amber Arguijo
Marketing Coordinator
832.842.5990
[email protected]
GET IN THE GAME WITH A MARCH MADNESS THEMED MEAL AT
OBERHOLTZER HALL
Houston, March 17, 2011 – Get your game
face on and join us at Oberholtzer Hall –
RFoC for a March Madness themed lunch on
Thursday, March 24.
We'll be serving up sloppy joes, barbecue
chicken, boneless chicken bites, burgers and
blackened chicken from 11 a.m. to 3 p.m.
We'll also be following the NCAA finals on a
wall bracket, so check your bracket against
ours and see how you're doing. Be sure to
stop by and join in on the party!
For more information about UH Dining
Services, visit www.uh.edu/dining.
______________________________________________________________________________________
About the University of Houston
The University of Houston, Texas' premier metropolitan research and teaching institution, is home
to more than 40 research centers and institutes and sponsors more than 300 partnerships with
corporate, civic and governmental entities. UH, the most diverse research university in the
country stands at the forefront of education, research and service with more than 35,000
students.