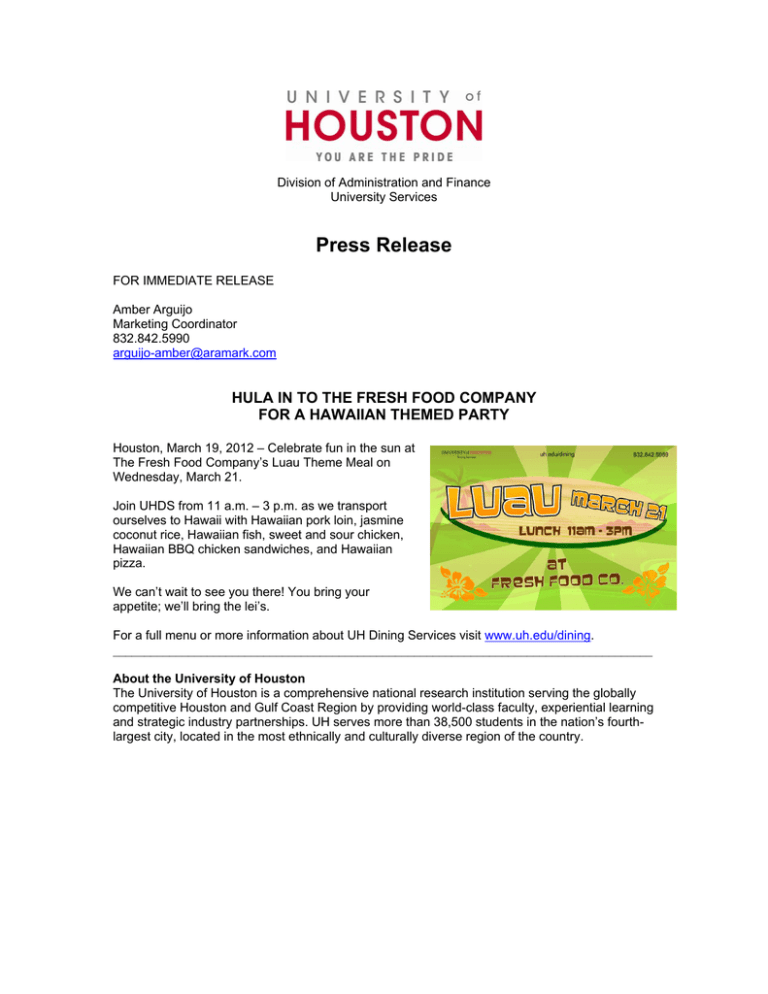 Division of Administration and Finance
University Services
Press Release
FOR IMMEDIATE RELEASE
Amber Arguijo
Marketing Coordinator
832.842.5990
arguijo-amber@aramark.com
HULA IN TO THE FRESH FOOD COMPANY
FOR A HAWAIIAN THEMED PARTY
Houston, March 19, 2012 – Celebrate fun in the sun at
The Fresh Food Company's Luau Theme Meal on
Wednesday, March 21.
Join UHDS from 11 a.m. – 3 p.m. as we transport
ourselves to Hawaii with Hawaiian pork loin, jasmine
coconut rice, Hawaiian fish, sweet and sour chicken,
Hawaiian BBQ chicken sandwiches, and Hawaiian
pizza.
We can't wait to see you there! You bring your
appetite; we'll bring the lei's.
For a full menu or more information about UH Dining Services visit www.uh.edu/dining.
______________________________________________________________________________________
About the University of Houston
The University of Houston is a comprehensive national research institution serving the globally
competitive Houston and Gulf Coast Region by providing world-class faculty, experiential learning
and strategic industry partnerships. UH serves more than 38,500 students in the nation's fourthlargest city, located in the most ethnically and culturally diverse region of the country.