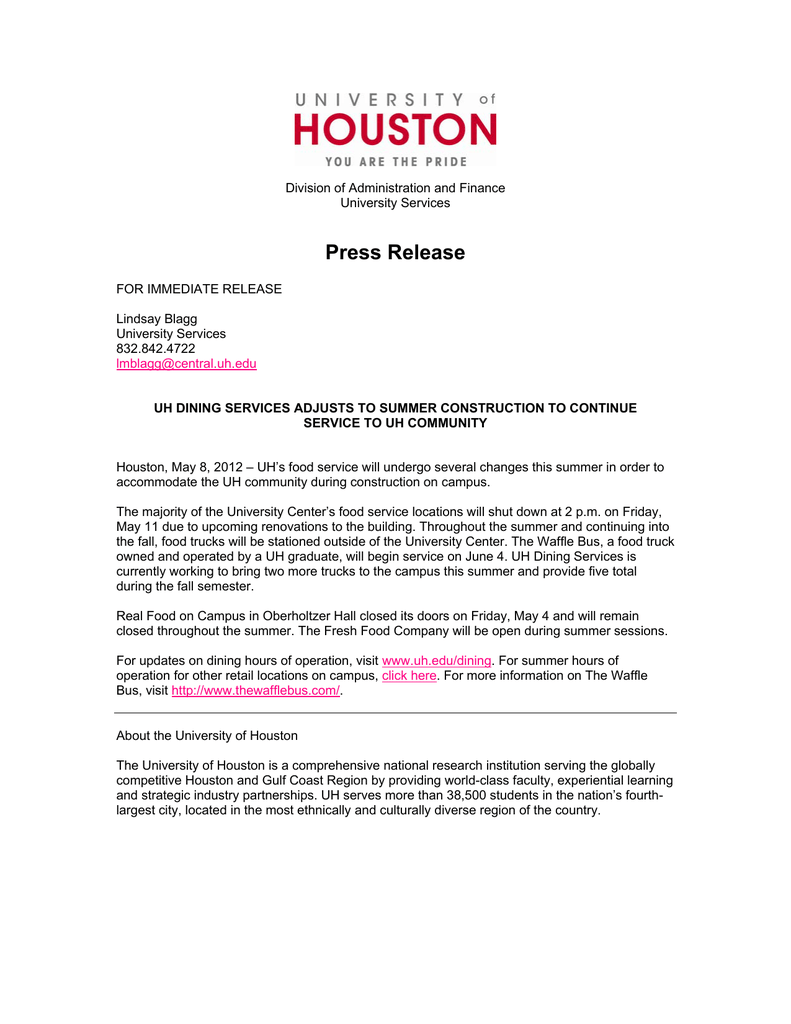 Division of Administration and Finance
University Services
Press Release
FOR IMMEDIATE RELEASE
Lindsay Blagg
University Services
832.842.4722
[email protected]
UH DINING SERVICES ADJUSTS TO SUMMER CONSTRUCTION TO CONTINUE
SERVICE TO UH COMMUNITY
Houston, May 8, 2012 – UH's food service will undergo several changes this summer in order to
accommodate the UH community during construction on campus.
The majority of the University Center's food service locations will shut down at 2 p.m. on Friday,
May 11 due to upcoming renovations to the building. Throughout the summer and continuing into
the fall, food trucks will be stationed outside of the University Center. The Waffle Bus, a food truck
owned and operated by a UH graduate, will begin service on June 4. UH Dining Services is
currently working to bring two more trucks to the campus this summer and provide five total
during the fall semester.
Real Food on Campus in Oberholtzer Hall closed its doors on Friday, May 4 and will remain
closed throughout the summer. The Fresh Food Company will be open during summer sessions.
For updates on dining hours of operation, visit www.uh.edu/dining. For summer hours of
operation for other retail locations on campus, click here. For more information on The Waffle
Bus, visit http://www.thewafflebus.com/.
About the University of Houston
The University of Houston is a comprehensive national research institution serving the globally
competitive Houston and Gulf Coast Region by providing world-class faculty, experiential learning
and strategic industry partnerships. UH serves more than 38,500 students in the nation's fourthlargest city, located in the most ethnically and culturally diverse region of the country.