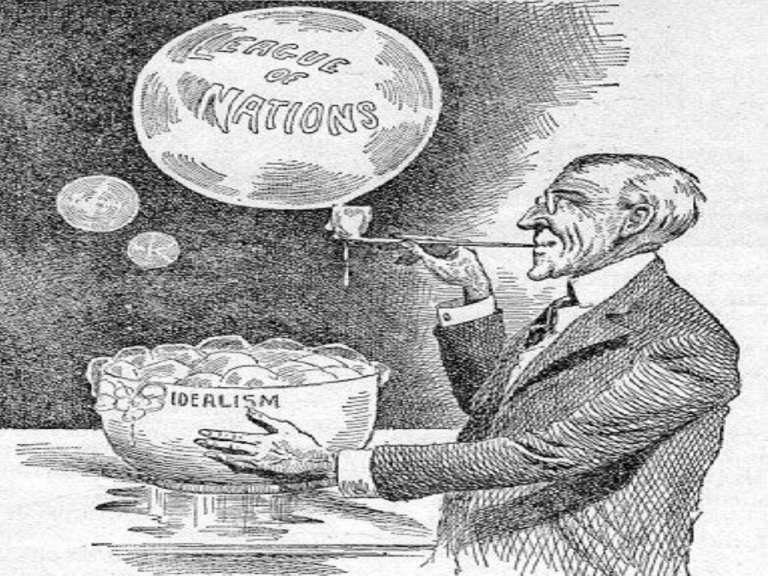 The Fourteen Points
• Read over points 1-5. Write down 1 sentence
for how each of these 5 points caused a
problem in WWI.
• No secret diplomacy: Alliance system caused war.
• Freedom of the seas: Lusitania, Unrestricted Sub.
Warfare.
• Remove tariffs, free trade: Britain blockaded
German goods. (Turnip Winter, 1915)
• Reduce armaments: new weapons of WWI.
• Adjust colonial disputes; try to end colonialism:
Imperialism that caused unrest in the Balkans and
elsewhere.
• Wilson's most vital point…
• He felt that a world organization could
oversee all of the international problems that
the war created.
Attendees at the Paris Peace
Conference:
•
•
•
•
Woodrow Wilson, U.S.A.
David Lloyd George, Great Britain
Georges Clemenceau, France
Vittorio Orlando, Italy
known as "The Big Four"
Who is missing?
Results: The Treaty of Versailles
• Germany is punished by being forced to take
the entire blame of the war and pay
reparations to the allied countries.
• Most of the 14 points are discarded, including
the first 5 and #12.
• Wilson was very reluctant to agree to these
terms, but did so because the League of
Nations' approval.
Treaty of Versailles continued…
• Sometimes referred to as "the politics of
hatred."
• One of the major causes for WWII.