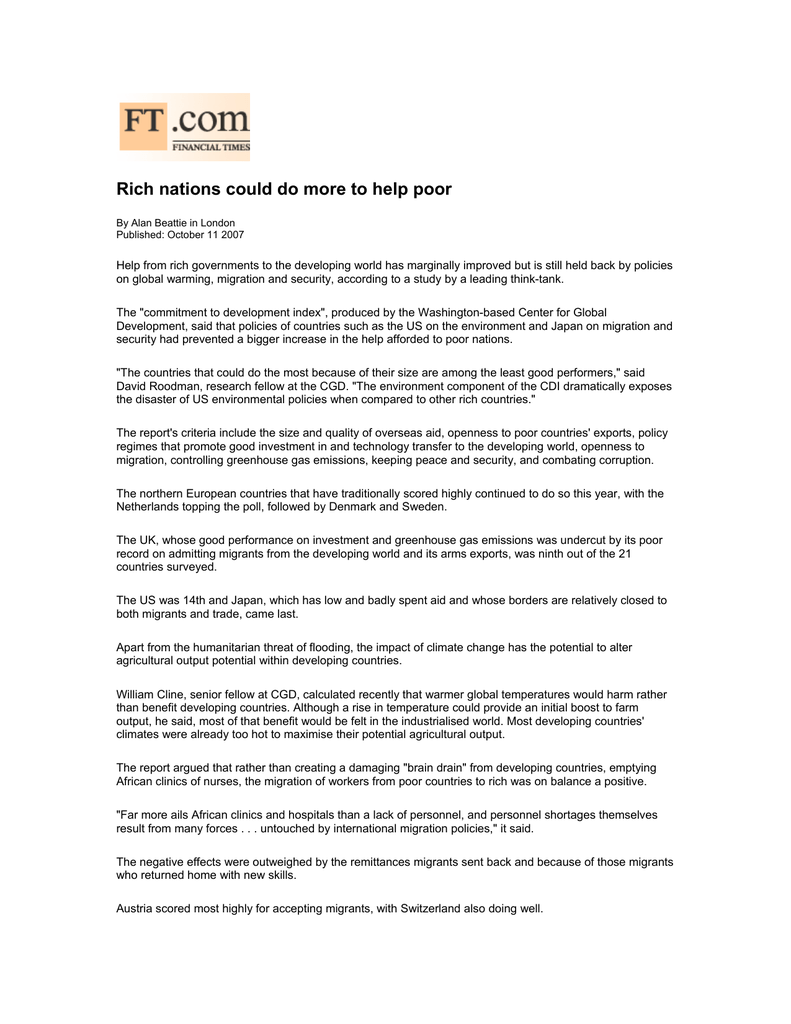 Rich nations could do more to help poor
By Alan Beattie in London
Published: October 11 2007
Help from rich governments to the developing world has marginally improved but is still held back by policies
on global warming, migration and security, according to a study by a leading think-tank.
The "commitment to development index", produced by the Washington-based Center for Global
Development, said that policies of countries such as the US on the environment and Japan on migration and
security had prevented a bigger increase in the help afforded to poor nations.
"The countries that could do the most because of their size are among the least good performers," said
David Roodman, research fellow at the CGD. "The environment component of the CDI dramatically exposes
the disaster of US environmental policies when compared to other rich countries."
The report's criteria include the size and quality of overseas aid, openness to poor countries' exports, policy
regimes that promote good investment in and technology transfer to the developing world, openness to
migration, controlling greenhouse gas emissions, keeping peace and security, and combating corruption.
The northern European countries that have traditionally scored highly continued to do so this year, with the
Netherlands topping the poll, followed by Denmark and Sweden.
The UK, whose good performance on investment and greenhouse gas emissions was undercut by its poor
record on admitting migrants from the developing world and its arms exports, was ninth out of the 21
countries surveyed.
The US was 14th and Japan, which has low and badly spent aid and whose borders are relatively closed to
both migrants and trade, came last.
Apart from the humanitarian threat of flooding, the impact of climate change has the potential to alter
agricultural output potential within developing countries.
William Cline, senior fellow at CGD, calculated recently that warmer global temperatures would harm rather
than benefit developing countries. Although a rise in temperature could provide an initial boost to farm
output, he said, most of that benefit would be felt in the industrialised world. Most developing countries'
climates were already too hot to maximise their potential agricultural output.
The report argued that rather than creating a damaging "brain drain" from developing countries, emptying
African clinics of nurses, the migration of workers from poor countries to rich was on balance a positive.
"Far more ails African clinics and hospitals than a lack of personnel, and personnel shortages themselves
result from many forces . . . untouched by international migration policies," it said.
The negative effects were outweighed by the remittances migrants sent back and because of those migrants
who returned home with new skills.
Austria scored most highly for accepting migrants, with Switzerland also doing well.
For the first time, the report also looked at the environmental performance of Brazil, Russia, India and China,
and concluded that most compared well with the environmental impact of richer nations.