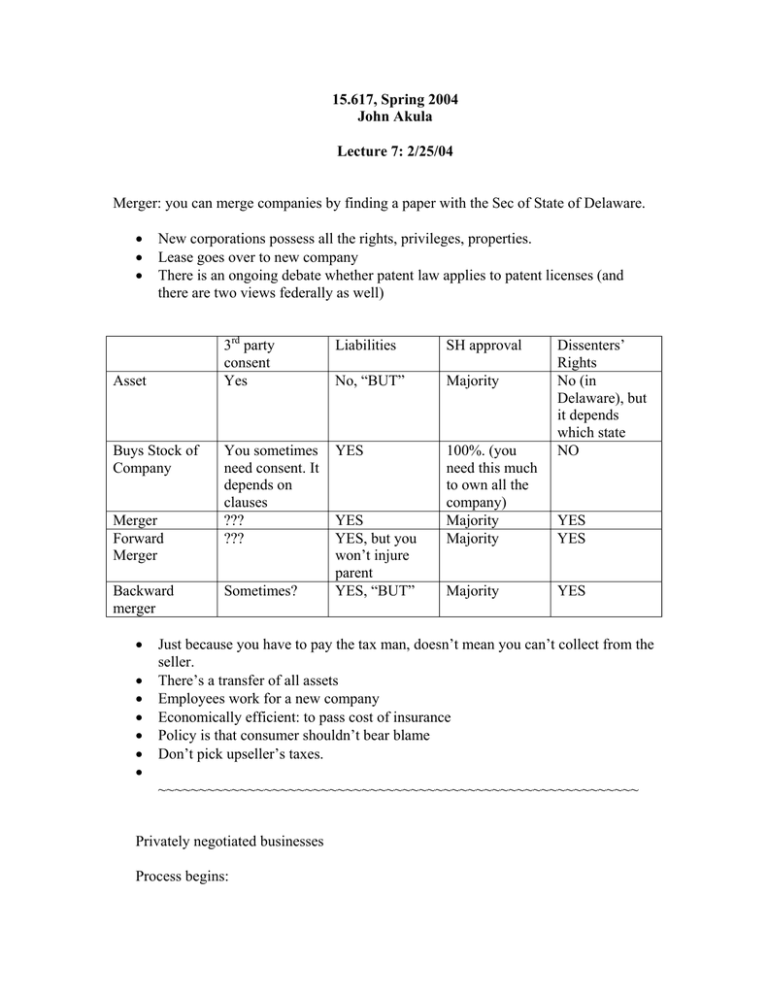 15.617, Spring 2004
John Akula
Lecture 7: 2/25/04
Merger: you can merge companies by finding a paper with the Sec of State of Delaware.
• New corporations possess all the rights, privileges, properties.
• Lease goes over to new company
• There is an ongoing debate whether patent law applies to patent licenses (and
there are two views federally as well)
Asset
Buys Stock of
Company
Merger
Forward
Merger
Backward
merger
3rd party
consent
Yes
You sometimes
need consent. It
depends on
clauses
???
???
Sometimes?
Liabilities
SH approval
No, "BUT"
Majority
YES
100%. (you
need this much
to own all the
company)
Majority
Majority
YES
YES
Majority
YES
YES
YES, but you
won't injure
parent
YES, "BUT"
Dissenters'
Rights
No (in
Delaware), but
it depends
which state
NO
• Just because you have to pay the tax man, doesn't mean you can't collect from the
seller.
• There's a transfer of all assets
• Employees work for a new company
• Economically efficient: to pass cost of insurance
• Policy is that consumer shouldn't bear blame
• Don't pick upseller's taxes.
•
~~~~~~~~~~~~~~~~~~~~~~~~~~~~~~~~~~~~~~~~~~~~~~~~~~~~~~~~~~~
Privately negotiated businesses
Process begins:
1.) handshake, agreement on price. Phone to call to lawyer: "We've agreed to busy
business B for $x."
2.) Letter of Intent, LOI, (no need to have it). But, it's a good thing psychologically.
There are some provisions, but for the most part is just milk toast.
(Refer to handout)
Part 1: not-bindingÆ not much substance
Part 2: Paragraph B: Seller isn't going to shop, as buyers does its homework.
• People are very positive during the time of LOI
• Nothing needs to be spelled out in detail, but there should be important points
that may be helpful to you later on.
3.) Due Diligence: the selling company gathers up all the papers that relates to its
company.
• Acquisition page checklist page 6: includes contracts, surveys.
• Don't' hide the fact to employees that you are thinking of selling. If many sales,
the CEO should sell each smoothly, do its homework, and avoid the disruption.
• Fixed asset list (Professor said to ignore this part)
• Buyer may insist on having their sellers' financial records audited. But this
auditing isn't a huge concern. They will look at tax reforms, because you get a
conservative income.
• Organization schedules: the meat of the story is told in the disclosures schedule:
listing of contracts, law suits, employee-benefit plans
• Sellers are confused about the "schedule thing"
• If an important contract isn't in the scheduleÆdoesn't count.
• Schedule is being prepared while most the agreements are
• Schedule may get a lot of people making additions Æ lots of changes can mess up
things.
• How long between LOI and signing agreement?
o 6 weeks (but they are getting longer, but not because they are getting
complicated)
o Mahoney thinks its technology's fault. The speed of which people are
trying to do things is causing careless errors.
• If one doesn't fall covenants, one get sued.
• It takes 30-45 days between signing and closing, because you're getting regulatory approvals (filing papers, mechanical nature things).