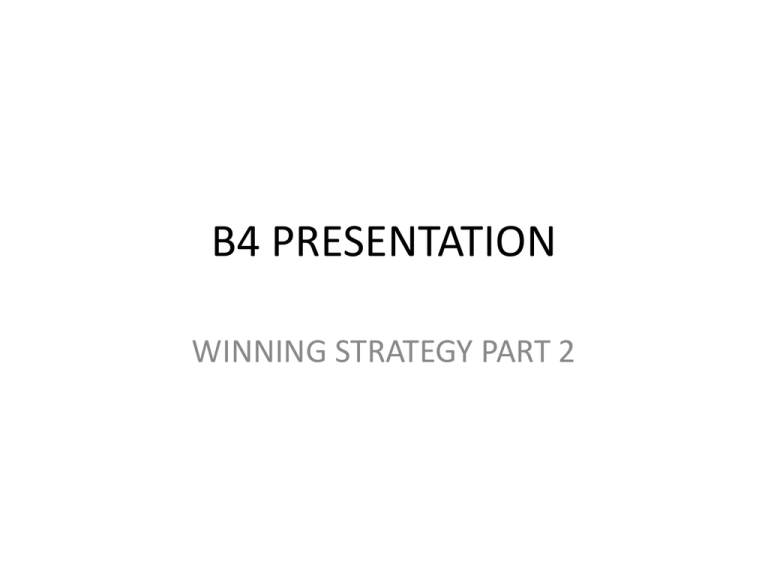 B4 PRESENTATION
WINNING STRATEGY PART 2
Contents
•
•
•
•
•
•
•
•
•
Outline Of CSR
Concept Of CSR
CSR Best Practices
Waveriders CSR Policy
CSR & Organizational Vision
Waveriders CSR Objectives & Intiatives
Contribution Of CSR to Organizational Objectives
Conclusion
References
Outline of CSR
CSR involves the introduction of codes of ethical
conduct and actively accommodating the
interests of various groups in society by
engaging in purely social endeavours
-Lewin 1983, White and Montgomery, cited by
Ibrahim & Angelidis
Concept of CSR
Also referred to as corporate philanthropy and
corporate citizenship
Works on the premise that businesses should be
accountable for more than just its legal
responsibilities to stakeholders.
CSR BEST PRACTICES
• Environmental Awareness: Global Warming, Green
House Effect, Pollution, sustainable development, etc.
• Social: Forced Labour, Human Rights, Community
Development, etc.
• Economic: Economic Sustainability, SME Development,
etc.
• Education: Scholarships, Library Expansion, Schools
Development, etc.
• Health Initiatives: HIV Awareness Programs,
Vaccinations.
• Safety Initiatives: Road Safety Initiatives, Workplace
Safety.
WaveRiders CSR Policy:
WaveRiders is committed to actively working
towards sustaining our environment as well as
helping to improve the local community
Our CSR Policy is:
Active and focused largely on environmental
sustainability, and the local community to a lesser
extent, this ties in with the image of WaveRiders as
a responsible and trustworthy company operating
in the manufacturing industry
CSR & ORGANIZATIONAL VISION
WAVERIDERS COMPANY VISION
To be the second largest inflatable boat Production
Company in Europe in 5 years and start to expand in the
U.S. market
CONTRIBUTION OF CSR TO COMPANY VISION
The benefit of our CSR policy and strategy to our
stakeholders is that it will help to promote a positive
brand image as well as convey the company's dedication
to it's local community. This should assist the company
towards it's goal of expansion in the European Market.
WAVERIDERS CSR OBJECTIVES
• Work towards reducing environmental Waste
• Promote environmental consciousness in the
local community
WaveRiders CSR Initiatives
Present Initiatives
• We use recycled plastic in manufacturing our boats.
• Donate Camping Gear and Equipment to
Outdoor/Backpacking Camp for children from Underprivileged
homes
• Production activities are carried out in our "GREEN"- i.e eco
friendly- factories
• Our factory is located close our suppliers to reduce
environmental pollution caused by transporting raw materials
• Our business processes are designed to function in
accordance with the Environmental protection Act of 1990.
WaveRiders CSR Initiatives
Future Initiatives
• Sponsorship of environmental issues in European
distributed newspapers and magazines
• Participate twice a year in a charity run to raise money for
foundation that work to preserve the ocean life.
• Have partnership with "Friends of the earth"
• Offices are environment conscious
- Correspondences and other admin documents are
encouraged to be sent in electronic formats, the aim is to go
'paperless'
-Staff are encouraged to be save energy by switching of
appliances that are not currently in use, turning off all lights,
etc.
CONTRIBUTION OF CSR TO
ORGANIZATIONAL OBJECTIVES
• Environmental conscious activities within
WaveRiders offices will help towards the goal
of reducing our overhead costs
• The positive impact of the CSR initiatives on
the WaveRiders brand should help towards
the vision of penetrating the European Market
• The promotion of environmental issues in
publications can function as a part of the
European Promotional Marketing Strategy
CONCLUSION
These new CSR policies /initiatives can help the
organization towards achieving it's company
vision as well as put it on the map as a
responsible organization which operates
ethically
References
• Carroll, B.A (1999) Corporate Social
Responsibility. Business and Society. 38(3) pp.
268
• Schnietz, K. E, & Epstein, M.J.(2005):Exploring the
Financial Value of a Reputation for Corporate
Social Responsibility during a Crisis. Corporate
Reputation Review. 7(4). Pp. 327-345
• Chilton, Z. (2012) Corporate Social Responsibility.
An introduction to utilizing and maximizing
benefit of Corporate Social Responsibility.