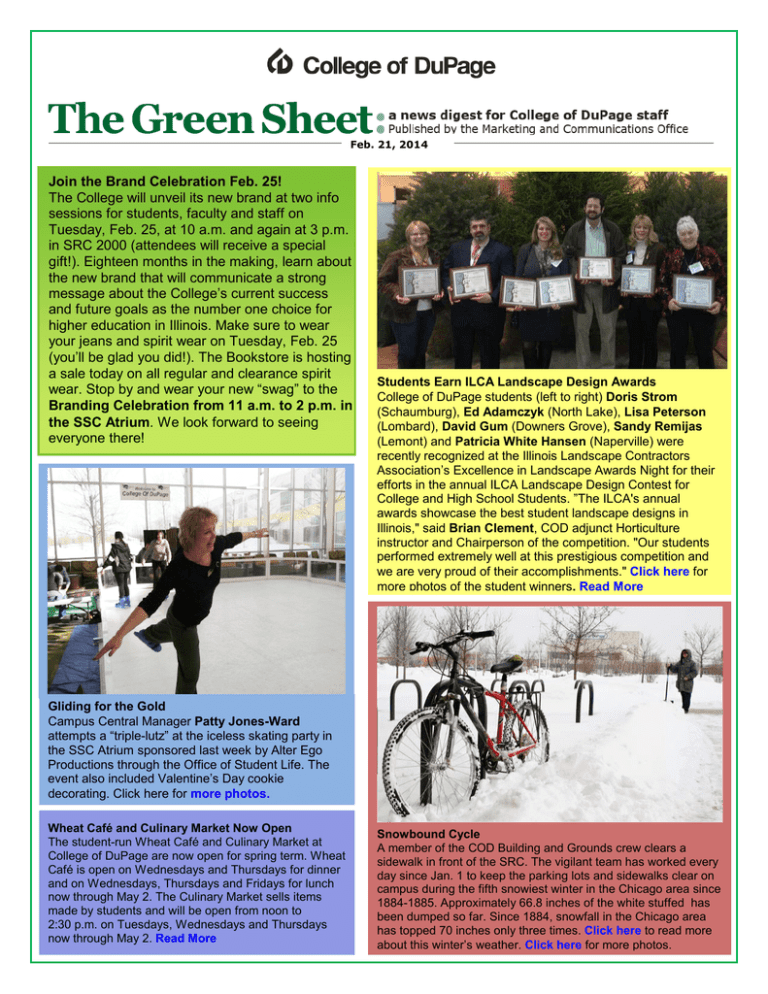 Feb. 21, 2014
Join the Brand Celebration Feb. 25!
The College will unveil its new brand at two info
sessions for students, faculty and staff on
Tuesday, Feb. 25, at 10 a.m. and again at 3 p.m.
in SRC 2000 (attendees will receive a special
gift!). Eighteen months in the making, learn about
the new brand that will communicate a strong
message about the College's current success
and future goals as the number one choice for
higher education in Illinois. Make sure to wear
your jeans and spirit wear on Tuesday, Feb. 25
(you'll be glad you did!). The Bookstore is hosting
a sale today on all regular and clearance spirit
wear. Stop by and wear your new "swag" to the
Branding Celebration from 11 a.m. to 2 p.m. in
the SSC Atrium. We look forward to seeing
everyone there!
Students Earn ILCA Landscape Design Awards
College of DuPage students (left to right) Doris Strom
(Schaumburg), Ed Adamczyk (North Lake), Lisa Peterson
(Lombard), David Gum (Downers Grove), Sandy Remijas
(Lemont) and Patricia White Hansen (Naperville) were
recently recognized at the Illinois Landscape Contractors
Association's Excellence in Landscape Awards Night for their
efforts in the annual ILCA Landscape Design Contest for
College and High School Students. "The ILCA's annual
awards showcase the best student landscape designs in
Illinois," said Brian Clement, COD adjunct Horticulture
instructor and Chairperson of the competition. "Our students
performed extremely well at this prestigious competition and
we are very proud of their accomplishments." Click here for
more photos of the student winners. Read More
Gliding for the Gold
Campus Central Manager Patty Jones-Ward
attempts a "triple-lutz" at the iceless skating party in
the SSC Atrium sponsored last week by Alter Ego
Productions through the Office of Student Life. The
event also included Valentine's Day cookie
decorating. Click here for more photos.
Wheat Café and Culinary Market Now Open
The student-run Wheat Café and Culinary Market at
College of DuPage are now open for spring term. Wheat
Café is open on Wednesdays and Thursdays for dinner
and on Wednesdays, Thursdays and Fridays for lunch
now through May 2. The Culinary Market sells items
made by students and will be open from noon to
2:30 p.m. on Tuesdays, Wednesdays and Thursdays
now through May 2. Read More
Snowbound Cycle
A member of the COD Building and Grounds crew clears a
sidewalk in front of the SRC. The vigilant team has worked every
day since Jan. 1 to keep the parking lots and sidewalks clear on
campus during the fifth snowiest winter in the Chicago area since
1884-1885. Approximately 66.8 inches of the white stuffed has
been dumped so far. Since 1884, snowfall in the Chicago area
has topped 70 inches only three times. Click here to read more
about this winter's weather. Click here for more photos.
February Service Awards
5-Years: Teresa Cascarano, Police Department
10 Years: Larry Bost, Office and Classroom Technology
15 Years: Kathleen Cunningham, Learning Resources;
Grazyna Dziatkowiec, Facilities, Operations and
Maintenance; Joseph Mullin, Police Department;
Cathy Trauernicht, Testing
Kudos to…Amanda Brzuszkiewicz, High School
Partnerships, who coordinated a mock interview program for
this month for 170 students from all over DuPage County.
Through the Student Leadership Academy, students attend
four sessions per year designed to help build communication
skills, decision making, goal setting, resume writing and
interviewing skills. Kudos also to the many COD volunteers
who participated as interviewers, as well as event assistants
Jose Alferez, John Bollweg, David Chu, Anne Marie
Dando, Kyle Hills, Debra Jeffay, Patty Jones-Ward, Shawn
Maisch, Mary Mares, Adela Meitz, Rebecca Rivers,
Katherine Thompson, Julie Marlatt, Anna Nelson and
Evelyn Spagnuolo.
More Kudos to…COD Meteorology Professor Paul Sirvatka,
Meteorology Assistant Professor Victor Gensini and student
and professional photographer David Mayhew who were
featured last week on ABC-7 during a segment on storm
chasing.
More Kudos to…the McAninch Arts team for their wide
range of recent media coverage. MAC Director Diana
Martinez was featured on Comcast's Community
Connection. In addition, the Daily Herald and Suburban Life
newspapers ran articles on Diana's new position at the MAC.
The Chicago Sun-Times also featured an article on the
opening of the Cleve Carney Art Gallery and the Daily Herald
included a photo of Curator Barb Wiesen and the Cleve
Carney Art Gallery in the publication's Images: The Week in
Pictures section. In addition, the Daily Herald ran an article
on the dedication of the gallery followed by last weekend's
sold-out Kurt Elling performance.
More Kudos to…Waterleaf Executive Chef Nadia Tilkian
who was featured in an article in the Sun-Times Barrington
and Morton Grove newspapers on the preparation of
"cassoulets," a rustic, slow-cooked dish made with white
beans and a lavish assortment of meats. Click here to view
the current menus at Waterleaf restaurant.
Even More Kudos to…Study Abroad Program Specialist
Sue Kerby who recently represented COD on the finalist
selection committee for the Critical Languages Scholarship
(CLS) in Washington, D.C. The CLS is a U.S. Department of
State scholarship that provides fully-funded intensive
language instruction overseas for U.S. college students each
summer.
Hot Tix for Employees
Hot Tix are half-price tickets for
employees, available at the
Ticket Office with an employee
ID. This weekend:
•
College Theater: The Bully Plays
Fri./Sat., 8 p.m. and Sun., 3 p.m., $5, MAC Playhouse
Tickets available at: www.atthemac.org.
Photography Club Hosts Webinar March 4
The Photography Club will host its first-ever webinar featuring
Dan Waters, referred to as the "World's Most Helpful
Photographer," on Tuesday, March 4, at 4 p.m. in MAC 284.
Click here for more information on this presentation. The
Photography Club recently hosted two additional
photographers. Click here to view photos taken by student
Sally Blottiaux with information from these events. All are
welcome to attend the free March 4 webinar. For more
information, contact Professor Terry Vitacco at ext. 2329.
Upcoming Events:
• Free Tax Assistance, Saturday, Feb. 22, 9:30 to 11:30 a.m.,
BIC 1640 and 1644. Read More
• Library Open House, Friday, Feb. 28, 9 a.m. to 2 p.m.
Read More
• Adade Wheeler Woman of Distinction Award Nominations
Deadline, Friday, Feb. 28. Read More
• Neurons to Nirvana – Understanding Psychedelic Medicines,
March 3, 7 p.m., Landmark Theater, Chicago. Read More
February/March Images
"Images," College of DuPage's monthly one-half hour television
show, features in its February/March edition segments on the
College's Football program, COD's collaboration with Easter
Seals and a cooking segment with Waterleaf Executive Chef
Nadia Tilkian. Click here to watch.
Purchasing Dates
For an item to be recommended for purchasing approval to the
Board of Trustees at the May 22, 2014, Board meeting, all
specifications, rationales, requisitions and IT equipment reviews
must be in Purchasing by Thursday, March 13, 2014. Click here
for a complete list of bid paperwork dates through the June 2014
meeting.
Job Opportunities
To view and apply for any posted internal job opportunity, go to:
http://inside.cod.edu. Login using your network ID, click on the
"employees" tab, "COD Links" then "internal job opportunities." Job
opportunities will be posted to the external web page after they
have been posted on the COD Portal for seven days. If you have
any questions, please call ext. 2639.
Employment Information Lines
(630) 942-2460 – For a listing of faculty, classified and
administrative positions. (630) 942-2639 – For detailed information
and to schedule skills testing for clerical positions. Apply at
www.cod.edu/hr.