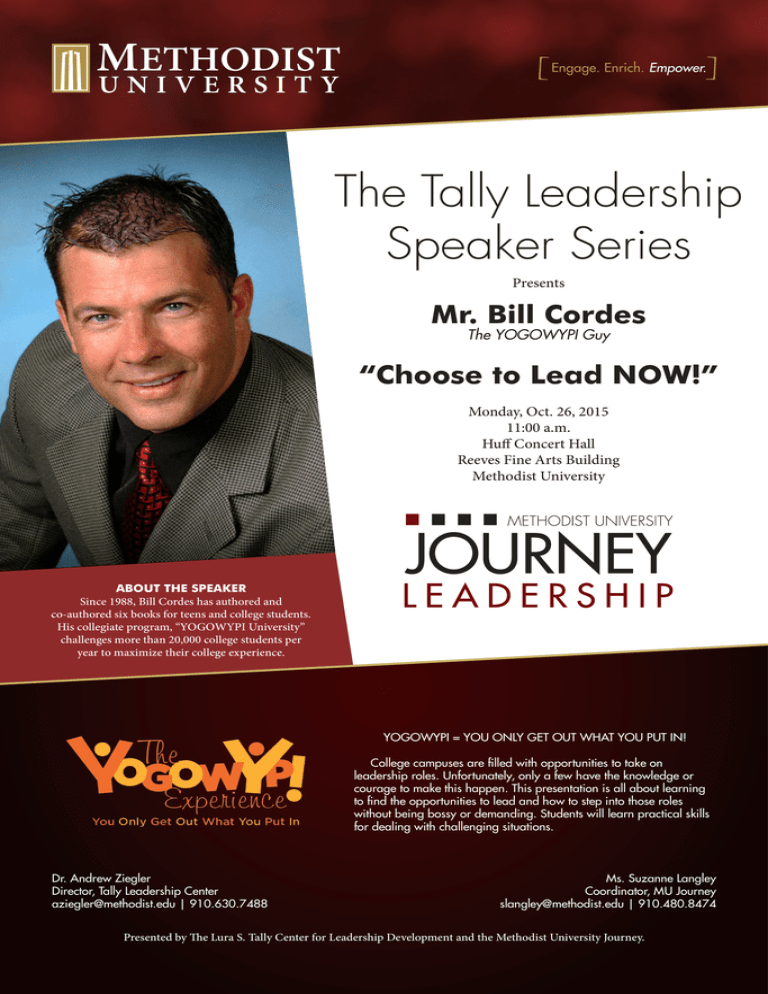 The Tally Leadership
Speaker Series
Presents
Mr. Bill Cordes
The YOGOWYPI Guy
"Choose to Lead NOW!"
Monday, Oct. 26, 2015
11:00 a.m.
Huff Concert Hall
Reeves Fine Arts Building
Methodist University
ABOUT THE SPEAKER
Since 1988, Bill Cordes has authored and
co-authored six books for teens and college students.
His collegiate program, "YOGOWYPI University"
challenges more than 20,000 college students per
year to maximize their college experience.
YOGOWYPI = YOU ONLY GET OUT WHAT YOU PUT IN!
College campuses are filled with opportunities to take on
leadership roles. Unfortunately, only a few have the knowledge or
courage to make this happen. This presentation is all about learning
to find the opportunities to lead and how to step into those roles
without being bossy or demanding. Students will learn practical skills
for dealing with challenging situations.
Dr. Andrew Ziegler
Director, Tally Leadership Center
[email protected] | 910.630.7488
Ms. Suzanne Langley
Coordinator, MU Journey
[email protected] | 910.480.8474
Presented by The Lura S. Tally Center for Leadership Development and the Methodist University Journey.