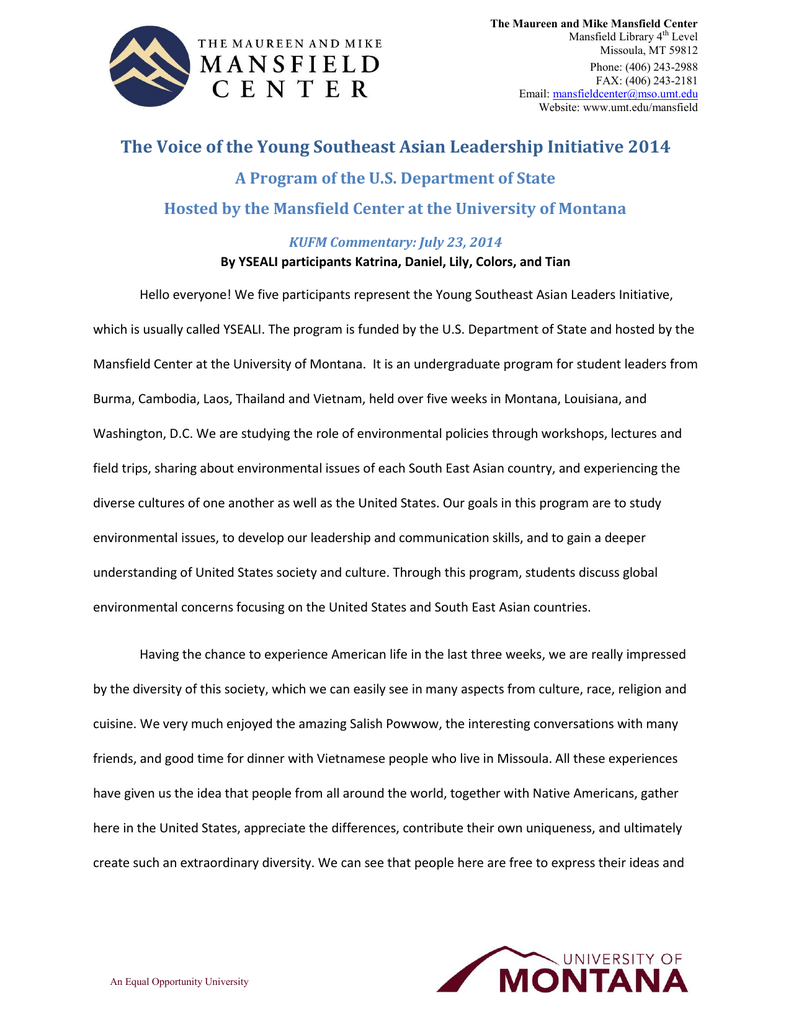 The Maureen and Mike Mansfield Center
Mansfield Library 4th Level
Missoula, MT 59812
Phone: (406) 243-2988
FAX: (406) 243-2181
Email: [email protected]
Website: www.umt.edu/mansfield
The Voice of the Young Southeast Asian Leadership Initiative 2014
A Program of the U.S. Department of State
Hosted by the Mansfield Center at the University of Montana
KUFM Commentary: July 23, 2014
By YSEALI participants Katrina, Daniel, Lily, Colors, and Tian
Hello everyone! We five participants represent the Young Southeast Asian Leaders Initiative,
which is usually called YSEALI. The program is funded by the U.S. Department of State and hosted by the
Mansfield Center at the University of Montana. It is an undergraduate program for student leaders from
Burma, Cambodia, Laos, Thailand and Vietnam, held over five weeks in Montana, Louisiana, and
Washington, D.C. We are studying the role of environmental policies through workshops, lectures and
field trips, sharing about environmental issues of each South East Asian country, and experiencing the
diverse cultures of one another as well as the United States. Our goals in this program are to study
environmental issues, to develop our leadership and communication skills, and to gain a deeper
understanding of United States society and culture. Through this program, students discuss global
environmental concerns focusing on the United States and South East Asian countries.
Having the chance to experience American life in the last three weeks, we are really impressed
by the diversity of this society, which we can easily see in many aspects from culture, race, religion and
cuisine. We very much enjoyed the amazing Salish Powwow, the interesting conversations with many
friends, and good time for dinner with Vietnamese people who live in Missoula. All these experiences
have given us the idea that people from all around the world, together with Native Americans, gather
here in the United States, appreciate the differences, contribute their own uniqueness, and ultimately
create such an extraordinary diversity. We can see that people here are free to express their ideas and
An Equal Opportunity University
characteristics, because people treat each other with respect no matter who you are or where you're
from.
The people's hospitability and sense of environmental responsibility are among our primary
impressions. A greeting with a friendly smile is the American cultural uniqueness. Everybody says hi and
smiles everywhere. It makes me realize that even though American people are independent,
interdependence is still on their minds, and people always communicate and help each other. We stayed
with local host families for 2 days during the course of our stay in Missoula. We all found our host
families to be very warm-hearted and hospitable. During our time living in their homes, our host families
took care of us very well. They treated us as if we were part of their family. It made us really impressed
and gratefully delighted. We have noticed that people in Missoula love nature; people love their rivers,
forest and wildlife. Families spend time together at the mountains, waterfalls, parks and so forth. People
take responsibility for protecting what they love; parents teach their children not to harm nature.
People learn how to live with nature properly. This is the great contribution to environmental
protection.
Additionally, we really admire eco-friendly technology in Montana. The more we learn about
such technology, the more inspiration we obtain. We have seen good examples of highly efficient urban
design. There are bike lanes around the city of Missoula, a natural gas fired plant in Butte, holistic
asbestos remediation in Libby, and so forth. We, too, are astonishingly impressed by self-sustaining
technologies such as the Missoula Hybrid Poplar Water Reclamation Project and the University of
Montana's FLAT house for sustainable living, to name but two examples. Furthermore, apart from such
specific examples of green technologies, you can also see eco-friendly methods in the way people in
Montana live. The Garber Family's Homestead Organics Farm in Hamilton, for instance, has been
providing youth education programs in the region. We can see technology go hand-in-hand with ecolivelihoods, which very much inspires us.
As we are a new generation, who have received a great opportunity to participate in this
program and gain knowledge about global environmental issues and leadership skills in the United
States, we have a specific future goal to raise awareness in the next generation about harmful matters
such as climate change and pollution. We can also challenge them to compare these issues in the United
States with shared concerns in our countries and find effective solutions by utilizing technological and
scientific innovations. Moreover, leadership skills have played an important role in our quotidian life. It
is not only how to lead people as a group or an organization, but also the way we lead our own selves in
daily activities. Last but not least, we would like to say "thank you so much" to in the people of Montana
for your great hospitality. You have made us feel at home while we are far away from our countries.
Everyone that we have met here is really meaningful for us and surely we will keep you in our minds
forever.
On behalf of YSEALI Students Lily, Katrina, Daniel, Colors, Tian, and our 15 other colleagues,
thank you for listening.