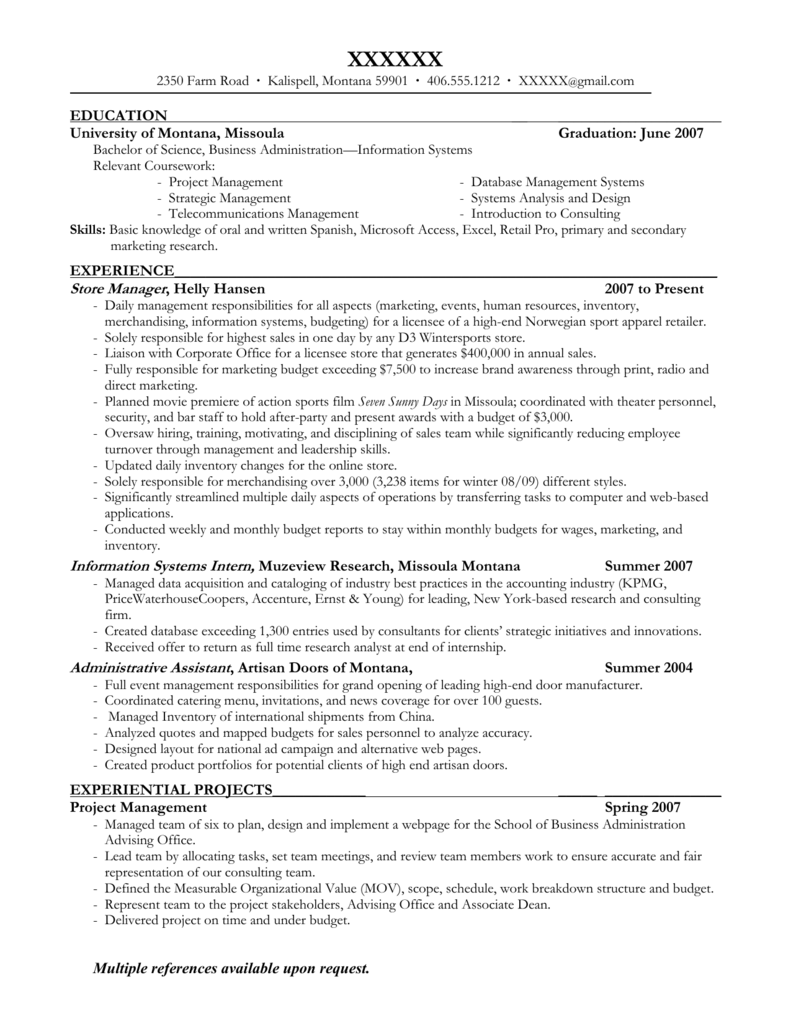 XXXXXX
2350 Farm Road  Kalispell, Montana 59901  406.555.1212  [email protected]
EDUCATION
University of Montana, Missoula
__
_____________________
Graduation: June 2007
Bachelor of Science, Business Administration—Information Systems
Relevant Coursework:
- Project Management
- Database Management Systems
- Strategic Management
- Systems Analysis and Design
- Telecommunications Management
- Introduction to Consulting
Skills: Basic knowledge of oral and written Spanish, Microsoft Access, Excel, Retail Pro, primary and secondary
marketing research.
EXPERIENCE______________________________________________________________________
Store Manager, Helly Hansen
2007 to Present
- Daily management responsibilities for all aspects (marketing, events, human resources, inventory,
merchandising, information systems, budgeting) for a licensee of a high-end Norwegian sport apparel retailer.
- Solely responsible for highest sales in one day by any D3 Wintersports store.
- Liaison with Corporate Office for a licensee store that generates $400,000 in annual sales.
- Fully responsible for marketing budget exceeding $7,500 to increase brand awareness through print, radio and
direct marketing.
- Planned movie premiere of action sports film Seven Sunny Days in Missoula; coordinated with theater personnel,
security, and bar staff to hold after-party and present awards with a budget of $3,000.
- Oversaw hiring, training, motivating, and disciplining of sales team while significantly reducing employee
turnover through management and leadership skills.
- Updated daily inventory changes for the online store.
- Solely responsible for merchandising over 3,000 (3,238 items for winter 08/09) different styles.
- Significantly streamlined multiple daily aspects of operations by transferring tasks to computer and web-based
applications.
- Conducted weekly and monthly budget reports to stay within monthly budgets for wages, marketing, and
inventory.
Information Systems Intern, Muzeview Research, Missoula Montana
Summer 2007
Administrative Assistant, Artisan Doors of Montana,
Summer 2004
- Managed data acquisition and cataloging of industry best practices in the accounting industry (KPMG,
PriceWaterhouseCoopers, Accenture, Ernst & Young) for leading, New York-based research and consulting
firm.
- Created database exceeding 1,300 entries used by consultants for clients' strategic initiatives and innovations.
- Received offer to return as full time research analyst at end of internship.
-
Full event management responsibilities for grand opening of leading high-end door manufacturer.
Coordinated catering menu, invitations, and news coverage for over 100 guests.
Managed Inventory of international shipments from China.
Analyzed quotes and mapped budgets for sales personnel to analyze accuracy.
Designed layout for national ad campaign and alternative web pages.
Created product portfolios for potential clients of high end artisan doors.
EXPERIENTIAL PROJECTS____________
Project Management
_____ _______________
Spring 2007
- Managed team of six to plan, design and implement a webpage for the School of Business Administration
Advising Office.
- Lead team by allocating tasks, set team meetings, and review team members work to ensure accurate and fair
representation of our consulting team.
- Defined the Measurable Organizational Value (MOV), scope, schedule, work breakdown structure and budget.
- Represent team to the project stakeholders, Advising Office and Associate Dean.
- Delivered project on time and under budget.
Multiple references available upon request.