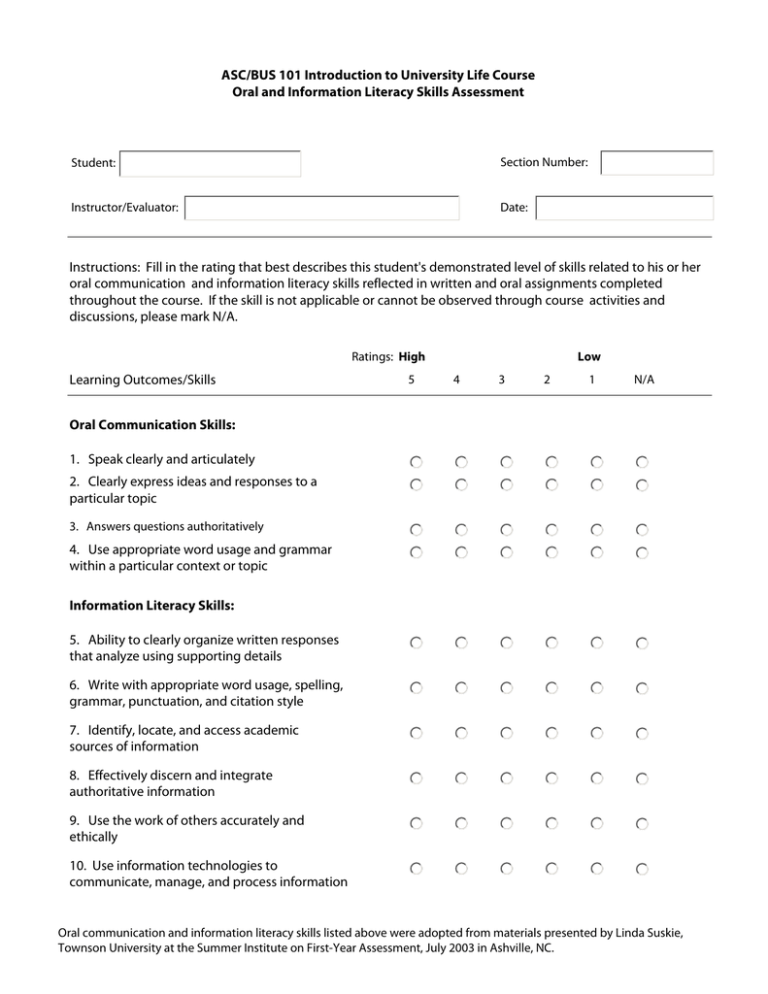 ASC/BUS 101 Introduction to University Life Course
Oral and Information Literacy Skills Assessment
Student:
Section Number:
Instructor/Evaluator:
Date:
Instructions: Fill in the rating that best describes this student's demonstrated level of skills related to his or her
oral communication and information literacy skills reflected in written and oral assignments completed
throughout the course. If the skill is not applicable or cannot be observed through course activities and
discussions, please mark N/A.
Ratings: High
Learning Outcomes/Skills
5
Low
4
3
2
1
N/A
Oral Communication Skills:
1. Speak clearly and articulately
2. Clearly express ideas and responses to a
particular topic
3. Answers questions authoritatively
4. Use appropriate word usage and grammar
within a particular context or topic
Information Literacy Skills:
5. Ability to clearly organize written responses
that analyze using supporting details
6. Write with appropriate word usage, spelling,
grammar, punctuation, and citation style
7. Identify, locate, and access academic
sources of information
8. Effectively discern and integrate
authoritative information
9. Use the work of others accurately and
ethically
10. Use information technologies to
communicate, manage, and process information
Oral communication and information literacy skills listed above were adopted from materials presented by Linda Suskie,
Townson University at the Summer Institute on First-Year Assessment, July 2003 in Ashville, NC.