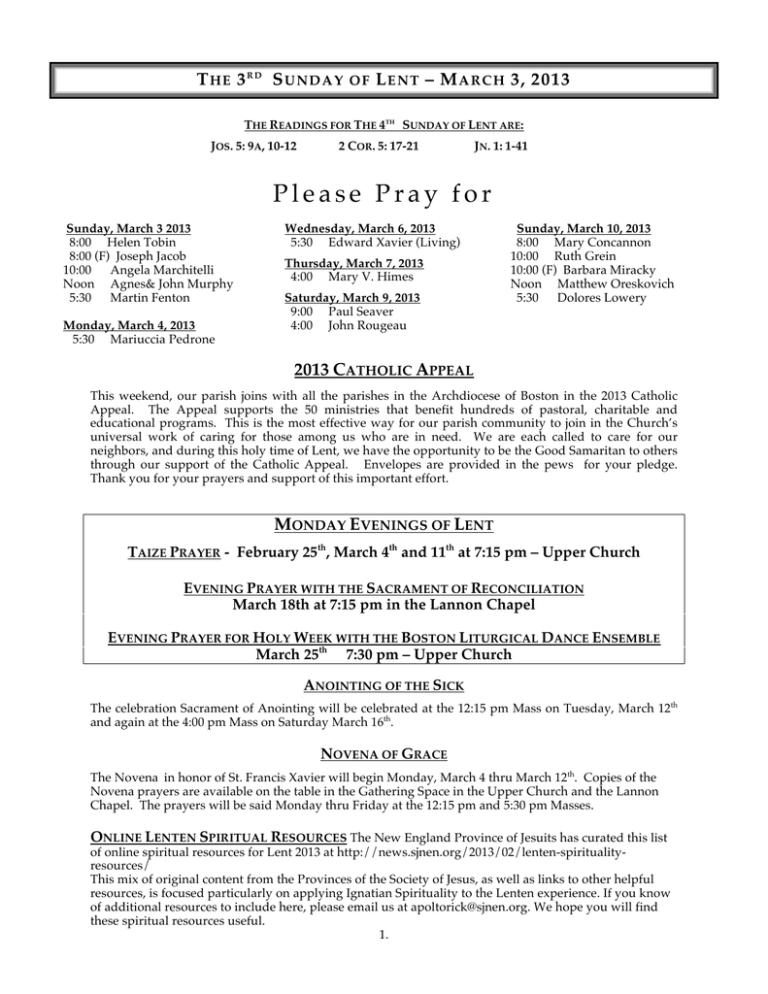 THE 3RD SUNDAY
OF
L E N T – M A R C H 3, 2013
THE READINGS FOR THE 4TH SUNDAY OF LENT ARE:
JOS. 5: 9A, 10-12
2 COR. 5: 17-21
JN. 1: 1-41
Please Pray for
Sunday, March 3 2013
8:00 Helen Tobin
8:00 (F) Joseph Jacob
10:00
Angela Marchitelli
Noon Agnes& John Murphy
5:30
Martin Fenton
Monday, March 4, 2013
5:30 Mariuccia Pedrone
Wednesday, March 6, 2013
5:30 Edward Xavier (Living)
Thursday, March 7, 2013
4:00 Mary V. Himes
Saturday, March 9, 2013
9:00 Paul Seaver
4:00 John Rougeau
Sunday, March 10, 2013
8:00 Mary Concannon
10:00 Ruth Grein
10:00 (F) Barbara Miracky
Noon Matthew Oreskovich
5:30
Dolores Lowery
2013 CATHOLIC APPEAL
This weekend, our parish joins with all the parishes in the Archdiocese of Boston in the 2013 Catholic
Appeal. The Appeal supports the 50 ministries that benefit hundreds of pastoral, charitable and
educational programs. This is the most effective way for our parish community to join in the Church's
universal work of caring for those among us who are in need. We are each called to care for our
neighbors, and during this holy time of Lent, we have the opportunity to be the Good Samaritan to others
through our support of the Catholic Appeal. Envelopes are provided in the pews for your pledge.
Thank you for your prayers and support of this important effort.
MONDAY EVENINGS OF LENT
TAIZE PRAYER - February 25th, March 4th and 11th at 7:15 pm – Upper Church
EVENING PRAYER WITH THE SACRAMENT OF RECONCILIATION
March 18th at 7:15 pm in the Lannon Chapel
EVENING PRAYER FOR HOLY WEEK WITH THE BOSTON LITURGICAL DANCE ENSEMBLE
March 25th 7:30 pm – Upper Church
ANOINTING OF THE SICK
The celebration Sacrament of Anointing will be celebrated at the 12:15 pm Mass on Tuesday, March 12th
and again at the 4:00 pm Mass on Saturday March 16th.
NOVENA OF GRACE
The Novena in honor of St. Francis Xavier will begin Monday, March 4 thru March 12th. Copies of the
Novena prayers are available on the table in the Gathering Space in the Upper Church and the Lannon
Chapel. The prayers will be said Monday thru Friday at the 12:15 pm and 5:30 pm Masses.
ONLINE LENTEN SPIRITUAL RESOURCES The New England Province of Jesuits has curated this list
of online spiritual resources for Lent 2013 at http://news.sjnen.org/2013/02/lenten-spiritualityresources/
This mix of original content from the Provinces of the Society of Jesus, as well as links to other helpful
resources, is focused particularly on applying Ignatian Spirituality to the Lenten experience. If you know
of additional resources to include here, please email us at [email protected] We hope you will find
these spiritual resources useful.
1.
THIS W EEK'S CALENDAR
Sunday, March 3rd
Contemporary Music Ensemble – Upper Church
St. Ignatius Young Adults Social – Friary Room
4:00 pm
6:00 pm
Monday, March 4th
Lenten Taize Prayer
RCIA – following Lenten Taize Prayer – Friary Room
7:15 pm
Tuesday, March 5th
Liturgy Commission Meeting – Office Conf. Room
7:15 pm
Wednesday, March 6th
Transitions – Friary Room
Children's Carol Choir – Choir Media Room
Parish Choir – Choir/Media Room
1:00 pm
4:30 pm
7:15 pm
Friday, March 8th
Adoration of the Blessed Sacrament – Lannon Chapel
12:45 pm
THE LIGHT IS ON – OPPORTUNITY FOR CONFESSION
Confessions will be heard from 6:00 to 7:00 pm on the Wednesday evenings of Lent, in the Lannon
Chapel.
SIYA! ST. IGNATIUS YOUNG ADULTS
Our group ministers to the spiritual needs of both married and single adults in their
twenties and thirties by providing a community in which young professionals, recent
college graduates, and graduate students can share their faith and support one another in
their following of Christ.
Come to our group social after the 5:30 pm Mass on Sunday. We meet at 6:30 pm in the Friary Room
(Lower Church). Bring a friend, catch up with friends, meet new people, share some laughs and good
food.
We hope to see you at one of our SIYA events soon, so please check the parish bulletin regularly.
SIYA soon! Contact: Quentin Dupont, S.J. at [email protected]
LENTEN MOVIE NIGHT
WRITER'S WORKSHOP
As part of our parish's Lenten journey, the
Spiritual Life Commission will present a
showing of the 1995 film "Dead Man Walking"
(Susan Sarandon and Sean Penn, 122 min). In
this powerful film, based on the real-life
experiences of Sr. Helen Prejean, we see her
struggles as she accompanies a man on death
row while also trying to help the family of his
victims.
The Women's Table of The Sisters of St.
Joseph of Boston is sponsoring a 6-week Writer's
Workshop for women. This series helps women
explore their life through writing prompts and
provides an opportunity to connect with others
in a meaningful way. No prior writing
experience is necessary, just a desire to learn
more about one's life. The instructor is Mary
Caruso who is trained in writing, education and
law. These sessions are free and will be held at
the Sisters of St. Joseph Motherhouse at 637
Cambridge St., Brighton. We will meet on
Thursday mornings, from 10 – 11:30 am: March
14, 21, 28, April 4, 11 and April 18th. Please
consider joining us! To register, call Mary Rita
Weschler
at:
617.746.2056
or
email:
[email protected]
We will begin with a bite to eat in the Friary
Room at 5:00 PM on Saturday, March 16, and
then proceed to watch the film, ending with
dessert and a shared reflection and discussion.
Questions?
Email
Jonathan
Stott
at
[email protected]
CHOIR CONCERT RE-SCHEDULED
The U-Tunes Choir benefit concert which was snowed out on February 10th has been rescheduled for
Sunday, April 21st at 2:30pm. Please plan to attend this program of choral favorites and support the Park
project for our sister parish St. Anne's in Kingston, Jamaica.
2.
OUTREACH MINISTRIES
THIRD WEEK OF LENT
Helping Children in Lesotho
This week we focus our prayers, fasting and almsgiving on Lesotho, where many
children lack access to quality education. Only 73% of primary school-age children
in Lesotho are enrolled in school. Give to your Rice Bowl this week to support
communities working with CRS to provide educational opportunities for children.
MARCH 1st-28th: Our new, white socks and new flip-flops collection for Boston Health
Care for the Homeless Program has begun! You'll find a collection box by the Outreach table
and outside the church kitchen.
LENT SOUP AND STATIONS
Corpus Christi-St. Bernard Parish is hosting
Friday night Soup and Stations. The schedule is:
March 8th
March 15th
March 22nd
SOUP & STATIONS
STATIONS ONLY
SOUP & STATIONS
Soup 6:00 PM
at Corpus Christi Church, Ash St.
at St. Bernard Church, Washington St.
at Corpus Christi Church
Stations: 7:00 PM
PROJECT BREAD'S 45TH WALK FOR HUNGER is coming and it's not too soon to start
thinking about how you could be involved! Online registration is open and TEAM IGNATIUS
is set up to receive TEAM members: www.projectbread.org/walk. Or, you can pick up
registration materials which will be on the Outreach table soon, including the form for
volunteers.
MARCH BOOK DICUSSION
On March 17th at 11:15 in the living room of the Parish Center there will be a continued discussion of the book
Mary by Sholem Asch. An additional book, The Testament of Mary by Colm Toibin, will also be discussed. Did
either of these books stir you? Please join us and share your impressions.
LITTLE ROCK SCRIPTURE STUDY
This semester, we will be studying "Women in the
Old Testament." These women have rich stories that
are vital to God's relationship with the Covenant
people. This study introduces readers to women
whose stories offer courage and insight. The study
began on Wednesday, February 27th at 7:15 pm in the
Lannon Chapel. The cost is $16.00, which includes a
commentary, study guide and video presentation of
the study. New members are always welcome. To
register, you may call the Parish Office, 617-552-6102.
If you have any questions, please call John Dafarra
781-899-9540.
MOTHERS OF CHILDREN WITH SPECIAL
NEEDS: PLEASE JOIN US!
The Women's Table, sponsored by the Sisters of St.
Joseph of Boston, is hosting a morning retreat for
mothers of children with special needs on Saturday,
March 16th from 8:30 a.m. to noon at the Sisters of St.
Joseph Motherhouse: 637 Cambridge St., Brighton.
We invite you to join in prayer and conversation,
creative expression and mutual support. Come away
for refreshment and time just for yourself. This
program is free and open to mothers of children with
any special needs. To register, please call Mary Rita
Weschler
at
617-746-2056,
or
email:
[email protected]
3.
Queridos Parroquianos,
En mi homilía del domingo pasado hablé de la pregunta que nos hacemos en los momentos mas
trasformativos de nuestras vidas. ¿Quién soy yo? ¿ Quien soy yo, frente del misterio de Dios? Hablé
de Abram cuando miraba el cielo y trató de contar las estrellas. Debío hacerse la pregunta, ¿ Quien
soy yo frente de esta creación tan inmensa y incomprensible? En la primera lectura de hoy la
pregunta es similar. Moisés le hace la pregunta a la voz que habla de la zarza ardiente, ¿ Quien eres
tu? ¿ Cual es tu nombre? Y Dios le revela su nombre a Moisés. Yo Soy el que soy. La razón por la cual
venimos a la Eucaristía todos los domingos tiene que ver con esta experiencia de la revelación del
misterio de Dios, especialmente en su Hijo amado, Jesucristo. Igualmente tenemos la oportunidad de
conocernos mejor como individuos y como comunidad.
Al final de la Misa el domingo pasado hablé del artículo que escribí hace 4 meses y fue publicado en
la revista AMERICA esta semana pasada. Tiene que ver con la experiencia de uno de los miembros de
nuestra comunidad que fue deportado con su familia y como me afectó. Está escrito en inglés pero le
he pedido a uno de los miembros de la comunidad que lo traduzca al Español. Si prefieren leerlo en
inglés, les doy la página en el internet.
http://americamagazine.org/issue/uphill-battle
Espero que se acaben las tormentas y podamos celebrar las Misas dominicales que nos quedan en esta
temporada de Cuaresma sin estos obstáculos!
En la paz de Cristo
Padre Bob
CALENDARIO
El 3 de Marzo Tercer Domingo de Cuaresma
Ven a La Mesa Las Creencias de Nuestra Fe (1:30-2:30)
El 10 de Marzo Cuarto Domingo de Cuaresma
El Via Crucis en la Iglesia de arriba (1:30-2:30)
El 17 de Marzo Quinto Domingo de Cuaresma
Una experiencia de la oración Ignaciana (1:30- 2:30)
El 24 de Marzo Domingo de los Ramos
La Misa Bilingüe en la Iglesia de Arriba
El 31 de Marzo La Santísima Misa Pascual 12:00
4.
CHURCH OF SAINT IGNATIUS OF LOYOLA
28 COMMONWEALTH AVENUE – CHESTNUT HILL, MA 02467
PHONE 617-552-6100
FAX: 617-552-6101
E-MAIL [email protected]
WEB: HTTP://BC.EDU/ST-IGNATIUS
THE PARISH STAFF
REV. ROBERT F. VER EECKE, SJ, PASTOR
REV. KENNETH G. LOFTUS, SJ, ASSOCIATE
REV. JOHN ALLAN LOFTUS, SJ, ASSOCIATE
CAP TEAM MEMBER (CHAIR)
MICHAEL BURGO, DIR. OF MUSIC MINISTRY
TIMOTHY ZIMMERMAN, ASSOCIATE DIR.
OF MUSIC / ORGANIST
SR. DIANE VALLERIO, MFIC, DIR. OF OUTREACH
AMY CHAPMAN, FAITH FORMATION DIRECTOR
SUSAN STUART, ASSOC. DIR. FAITH FORMATION
DANIEL ROBB, CORD. FAITH FORMATION
RICHARD MOYNIHAN, BUSINESS MANAGER
ELIZABETH MCLAUGHLIN, ADM. ASSISTANT
WALTER FOTHERGILL, FACILITIES MANAGER
617-552-6107
617-552-6103
617-552-6105
[email protected]
617-552-6112
[email protected]
617-552-6117
[email protected]
617-552-6102
WALTER.FOTHERGILL @BC.EDU 617-552-6119
KATHY MAHER
MARC GERVAIS
MARY SANTAPAULA
[email protected]
[email protected]
[email protected]
CAP TEAM MEMBER
CAP TEAM MEMBER
CAP TEAM MEMBER
[email protected]
[email protected]
[email protected]
617-552-6100
617-552-6100
617-552-6100
[email protected]
[email protected]
617-552-6108
617-552-6114
[email protected]
[email protected]
[email protected]
THE CELEBRATION OF EUCHARIST
SUNDAY
WEEKDAY
SATURDAY
UPPER CHURCH 8:00 AM, 10:00 AM, 12:00 NOON, 5:30 PM
LOWER CHURCH 8:00 AM, 10:00 AM, FAMILY LITURGY
12:00 MISA EN ESPAÑOL EN LA CAPILLA LANNON
12:15 PM - 5:30 PM – LOWER CHURCH
LOWER CHURCH 9:00 AM, UPPER CHURCH 4:00 PM (Vigil)
THE SACRAMENTS
BAPTISM
Adults are baptized at the Easter Vigil as part of the Rites of Christian Initiation for
Adults. Infant and child baptisms are by arrangement.
FIRST EUCHARIST
Preparation begins in Grade 1 and includes classes, retreats and home instruction.
CONFIRMATION
Our Confirmation program begins in the 9th grade. Students are confirmed in the
Spring of the 10th grade. Young adults who have been catechized but are not yet
confirmed should contact the Parish Office for an alternative program.
MATRIMONY
Must be registered as a parishioner six months prior to beginning Marriage arrangements.
RECONCILIATION
Saturdays 3:15 – 3:45 PM Upper Church or by arrangement
ANOINTING OF THE SICK by arrangement.
5.