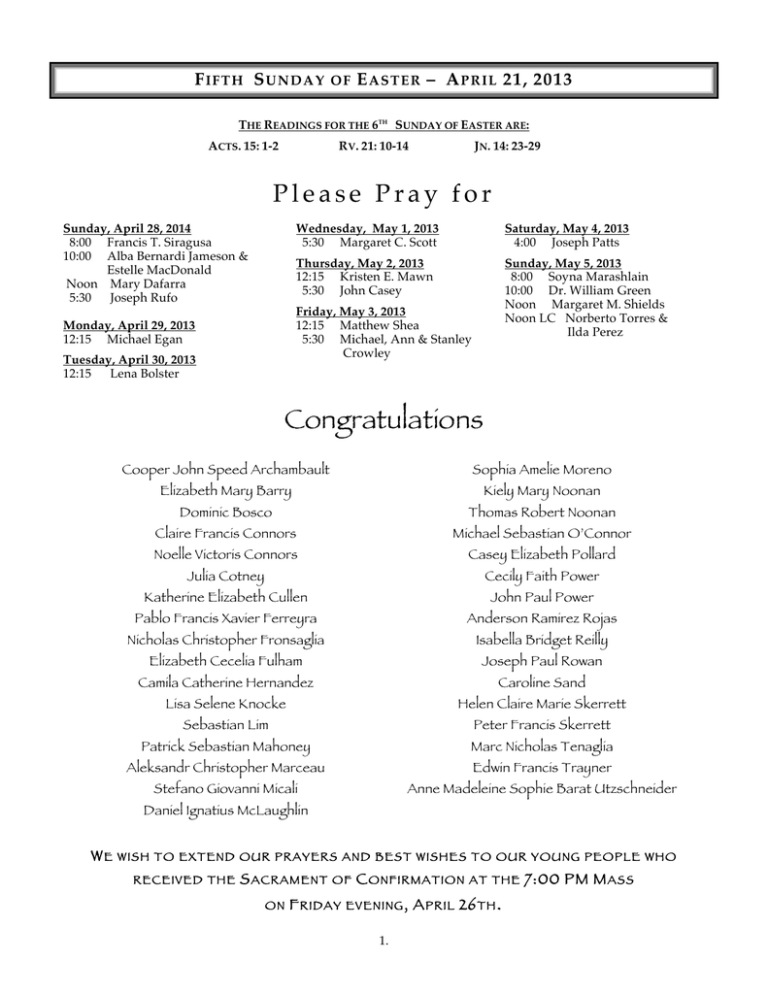 F IF T H S U N D A Y
OF
E A S T E R – A P R IL 21, 2013
THE READINGS FOR THE 6TH SUNDAY OF EASTER ARE:
ACTS. 15: 1-2
RV. 21: 10-14
JN. 14: 23-29
Please Pray for
Sunday, April 28, 2014
8:00 Francis T. Siragusa
10:00 Alba Bernardi Jameson &
Estelle MacDonald
Noon Mary Dafarra
5:30
Joseph Rufo
Wednesday, May 1, 2013
5:30 Margaret C. Scott
Saturday, May 4, 2013
4:00 Joseph Patts
Thursday, May 2, 2013
12:15 Kristen E. Mawn
5:30 John Casey
Sunday, May 5, 2013
8:00 Soyna Marashlain
10:00 Dr. William Green
Noon Margaret M. Shields
Noon LC Norberto Torres &
Ilda Perez
Friday, May 3, 2013
12:15 Matthew Shea
5:30 Michael, Ann & Stanley
Crowley
Monday, April 29, 2013
12:15 Michael Egan
Tuesday, April 30, 2013
12:15
Lena Bolster
Congratulations
Cooper John Speed Archambault
Sophia Amelie Moreno
Elizabeth Mary Barry
Kiely Mary Noonan
Dominic Bosco
Thomas Robert Noonan
Claire Francis Connors
Michael Sebastian O'Connor
Noelle Victoris Connors
Casey Elizabeth Pollard
Julia Cotney
Cecily Faith Power
Katherine Elizabeth Cullen
John Paul Power
Pablo Francis Xavier Ferreyra
Anderson Ramirez Rojas
Nicholas Christopher Fronsaglia
Isabella Bridget Reilly
Elizabeth Cecelia Fulham
Joseph Paul Rowan
Camila Catherine Hernandez
Caroline Sand
Lisa Selene Knocke
Helen Claire Marie Skerrett
Sebastian Lim
Peter Francis Skerrett
Patrick Sebastian Mahoney
Marc Nicholas Tenaglia
Aleksandr Christopher Marceau
Edwin Francis Trayner
Stefano Giovanni Micali
Anne Madeleine Sophie Barat Utzschneider
Daniel Ignatius McLaughlin
WE
WISH TO EXTEND OUR PRAYERS AND BEST WISHES TO OUR YOUNG PEOPLE WHO
RECEIVED THE
S ACRAMENT
ON
OF
F RIDAY
C ONFIRMATION
EVENING ,
1.
AT THE
A PRIL 26 TH .
7:00 PM M ASS
OUTREACH MINISTRIES
SHATTUCK SPRINGTIME MEAL: A very big thank you is in order to all of you
who came through for the Shelter Guests. Circumstances made purchasing and
preparing your donations challenging, but you did it and the Meal was great.
Coordinators, food and cash donors, kitchen prep helpers, servers, drivers – you're
the best!
PROJECT BREAD'S 45TH WALK FOR HUNGER -seven days and counting! But, it's
not too late to get involved, as a Walker, a Volunteer or a Sponsor. TEAM IGNATIUS
welcomes more members! Go to: www.projectbread.org/walk. Or, you can pick up
registration materials which are on the Outreach table, including the form for
Volunteers.
SPRING/SUMMER CLOTHING DRIVE: Our annual drive, to help the Guests at St. Francis House
Day Shelter in Boston, is next weekend, May 4th/5th. The list of wished-for clothing items is
below. Please plan to bring in your donations on the designated weekend.
Men's items
Women's Items
• Jeans -sizes: 32 x 32. 34 x 32, 36 x
• Short sleeves tops-sizes:
32, 38 x 32, & 40 x 32.
M, L, XL, 2X, 3X
• Belts-All sizes
• Spring/Fall Jackets: M, L,
• Casual short sleeves Shirts: M, L, XL,
XL, 2X & 3X.
2X, 3 X, & 4X.
• Jeans sizes: 8-24
• Sweatpants sizes: M-2X.
• Sweatpants sizes: M-2X
• Shoes and sneakers sizes 7-15
• New socks
• New socks
• Spring/Fall Jackets: M, L, XL, 2X and
Other
3X.
• Shopping plastic bags (can be used
• Baseball hats
ones)
• Hooded sweatshirts sizes: S,M, L,
• Backpacks
XL, 2X, 3X, & 4X.
• Ponchos
HABITAT: We are still seeking volunteers for two separate teams of
St. Ignatius parishioners to work at Habitat-for-Humanity
construction sites in Dorchester or Roslindale on Saturday, May 4th
and Saturday, June 1st. Sign up for either date, or both. You can do it! Energy
and enthusiasm are the only requirements - no prior construction experience necessary.
Spend the day working to "build hope by building homes" in partnership with low-income
families in need of decent housing. To sign up, e-mail Anton Finelli at [email protected]
or Sister Diane at [email protected]
2.
CONGRATULATIONS, AMY!
We are blessed at St. Ignatius to have a wonderful Faith Formation Program. We are grateful
for all those who volunteer their time and talents to sharing their faith with our children and
youth. This year, in addition to two catechists who are being recognized by the Archdiocese for their
service, our very gifted Director of Faith Formation, Amy Chapman is being honored as well. In the
words of Susan Kay, the Director of the Office of Religious Education: "Because we are celebrating this
Year of Faih, to mark the beginning of Vatican Council II and the anniversary of the Catechism of the
Catholic Church, we are initiating the Gaudium et Spes award to acknowledge a catechetical leader who,
with joy and hope, has given extraordinary service and shown great dedication to the Parish and the
Archdiocese. Amy Chapman will be the recipient of this award. Amy is an exemplary DRE and, in my
experience, a woman of great, genuine faith. We are thrilled to be able to give her the recognition she
deserves."
CONGRATULATIONS ELIZABETH AND BEATRICE
Congratulations also to two of our catechists, Elizabeth Wall and Beatrice Frederique, who have been
chosen by the Archdiocese to receive awards in recognition of their service as catechists. Both women
have served our Faith Formation program throughout their BC careers after teaching in their catechetical
programs at home. Elizabeth, who teaches one of our third grade sections, has brought a wealth of
experience and creativity to our program. Beatrice, currently one of our lead teachers in the fourth grade,
is a wonderful veteran who has taught many of our first-time catechists the ropes. Congratulations to
both women!
BOOK DISCUSSION
On June 2nd, there will be a discussion of Tattoos on the Heart by Fr. Gregory Boyle. This book, available
in Spanish as well as English, contains essays about universal kinship and redemption, moving examples
of the power of unconditional love and the importance of fighting despair. All are welcome to come to
the upstairs living room of the parish offices on June 2nd at 11:15 to share their reactions to this book.
GOOD CAUSES
From time to time we receive a request from a parishioner or a BC student to advertise a "good cause" for
which one is looking for financial or other kinds of support. This can take the form of a bake sale whose
proceeds go to an immersion trip or some form of collection. Since we do not want to overwhelm our
parishioners with "asks", we have decided to add this "Good Causes" section that will give you the
opportunity to decide whether you would like to support this good cause.
Parishioner and Cantor, Michelle Abadia, whose artistry St. Ignatius has benefited from for many years,
is asking support for a national tour which will give her the opportunity to share her musical gifts with a
wider audience. If you'd like to learn more about Michelle's hopes and dreams, you can go to the
following link,
http://www.indiegogo.com/projects/passionate-sightless-performer-goes-on-tour
THIS W EEK'S CALENDAR
Sunday, April 28th
Tuesday, April 30th
Wednesday, May 1st
Friday, May 2nd
Contemporary Music Ensemble – Upper Church
Liturgy Meeting – Conference Room
Transitions – Friary Room
Parish Choir – Choir/Media Room
Little Rock Bible – Lannon Chapel
Adoration of the Blessed Sacrament – Lannon Chapel
3.
4:30 pm
7:15 pm
1:00 pm
7:15 pm
7:15 pm
12:45 pm
Queridos Parroquianos,
Como ustedes saben, hay muchas personas que contribuyen a la vida comunitaria en
nuestra parroquia. Hemos tenido la buena fortuna de tener a Dan Robb como un
miembro de nuestro equipo pastoral que ha funcionado como coordinador del
programa de formación en fe para los niños de habla Español. Dan ha tomado la
decisión dedicarse a su profesión como terapeuta trabajando con jóvenes. Me ha pedido
que comparta con ustedes sus reflexiones.
Como algunos de ustedes saben, He trabajado aquí en la parroquia como coordinador
de la formación cristiana para esta comunidad y la comunidad angla. Quería que sepan
que he tomado la decisión dimitir de esta posición.
Empecé a asistir a la misa con esta comunidad en 2009, después de que había pasado
dos años como voluntario en Tacna, Perú. Extrañé el espíritu y la amistad de todos allí.
Tuve la gracia a volver a encontrar este espíritu en la gente de esta comunidad. Me ha
ofrecido una oportunidad a aplicar mi pasión por el trabajo con niños y jóvenes, y por
eso les agradezco.
El hecho es que he estado haciendo otro trabajo. Trabajo como terapista para jovenes en
Dorchester, y ha sido difícil a hacer los dos trabajos en una manera formal. Mi ultima
función formal como coordinador será la primera comunión de nuestros niños el día 19
durante la Santa Misa. Pienso en sequir a venir a la Misa aquí y celebrar con ustedes.
Ahora, planificamos que Amy Chapman va a coordinar todo lo que tiene que ver con el
catecismo en Español para el proximo año.
Gracias por la oportunidad a servirles en esta capacidad. Tengo ganas de servir esta
comuidad en otras maneras en el futuro.
Paz
Daniel Robb
Calendario
El 5 de Maio Reunión del Consejo Hispano
Todos son invitados
El 12 de Maio El Día de Los Madres
El 19 de Maio Primera Comunión
y Despedida a Diácono Jayme Stayer y a Dan Robb
9TH ANNUAL NATIVITY GOLF CLASSIC – MONDAY, JUNE 10TH
Please consider joining us at the 9th Annual Nativity Golf Classic on Monday, June 10, 2013 at Brae
Burn Country Club in Newton to benefit Nativity Preparatory School. In addition to taking part in a day
full of camaraderie, spirit and fun competition, your presence will help raise essential funds for Nativity
Prep, a tuition-free school for low- income 4th-8th grade boys from Boston who seek a transformative
education. You can register for the whole day which includes golf, cocktails and silent auction, dinner
and live auction or just for the evening events. To reserve your golf foursome or dinner tickets, please
contact Brooke O'Donnell at 857-728-0031x21 or [email protected] RSVP by May 20th.
Eagle Foursome $2500 - Dinner Ticket $50 per person
4.
CHURCH OF SAINT IGNATIUS OF LOYOLA
28 COMMONWEALTH AVENUE – CHESTNUT HILL, MA 02467
PHONE 617-552-6100
FAX: 617-552-6101
E-MAIL [email protected]
WEB: HTTP://BC.EDU/ST-IGNATIUS
THE PARISH STAFF
REV. ROBERT F. VER EECKE, SJ, PASTOR
REV. KENNETH G. LOFTUS, SJ, ASSOCIATE
REV. JOHN ALLAN LOFTUS, SJ, ASSOCIATE
CAP TEAM MEMBER (CHAIR)
MICHAEL BURGO, DIR. OF MUSIC MINISTRY
TIMOTHY ZIMMERMAN, ASSOCIATE DIR.
OF MUSIC / ORGANIST
SR. DIANE VALLERIO, MFIC, DIR. OF OUTREACH
AMY CHAPMAN, FAITH FORMATION DIRECTOR
SUSAN STUART, ASSOC. DIR. FAITH FORMATION
DANIEL ROBB, CORD. FAITH FORMATION
RICHARD MOYNIHAN, BUSINESS MANAGER
ELIZABETH MCLAUGHLIN, ADM. ASSISTANT
WALTER FOTHERGILL, FACILITIES MANAGER
[email protected]
617-552-6107
[email protected]
617-552-6103
[email protected]
617-552-6105
[email protected]
617-552-6112
[email protected]
617-552-6117
[email protected]
617-552-6102
WALTER.FOTHERGILL @BC.EDU 617-552-6119
KATHY MAHER
MARC GERVAIS
MARY SANTAPAULA
[email protected]
[email protected]
[email protected]
CAP TEAM MEMBER
CAP TEAM MEMBER
CAP TEAM MEMBER
[email protected]
[email protected]
[email protected]
617-552-6100
617-552-6100
617-552-6100
[email protected]
[email protected]
617-552-6108
617-552-6114
THE CELEBRATION OF EUCHARIST
SUNDAY
WEEKDAY
SATURDAY
UPPER CHURCH 8:00 AM, 10:00 AM, 12:00 NOON, 5:30 PM
LOWER CHURCH 8:00 AM, 10:00 AM, FAMILY LITURGY
12:00 MISA EN ESPAÑOL EN LA CAPILLA LANNON
12:15 PM - 5:30 PM – LOWER CHURCH
LOWER CHURCH 9:00 AM, UPPER CHURCH 4:00 PM (Vigil)
THE SACRAMENTS
BAPTISM
Adults are baptized at the Easter Vigil as part of the Rites of Christian Initiation for
Adults. Infant and child baptisms are by arrangement.
FIRST EUCHARIST
Preparation begins in Grade 1 and includes classes, retreats and home instruction.
CONFIRMATION
Our Confirmation program begins in the 9th grade. Students are confirmed in the
Spring of the 10th grade. Young adults who have been catechized but are not yet
confirmed should contact the Parish Office for an alternative program.
MATRIMONY
Must be registered as a parishioner six months prior to beginning Marriage arrangements.
RECONCILIATION
Saturdays 3:15 – 3:45 PM Upper Church or by arrangement
ANOINTING OF THE SICK by arrangement.
5.