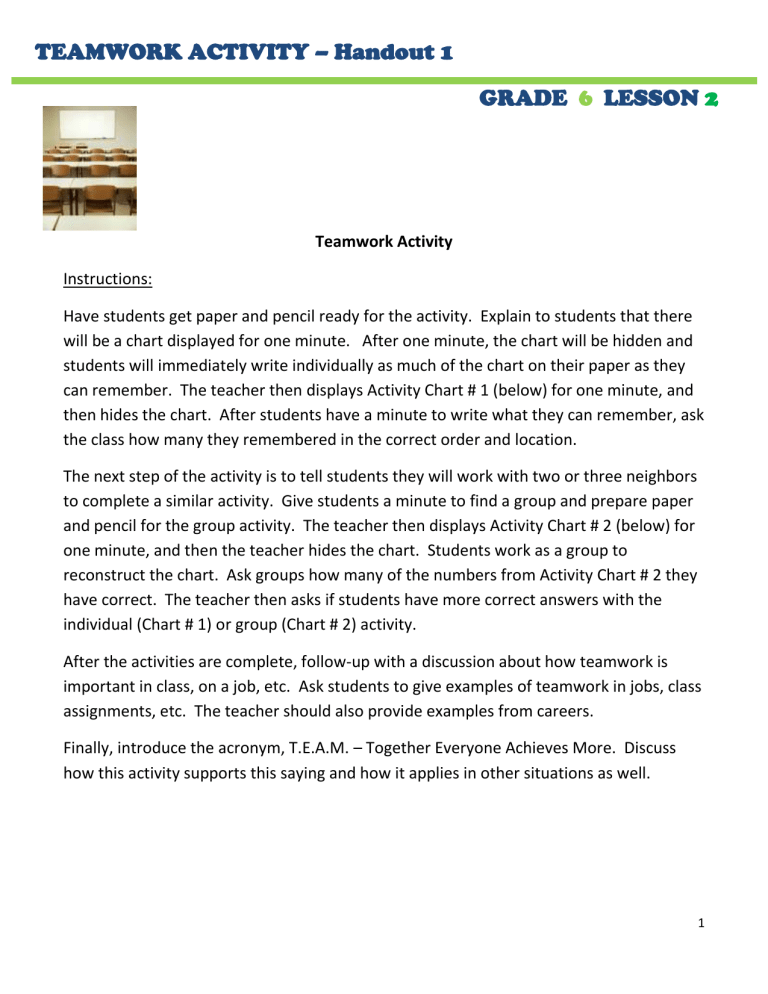 TEAMWORK ACTIVITY – Handout 1
GRADE 6 LESSON 2
Teamwork Activity
Instructions:
Have students get paper and pencil ready for the activity. Explain to students that there will be a chart displayed for one minute. After one minute, the chart will be hidden and students will immediately write individually as much of the chart on their paper as they can remember. The teacher then displays Activity Chart # 1 (below) for one minute, and then hides the chart. After students have a minute to write what they can remember, ask the class how many they remembered in the correct order and location.
The next step of the activity is to tell students they will work with two or three neighbors to complete a similar activity. Give students a minute to find a group and prepare paper and pencil for the group activity. The teacher then displays Activity Chart # 2 (below) for one minute, and then the teacher hides the chart. Students work as a group to reconstruct the chart. Ask groups how many of the numbers from Activity Chart # 2 they have correct. The teacher then asks if students have more correct answers with the individual (Chart # 1) or group (Chart # 2) activity.
After the activities are complete, follow-up with a discussion about how teamwork is important in class, on a job, etc. Ask students to give examples of teamwork in jobs, class assignments, etc. The teacher should also provide examples from careers.
Finally, introduce the acronym, T.E.A.M. – Together Everyone Achieves More. Discuss how this activity supports this saying and how it applies in other situations as well.
1
Activity Chart # 1
7
657
43785
58479078
8072599251
675840992023
37489172039564 dghslibslieh
2
Activity Chart # 2
9
856
43757
99584790
8078725251
395675840993
20237489172064 pqoweiytlkkbn
3