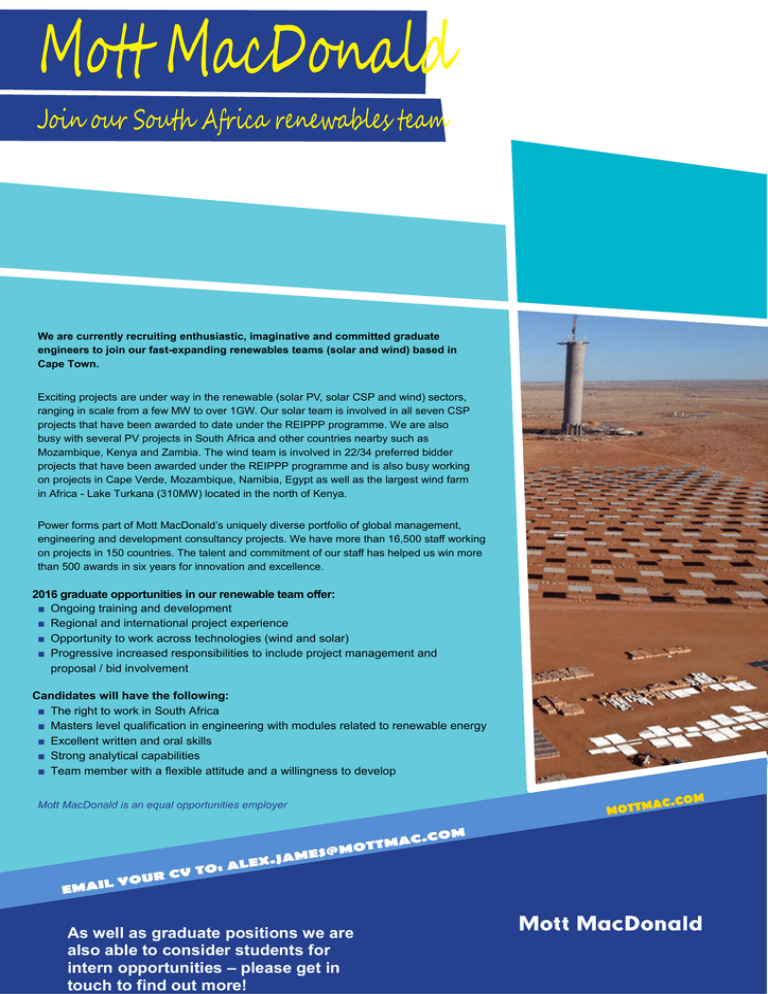 Mott MacDonald
Join our South Africa renewables team
We are currently recruiting enthusiastic, imaginative and committed graduate
engineers to join our fast-expanding renewables teams (solar and wind) based in
Cape Town.
Exciting projects are under way in the renewable (solar PV, solar CSP and wind) sectors,
ranging in scale from a few MW to over 1GW. Our solar team is involved in all seven CSP
projects that have been awarded to date under the REIPPP programme. We are also
busy with several PV projects in South Africa and other countries nearby such as
Mozambique, Kenya and Zambia. The wind team is involved in 22/34 preferred bidder
projects that have been awarded under the REIPPP programme and is also busy working
on projects in Cape Verde, Mozambique, Namibia, Egypt as well as the largest wind farm
in Africa - Lake Turkana (310MW) located in the north of Kenya.
Power forms part of Mott MacDonald's uniquely diverse portfolio of global management,
engineering and development consultancy projects. We have more than 16,500 staff working
on projects in 150 countries. The talent and commitment of our staff has helped us win more
than 500 awards in six years for innovation and excellence.
2016 graduate opportunities in our renewable team offer:
■ Ongoing training and development
■ Regional and international project experience
■ Opportunity to work across technologies (wind and solar)
■ Progressive increased responsibilities to include project management and
proposal / bid involvement
Candidates will have the following:
■ The right to work in South Africa
■ Masters level qualification in engineering with modules related to renewable energy
■ Excellent written and oral skills
■ Strong analytical capabilities
■ Team member with a flexible attitude and a willingness to develop
Mott MacDonald is an equal opportunities employer
As well as graduate positions we are
also able to consider students for
intern opportunities – please get in
touch to find out more!