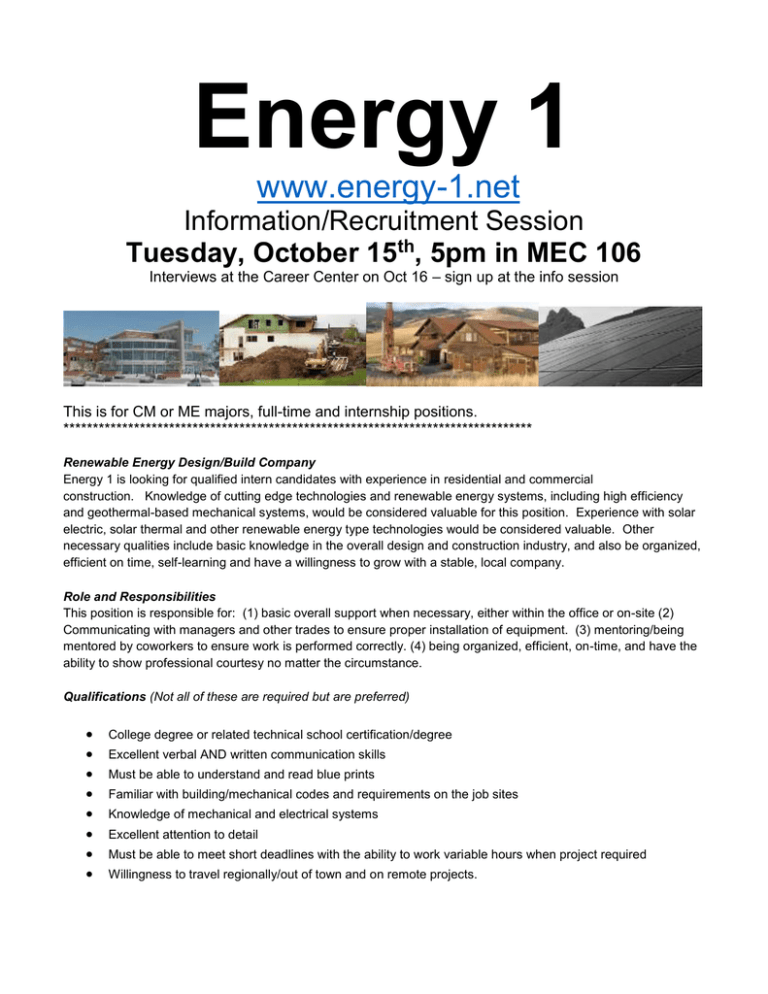 Energy 1
www.energy-1.net
Information/Recruitment Session
Tuesday, October 15th, 5pm in MEC 106
Interviews at the Career Center on Oct 16 – sign up at the info session
This is for CM or ME majors, full-time and internship positions.
********************************************************************************
Renewable Energy Design/Build Company
Energy 1 is looking for qualified intern candidates with experience in residential and commercial
construction. Knowledge of cutting edge technologies and renewable energy systems, including high efficiency
and geothermal-based mechanical systems, would be considered valuable for this position. Experience with solar
electric, solar thermal and other renewable energy type technologies would be considered valuable. Other
necessary qualities include basic knowledge in the overall design and construction industry, and also be organized,
efficient on time, self-learning and have a willingness to grow with a stable, local company.
Role and Responsibilities
This position is responsible for: (1) basic overall support when necessary, either within the office or on-site (2)
Communicating with managers and other trades to ensure proper installation of equipment. (3) mentoring/being
mentored by coworkers to ensure work is performed correctly. (4) being organized, efficient, on-time, and have the
ability to show professional courtesy no matter the circumstance.
Qualifications (Not all of these are required but are preferred)








College degree or related technical school certification/degree
Excellent verbal AND written communication skills
Must be able to understand and read blue prints
Familiar with building/mechanical codes and requirements on the job sites
Knowledge of mechanical and electrical systems
Excellent attention to detail
Must be able to meet short deadlines with the ability to work variable hours when project required
Willingness to travel regionally/out of town and on remote projects.