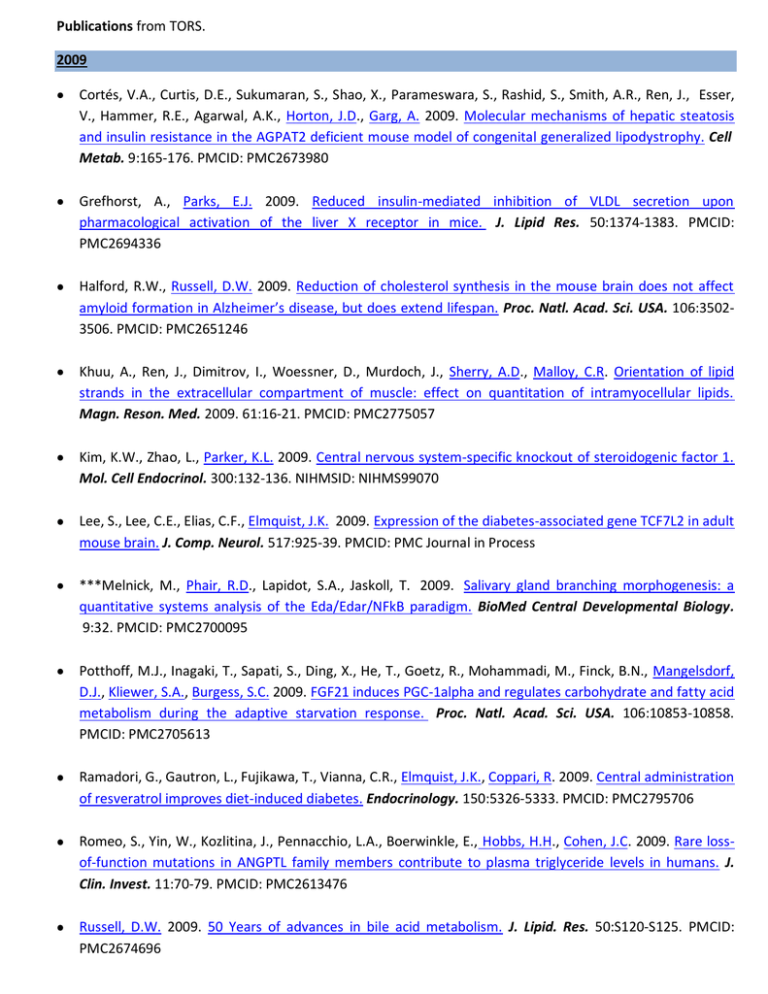 Publications from TORS.
2009
Cortés, V.A., Curtis, D.E., Sukumaran, S., Shao, X., Parameswara, S., Rashid, S., Smith, A.R., Ren, J., Esser,
V., Hammer, R.E., Agarwal, A.K., Horton, J.D., Garg, A. 2009. Molecular mechanisms of hepatic steatosis
and insulin resistance in the AGPAT2 deficient mouse model of congenital generalized lipodystrophy. Cell
Metab. 9:165-176. PMCID: PMC2673980
Grefhorst, A., Parks, E.J. 2009. Reduced insulin-mediated inhibition of VLDL secretion upon
pharmacological activation of the liver X receptor in mice. J. Lipid Res. 50:1374-1383. PMCID:
PMC2694336
Halford, R.W., Russell, D.W. 2009. Reduction of cholesterol synthesis in the mouse brain does not affect
amyloid formation in Alzheimer's disease, but does extend lifespan. Proc. Natl. Acad. Sci. USA. 106:35023506. PMCID: PMC2651246
Khuu, A., Ren, J., Dimitrov, I., Woessner, D., Murdoch, J., Sherry, A.D., Malloy, C.R. Orientation of lipid
strands in the extracellular compartment of muscle: effect on quantitation of intramyocellular lipids.
Magn. Reson. Med. 2009. 61:16-21. PMCID: PMC2775057
Kim, K.W., Zhao, L., Parker, K.L. 2009. Central nervous system-specific knockout of steroidogenic factor 1.
Mol. Cell Endocrinol. 300:132-136. NIHMSID: NIHMS99070
Lee, S., Lee, C.E., Elias, C.F., Elmquist, J.K. 2009. Expression of the diabetes-associated gene TCF7L2 in adult
mouse brain. J. Comp. Neurol. 517:925-39. PMCID: PMC Journal in Process
***Melnick, M., Phair, R.D., Lapidot, S.A., Jaskoll, T. 2009. Salivary gland branching morphogenesis: a
quantitative systems analysis of the Eda/Edar/NFkB paradigm. BioMed Central Developmental Biology.
9:32. PMCID: PMC2700095
Potthoff, M.J., Inagaki, T., Sapati, S., Ding, X., He, T., Goetz, R., Mohammadi, M., Finck, B.N., Mangelsdorf,
D.J., Kliewer, S.A., Burgess, S.C. 2009. FGF21 induces PGC-1alpha and regulates carbohydrate and fatty acid
metabolism during the adaptive starvation response. Proc. Natl. Acad. Sci. USA. 106:10853-10858.
PMCID: PMC2705613
Ramadori, G., Gautron, L., Fujikawa, T., Vianna, C.R., Elmquist, J.K., Coppari, R. 2009. Central administration
of resveratrol improves diet-induced diabetes. Endocrinology. 150:5326-5333. PMCID: PMC2795706
Romeo, S., Yin, W., Kozlitina, J., Pennacchio, L.A., Boerwinkle, E., Hobbs, H.H., Cohen, J.C. 2009. Rare lossof-function mutations in ANGPTL family members contribute to plasma triglyceride levels in humans. J.
Clin. Invest. 11:70-79. PMCID: PMC2613476
Russell, D.W. 2009. 50 Years of advances in bile acid metabolism. J. Lipid. Res. 50:S120-S125. PMCID:
PMC2674696
Russell, D.W., Halford, R.W., Ramirez, D.M.O., Shah, R., Kotti, T. 2009. Cholesterol 24-hydroxylase: an
enzyme of cholesterol turnover in the brain. Annu. Rev. Biochem. 78:1017-1040. PMCID: PMC2837268
Sakata, I., Yang, J., Lee, C.E., Osborne-Lawrence, S., Rovinsky, S.A., Elmquist, J.K., Zigman, J.M. 2009.
Colocalization of ghrelin O-acyltransferase and ghrelin in gastric mucosal cells. Am. J. Physiol. Endocrinol.
Metab. 297:E134-41. PMCID: PMC2711663
Scott, M.M., Lachey, J.L., Sternson, S.M., Lee, C.E., Elias, C.F., Friedman, J.M., Elmquist, J.K. 2009. Leptin
targets in the mouse brain. J. Comp. Neurol. 514:518-532. PMCID: PMC2710238
Seo J., Fortuno, E.S., Suh, J.M., Stenesen, D., Tang. W., Parks, E.J., Adams, C.M., Townes, T., Graff, J.M.
2009. Atf4 regulates obesity, glucose homeostasis, and energy expenditure. Diabetes. 58:2565-2573.
PMCID: PMC2768187
Stiles, A.R., McDonald, J.G, Bauman, D.R., Russell, D.W. 2009. CYP7B1: one cytochrome P450, two human
genetic diseases, and multiple physiological functions. J. Biol. Chem. 284:28485-28489. PMCID:
PMC2781391
Yin, W, Romeo, S., Chang, S., Grishin, N.V., Hobbs, H.H., Cohen, J.C. 2009. Genetic variation in ANGPTL4
provides insights into protein processing and function. J. Biol. Chem. 284:13213-13222. PMCID:
PMC2676053
***NB These are not directly TORS-related publications and were supported by other funding sources, but
they do test and exploit new non-steady state modeling techniques that are essential to TORS progress.