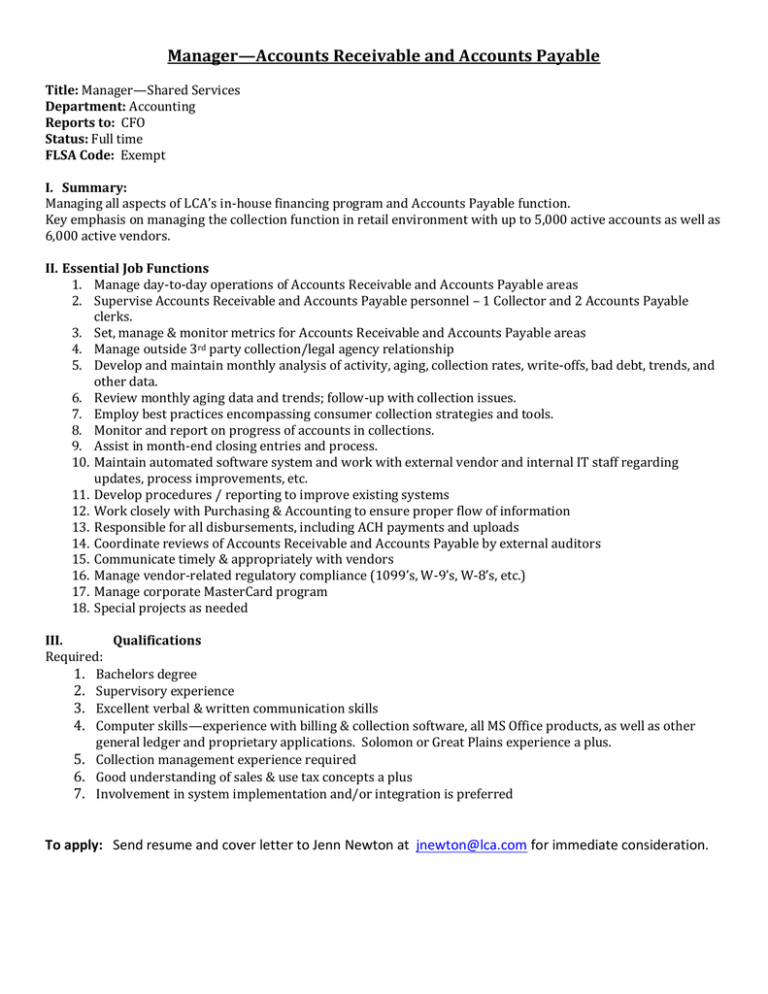 Manager—Accounts Receivable and Accounts Payable
Title: Manager—Shared Services
Department: Accounting
Reports to: CFO
Status: Full time
FLSA Code: Exempt
I. Summary:
Managing all aspects of LCA's in-house financing program and Accounts Payable function.
Key emphasis on managing the collection function in retail environment with up to 5,000 active accounts as well as
6,000 active vendors.
II. Essential Job Functions
1. Manage day-to-day operations of Accounts Receivable and Accounts Payable areas
2. Supervise Accounts Receivable and Accounts Payable personnel – 1 Collector and 2 Accounts Payable
clerks.
3. Set, manage & monitor metrics for Accounts Receivable and Accounts Payable areas
4. Manage outside 3rd party collection/legal agency relationship
5. Develop and maintain monthly analysis of activity, aging, collection rates, write-offs, bad debt, trends, and
other data.
6. Review monthly aging data and trends; follow-up with collection issues.
7. Employ best practices encompassing consumer collection strategies and tools.
8. Monitor and report on progress of accounts in collections.
9. Assist in month-end closing entries and process.
10. Maintain automated software system and work with external vendor and internal IT staff regarding
updates, process improvements, etc.
11. Develop procedures / reporting to improve existing systems
12. Work closely with Purchasing & Accounting to ensure proper flow of information
13. Responsible for all disbursements, including ACH payments and uploads
14. Coordinate reviews of Accounts Receivable and Accounts Payable by external auditors
15. Communicate timely & appropriately with vendors
16. Manage vendor-related regulatory compliance (1099's, W-9's, W-8's, etc.)
17. Manage corporate MasterCard program
18. Special projects as needed
III.
Qualifications
Required:
1. Bachelors degree
2. Supervisory experience
3. Excellent verbal & written communication skills
4. Computer skills—experience with billing & collection software, all MS Office products, as well as other
general ledger and proprietary applications. Solomon or Great Plains experience a plus.
5. Collection management experience required
6. Good understanding of sales & use tax concepts a plus
7. Involvement in system implementation and/or integration is preferred
To apply: Send resume and cover letter to Jenn Newton at jnewton@lca.com for immediate consideration.