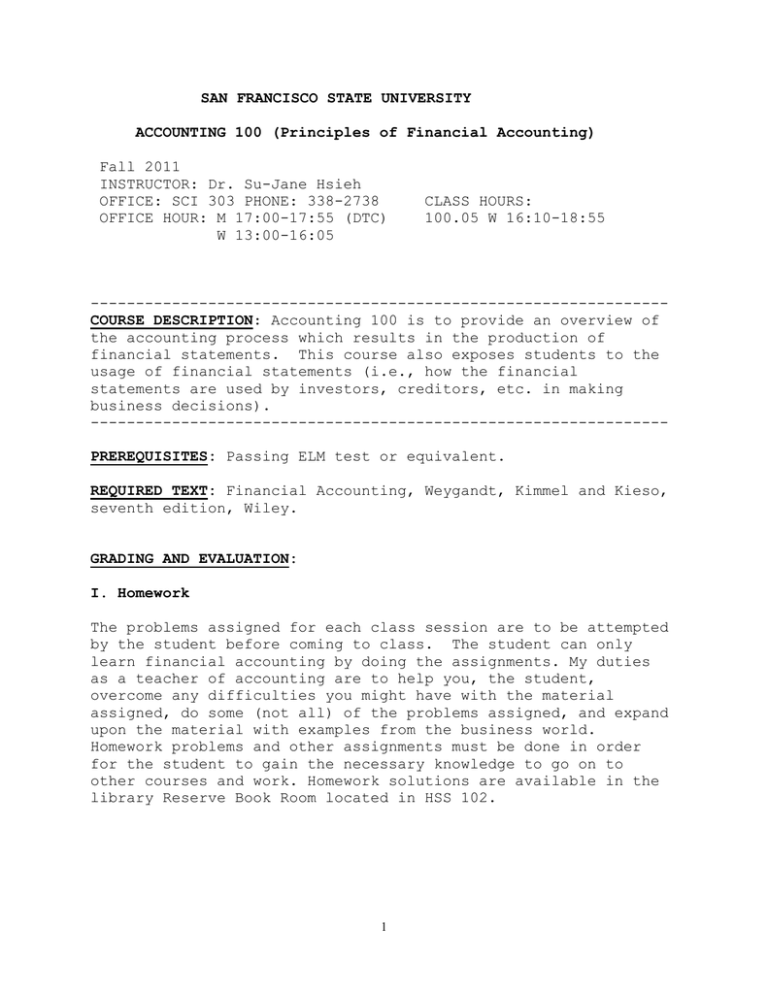 SAN FRANCISCO STATE UNIVERSITY
ACCOUNTING 100 (Principles of Financial Accounting)
Fall 2011
INSTRUCTOR: Dr. Su-Jane Hsieh
OFFICE: SCI 303 PHONE: 338-2738
OFFICE HOUR: M 17:00-17:55 (DTC)
W 13:00-16:05
CLASS HOURS:
100.05 W 16:10-18:55
---------------------------------------------------------------COURSE DESCRIPTION: Accounting 100 is to provide an overview of
the accounting process which results in the production of
financial statements. This course also exposes students to the
usage of financial statements (i.e., how the financial
statements are used by investors, creditors, etc. in making
business decisions).
---------------------------------------------------------------PREREQUISITES: Passing ELM test or equivalent.
REQUIRED TEXT: Financial Accounting, Weygandt, Kimmel and Kieso,
seventh edition, Wiley.
GRADING AND EVALUATION:
I. Homework
The problems assigned for each class session are to be attempted
by the student before coming to class. The student can only
learn financial accounting by doing the assignments. My duties
as a teacher of accounting are to help you, the student,
overcome any difficulties you might have with the material
assigned, do some (not all) of the problems assigned, and expand
upon the material with examples from the business world.
Homework problems and other assignments must be done in order
for the student to gain the necessary knowledge to go on to
other courses and work. Homework solutions are available in the
library Reserve Book Room located in HSS 102.
1
II. Examinations
Three examinations will be given in class during the semester.
Exams I and II are scheduled for September 28 and November 2,
respectively. The final exam is on December 14. In addition,
three homework assignments will be available on iLearn. The
availability of these assignments will be announced in class.
III. Class Policy, Evaluation and Department Plagiarism Policy
Class Policy and Evaluation. Classes are generally conducted
using a lecture and problem-solving format. Class notes are
available on iLearn. No make-ups will be given for any exam.
Students are expected to prepare for the day's material
including both reading assignments and problems assigned before
coming to the class. An incomplete grade cannot be used to
substitute for any other grade. For important course related
dates (i.e., last day to add/drop classes or request CR/NC
grading option), please check Academic Calendar available on
SFSU website at www.sfsu.edu.
Your final grade will be based on the following:
Exam I
Exam II
Final Exam
Homework
Total
Possible Points
---------------100 points
100 points
150 points
75 points
--------------425 points
Note: All accounting majors must earn a grade of "C" or better
in ACCT 100 to proceed in the accounting concentration.
Department of Accounting Plagiarism Policy. Plagiarism is a form
of cheating or fraud; it occurs when a student misrepresents the
work of another as his or her own. Plagiarism may consist of
using the ideas, sentences, paragraphs, or the whole text of
another without appropriate acknowledgment, but it also includes
employing or allowing another person to write or substantially
alter work that a student then submits as his or her own. Any
assignment found to be plagiarized will be given a failing grade.
All instances of plagiarism in the Department of Accounting will
be reported to the Department Chair, and may be reported to the
University Judicial Affairs Officer for further action.
2
IV. Homework Assignments
Class Date
1
8/24
Chapter
1. Accounting Activities and
Financial Statements
Suggested Homework
BE1-1,E1-2,E1-3,E1-11,
P1-3A,E1-8,P1-2A,
P1-4A,BE1-6.
2
8/31
2. The Recording Process
E2-2,P2-1A,P2-3A,P2-5A,
BYP2-3.
3
9/7
3. Adjusting the Accounts
E3-1,E3-3,E3-4,E3-7.
E3-9,P3-2A,P3-4A,P3-5A.
4
9/14
4. Completing the Accounting
Cycle
P4-1A,P4-5A
5
9/21
5. Accounting for
Merchandising Operations
6
9/28
E5-1,E5-2,E5-3,E5-4,
P5-1A,P5-5A,P5-7A.P5-8A.
Exam I
6. Inventories
7
10/5
6. Continued
E6-7,E6-9,E6-12,
E6-14,P6-1A,
P6-4A,P6-5A,P6-8A.
8
10/12
7. Internal Control and Cash
8. Accounting for Receivables
9
10/19
9. Plant-Assets, Natural
Resources and Intangible
Assets
E7-3,E7-4,E7-11,P7-3A.
E8-6,E8-8,E8-9,E8-11,
E8-14,P8-1A,P8-2A,
P8-5A,P8-7A.
E9-4,E9-6,E9-7,
E9-10,P9-1A,P9-3A,
P9-6A,P9-7A.
10
10/26
10. Liabilities
11
11/2
E10-3,E10-8,E10-12,
E10-20,P10-3A,P10-8A.
Exam II
11. Corporations:
Organization,
Stock Transactions,
Dividends, and Retained
Earnings
3
E11-2,E11-7,E11-8,
E11-11,P11-1A,
P11-2A,P11-4A,P11-9A
12
13
11/9
11/16
11. Continued
12. Investments
E12-5,E12-6,E12-10,
P12-2A,P12-3A,P12-4.
12. continued
13. Statement of Cash Flows
E13-1,E13-2,E13-3,P13-3A,
P13-4A,P13-9A,P13-10A
Fall Recess (11/21-11/25)
14
11/30
14. Financial Statement
Analysis
15
12/7
14. Continued
P15-2A,P15-3A,P15-5A.
15. Accounting Principles
(available on line at
www.wiley.com/college/weygandt)
4
E14-3,E14-7,E14-8,
P14-2A,P14-3A.